Appliances eligible for exchange
If you have one of these old wood stoves, you may be eligible to apply for an exchange rebate from your local Community Wood Smoke Reduction Program.
Free-standing stove
Non-Environmental Protection Agency (EPA) certified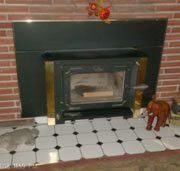 An airtight non-EPA certified fireplace insert or tube-type heat exchanger with a face plate and door installed in an open-hearth fireplace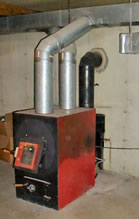 A non-EPA certified wood furnace (ducted, forced-air, home-heating appliance)
Other eligible appliances
Outdoor wood boilers (OWBs) may be allowed as eligible appliances for exchange.
Check with your community program coordinators for more information.
---
Qualifying products to replace original appliances
An EPA-certified wood stove or pellet stove
An EPA-certified wood insert or pellet insert, or an electrical insert
An EPA-certified factory-built wood fireplace

This may only be accepted if it's replacing a non-EPA-certified wood stove or non-EPA-certified wood insert and not an existing factory-built fireplace

An electric heat pump that meets the criteria for BC Hydro's heat pump rebate
An EPA or CSA B415 certified wood or pellet furnace only if it's replacing an existing uncertified wood-burning furnace
Participating communities may restrict the list of qualifying appliances in their area.
Products that do not qualify as replacements
A new wood burning insert to an existing open-hearth fireplace that does not currently have an insert installed
Electric stoves or fireplaces

Replacement electric inserts are allowed

Factory-built (zero-clearance) fireplaces
Wood cook stoves

Cook stoves are EPA-exempt and not covered by this program
They may be replaced by an EPA-certified stove or other non-cooking product within the qualification list above

Tin heaters/tent stoves or any appliance not used in a residential application
Natural gas stoves or fireplaces
Propane stoves or fireplaces
EPA-certified factory-built fireplaces
These fireplaces are wood stoves in a zero-clearance configuration that are tested to EPA standards.
Generally, existing factory-builds are meant for aesthetic occasional use, therefore the rules for open hearths apply.