Security Industry Licensing
Security Services Licensing currently requires up to six weeks to process new or renewed security worker licenses. Applications that are complete, with full payment, and submitted online will receive the fastest response. ​
Renewal applications can be submitted 90 days prior to expiry, with best results when renewal applications are submitted 60-90 days prior to licence expiry.
Fingerprinting: Due to the COVID-19 pandemic, police and RCMP detachments may temporarily be unable to complete fingerprinting requests. Security Services Licensing understands that the inability to complete fingerprinting requirements may cause undue hardship on applicants and may delay provision of public safety services. As a result, fingerprint requirements are waived at this time for security worker licence applicants. Applicants who cannot submit fingerprinting due to the pandemic will be asked to submit fingerprinting at a later date, once fingerprinting services re-open.
Under British Columbia's Security Services Act, businesses and individuals offering security services must hold a valid security licence issued by the Registrar of Security Services. Approved applicants are issued a licence that specifies the types of security services they may provide as well as special authorizations they have such as the use of dogs and restraints while performing security duties.
As of April 12, 2016, security industry licences were upgraded with new security enhanced licences that met government quality standards. All current licences appear as below:
Front of Card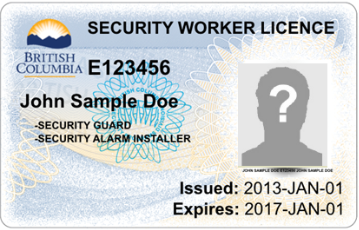 Back of Card