Security industry licensing
On this page:
COVID-19 Service Impacts
Due to the COVID-19 pandemic, fingerprint requirements are waived for security worker licence applicants.
Police and RCMP detachments may temporarily be unable to complete fingerprinting requests
Security Services Licensing understands that the inability to complete fingerprinting requirements may cause undue hardship on applicants and may delay provision of public safety services
Applicants who cannot submit fingerprinting due to the pandemic will be asked to submit fingerprinting at a later date, once fingerprinting services re-open
Due to the COVID-19 pandemic, the Registrar of Security Services Act is extending restraints endorsements on security worker licences if the following three conditions are met:
You have and maintain a valid security worker licence
Your Advanced Security Training (AST) has or will expire during the period of March 1, 2020 to June 30, 2021
You have an endorsement on the back of your current security worker licence that states "authorized to carry and use restraints (handcuffs only)"
The restraints endorsements extension does not apply to
Untrained individuals
Endorsements that expired before March 1, 2020
To confirm your eligibility for extension, review both AST Restraint Endorsement Extension Letters Below:
If you meet the requirements for this extension, when you are conducting security work you must carry on your person the following:
Your most recent AST certification (that expires between March 1, 2020 and June 30, 2021)
A printed copy of the appropriate extension letter:
Your valid security workers licence
---
Application Processing Times
Businesses and workers are encouraged to apply online. Applications that are complete and submitted online will receive the fastest response.
The Security Services Program recognizes that applicants are currently experiencing wait times that are longer than usual. The Registrar has issued the attached letter to stakeholders to provide explanation for the delays and to describe the steps that are underway to improve timeliness. You can read this letter here.
Security Services Licensing currently requires up to six weeks to process an application.
Applications that are complete, with full payment, and submitted online will receive the fastest response
Renewal Applications
Renewal applications can be submitted 90 days prior to expiry, with best results when renewal applications are submitted 60-90 days prior to licence expiry
---
Under British Columbia's Security Services Act, businesses and individuals offering security services must hold a valid security licence issued by the Registrar of Security Services. Approved applicants are issued a licence that specifies the types of security services they may provide as well as special authorizations they have such as the use of dogs and restraints while performing security duties.
As of May 2022, you may notice small changes to security industry licences.
On new licences:
The material is PVC
The finish is glossy
Printing is not tactile
Photos are higher quality
Otherwise, licences continue to look the same as before.
Front of Card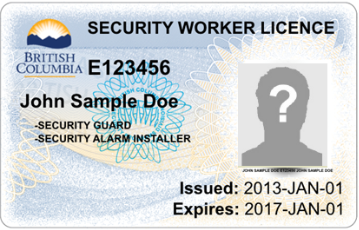 Back of Card