Security Industry Licensing
Please note: Our online services will be down from 5 PM Tuesday April 24th to 5PM Wednesday April 25th for scheduled maintenance. This will include the BCeID CRC, eCRC, PSSO, and eSSA. Sorry for any inconvenience.
Under British Columbia's Security Services Act, businesses and individuals offering security services must hold a valid security licence issued by the Registrar of Security Services. Approved applicants are issued a licence that specifies the types of security services they may provide as well as special authorizations they have such as the use of dogs and restraints while performing security duties.
As of April 12, 2016 the current security industry licences and permits will be upgraded with new security enhanced licences and permits that meet the current government quality standards. All current licences and permits in the previous style will continue to be valid until their expiration date. The example below shows a comparison of the licences issued prior to April 12, 2016 and the new security worker licences.
Previous Security Worker Licence:
Front of Card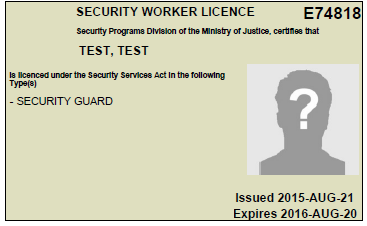 Back of Card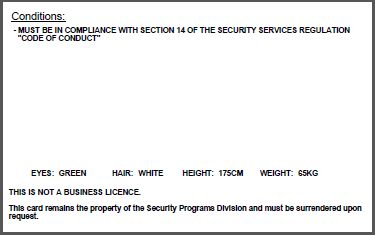 New Security Worker Licence:
Front of Card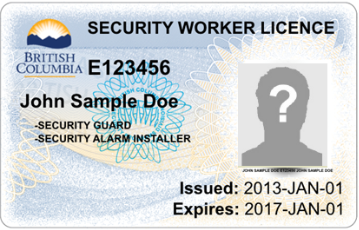 Back of Card