Premier's Awards for Excellence in Education
Nominations Are Now Closed! Please check back at the end of August for when the finalists for each category are announced.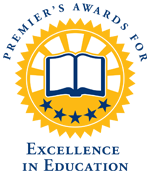 Nominate someone in B.C.'s education system who has made a positive, long-lasting impact on your school community.
The Premier's Awards for Excellence in Education were created to recognize the enormous contributions of B.C.'s exceptional teachers, administrators and support staff that are vital to the cultural, economic and social well-being of the province. The Premier's Awards provide students, parents, teachers and other members of the community with an opportunity to celebrate those who make a real difference in B.C.schools.
The Awards will be presented annually to exceptional education professionals in British Columbia's school system working within either the public, independent, First Nations, or offshore school systems.
Winners will receive a $3,000 personal bursary for professional learning, and a $2,000 contribution to their school community for professional learning.

The following categories are open to all individuals who are a B.C. teaching certificate holder and currently teaching within the B.C. Kindergarten to Grade 12 public, independent, First Nations, or offshore school systems:
Increased students' understanding of good citizenship by integrating community involvement within the classroom.
Improved community life by linking students, parents, and the community in innovative and meaningful ways.
Coordinated community services to be accessible to students and their families.
Actively participates in their community.
Outstanding New Teacher (up to 5 years teaching experience, 3 of which must have been in B.C.)
In his/her initial years of service, has shown promise and dedication to:

Support the intellectual, personal, and social and emotional proficiencies in students.
Using innovative teaching methods to create exciting and engaging learning environments for individual students or a group of students.
Encouraging students to achieve their best and recognizing student success.

Demonstrated a commitment to lifelong learning.
Engaged students in hands-on technology-based learning, and physically constructed solutions to a problem by integrating the use of digital technology in the classroom.
Applied leading technologies to course material and course requirements.
Remains technologically up to date in order to teach current and emerging tech skills through a commitment to lifelong learning.
Ensured all learners were welcome and valued as contributing members of the classroom and school.
Provided opportunities for students to build an understanding of the diverse society we live in and supported students to treat each other with dignity and respect.
Fostered an environment of personal empowerment and self-determination by:

Enabling students to develop a sense of self-worth and personal initiative.
Promoting an understanding of the importance of physical health and well-being.
Promoted Indigenous language, culture and history within the classroom, school and community.
Developed a new approach to Indigenous education by encouraging students to become active participants in traditional teachings. Such practices include Indigenous languages and oral histories.
Created respectful relationships with local Indigenous communities to increase meaningful involvement and awareness.
Increased Indigenous voices in the education system.
Developed in students a sense of social responsibility and tolerance, as well as respect for the ideas and beliefs of others.
Engaged students beyond the classroom on complex social or environmental issues such as racism, environmental stewardship and poverty.
Supported students to take action that resulted in positive, sustainable change within their community.
Participated in extra-curricular coaching and/or sponsoring of student activities that have:

Fostered a positive learning environment where students continued to learn and develop a variety of skills and abilities outside of the typical classroom.
Provided a safe, inclusive and encouraging environment.
Developed connections for students that translated to the classroom and resulted in a positive experience for the students, school and community.
The following category is open to all Principals, Vice Principals and Administrators who are B.C. teaching certificate holders and currently working within the B.C. Kindergarten to Grade 12 public, independent, First Nations, or offshore school systems:
School and District Leadership
Made organizational or cultural changes that led to significantly improved student achievement.
Created a strong school culture(s) with a clear, shared vision that promotes high expectations for student success.
Used all available information to evaluate student needs and further, ensured evidence-based decisions were made to support those needs.
Built distributed leadership, collaborative teaching, and community support networks that created an inclusive, trusting environment focussed on success for all.
The following category is open to all individuals in a support staff role and currently working within the BC K–12 public, independent, First Nations, or offshore school systems (i.e. bus drivers, crossing guards, student supervisors, educational assistants, aboriginal support workers, custodians, maintenance, and clerical):
Contributed to a healthy, safe and productive school community by creating inclusive and engaging experiences for students, parents and the community.
Used innovative techniques to create an exciting and engaging environment for individual students or a group of students.
Built strong collaborative relationships with other education professionals to support a student or group of students, the school or community.
Supported students in their own intellectual, social, or career development through individualized support and encouragement.