Winners & Finalists of the Premier's Awards for Excellence in Education Awards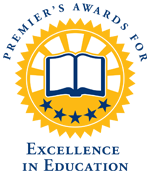 Premier's Awards finalists - and all nominees, in fact - demonstrate the dedication and leadership of the many exceptional teachers, administrators and support staff working in our educational system across B.C. to make life better for students.
See the finalists and winners from this year and watch inspirational videos that portray the outstanding work of each.
2018 Winners & Finalists
Community Engagement Award
Winner: Murray Sasges, Vernon Community school, SD 22 (Vernon)
Finalist: Shelly Peel, Mountview Elementary school, SD 27 (Cariboo-Chilcotin)
Finalist: Katrina Sumrall, Lucerne Elementary Secondary school, SD 10 (Arrow Lakes)
Diversity and Inclusion Award
Winner: Kim Halayko, Lillooet Secondary school, SD 74 (Gold Trail)
Finalist: Hasheem Hakeem, École Dr. Charles Best Secondary school, SD 43 (Coquitlam)
Finalist: Amelia Witt, Salmon Arm Secondary school – Sullivan Campus, SD 83 (North Okanagan-Shuswap)
Extracurricular Leadership Award
Winner: Tanya Adelborg, Randerson Ridge Elementary school, SD 68 (Nanaimo-Ladysmith)
Finalist: Sandra Chan, Richmond Secondary school, SD 38 (Richmond)
Finalist: Nancy Sinclair, Lakeview Elementary school, SD 41 (Burnaby)
Indigenous Education Award
Winner: Verna (Mandy) Jones, Ladysmith Secondary school, SD 68 (Nanaimo-Ladysmith)
​Finalist: Melissa Austin, Saanich School District, SD 63 (Saanich)
Finalist: Emily Recalma, Nanaimo District Secondary school, SD 68 (Nanaimo-Ladysmith)
Outstanding New Teacher Award
Winner: Maymie Tegart, Blue River Elementary school, SD 73 (Kamloops/Thompson)
Finalist: Carmen McDowell, Glenrosa Middle school, SD 23 (Central Okanagan)
Finalist: Kirsten Tancon, Highland Secondary school, SD 71 (Comox Valley)
Outstanding Support Award
Winner: Jeannine Lindsay, Aboriginal support worker, Lake Trail Middle school, SD 71 (Comox Valley)
Finalist: Jacquie Grypink, educational assistant, Hillview Elementary school, SD 22 (Vernon)
Finalist: Richard Morgan, custodian, Penticton Secondary school, SD 67 (Okanagan Skaha)
School and District Leadership Award
Winner: Angelo Morelli, principal, École K.B. Woodward Elementary school, SD 36 (Surrey)
Finalist: Jay Dixon, principal, North Island Secondary school, SD 85 (Vancouver Island North)
Finalist: Diana Samchuck, superintendent, SD 81 (Fort Nelson)
Social Equity Award
Winner: Ryan Cho, Terry Fox Secondary school, SD 43 (Coquitlam)
Finalist: Michael Iachetta, Seaquam Secondary school, SD 37 (Delta)
Finalist: Anne Ostwald, Alberni District Secondary school, SD 70 (Alberni)
Technology and Innovation Award
Winner: Sean Robinson, École Riverside Secondary school, SD 43 (Coquitlam)
Finalist: Heather McIntosh, Mount Boucherie Secondary school, SD 23 (Central Okanagan)
Finalist: Carl Savage, École Ballenas Secondary school, SD 69 (Qualicum)