Sunshine Coast Fixed Link Feasibility Study
This study examines the feasibility of a fixed link to replace the ferry service between the Sunshine Coast and the Lower Mainland.
Why Study a Fixed Link?
For many years, residents, businesses and other stakeholders have been advocating for a fixed link to replace existing ferry service between the Lower Mainland and the Sunshine Coast.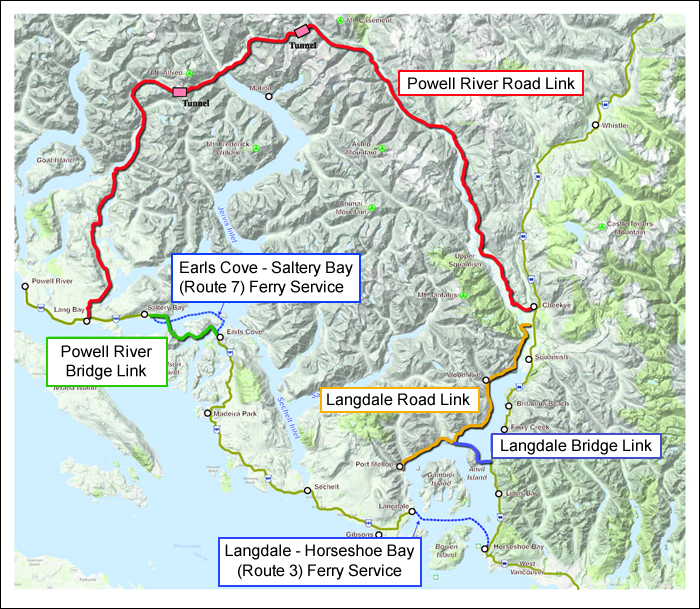 See a larger version of the map with more details.
The purpose of the study is to:
Assess the costs and benefits of possible overland connections and bridge crossings between the Sunshine Coast and the Lower Mainland as an alternative to existing air and ferry services
Identify the financial and physical feasibility of constructing a fixed link
Provide benefits and impacts analysis of potential fixed link scenarios
Terms of Reference
The study will:
Review previous studies
Identify fixed link scenarios
Consult with various partners and interested parties in the study area
Conduct public open houses on draft high level findings in fall 2016
Prepare high level cost estimates for road, bridge and ferry scenarios, along with estimates on forecast demand
Undertake an analysis of the potential scenarios
Prepare a report, summarizing the scenarios, outcomes of the analysis and results of public and partner consultations
Status
Public consultation took place October 18 through November 8, 2016. The consulting team is now reviewing the input received and preparing a consultation summary report. The team will then use this input to assist in finalizing the technical report, which is due to government at the end of 2016. Engagement with First Nations is ongoing.
Public Consultation
Public consultation now complete. Consultation materials are still available for reference.