West Fraser Road Flood Recovery
A 5.6-kilometre section will bypass the active slide areas along the section of West Fraser Road that washed out in 2018. The new alignment, a two-lane paved road, will be on the east side of Narcosli Creek.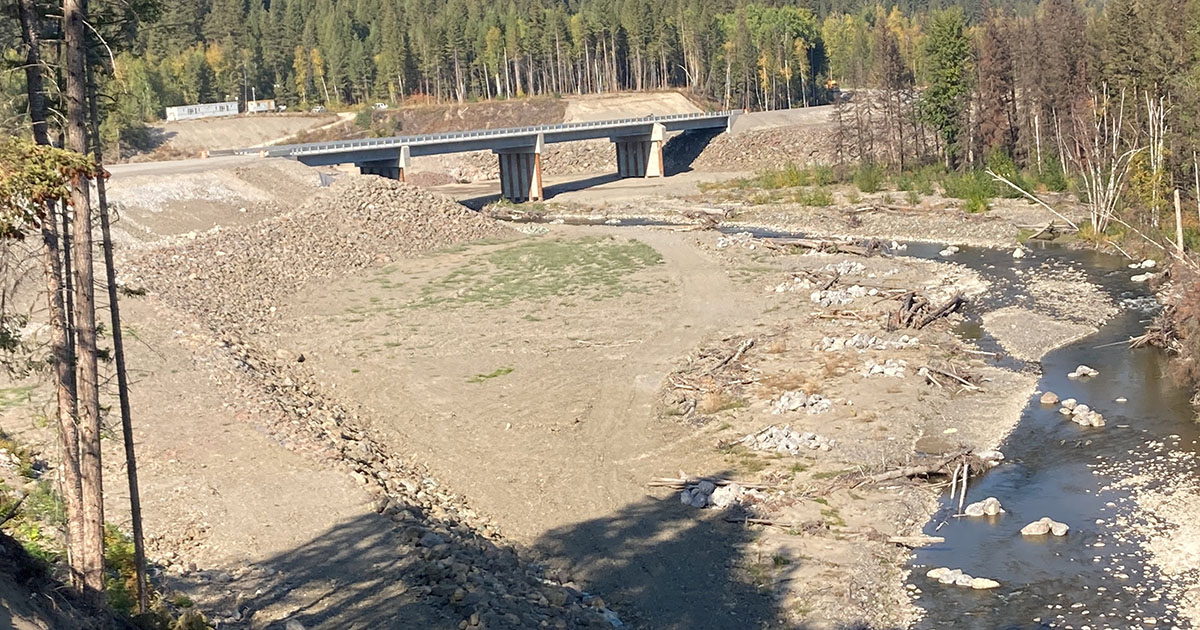 Construction of the new Narcosli Creek Bridge underway on the new alignment.
In April 2018, high water levels from the spring freshet caused Narcosli Creek to erode five sections of the West Fraser Road, on the west side of the Fraser River, approximately 17 km south of Quesnel.
The damage was severe and the road had to be closed with damage spread over a three-kilometre section as follows:
At the north end of the 3 km section, 250 metres of road embankment washed out
Near the north end of the 3 km section, 100 metres of road embankment washed out
North of the Narcosli Bridge, a 100 metre section of road is washed out
At the Narcosli Bridge, the north side road embankment and rip-rap was washed out and eliminated the road and bridge connection
At the switchback at Deep Creek Hill, the road embankment washed out for a length of 100 metres and another section of road embankment has slid and/or collapsed
Up to 150 vehicles per day normally use West Fraser Road to access First Nation communities, ranches, logging activities, farming lands and local residences.
A detour route is in place via Garner Road and Webster Lake Road. This two-lane gravel road adds 17 km in distance and between 20 and 45 minutes in travel time for a one-way trip depending on conditions.
The posted speed limit is 70 km/hour on Garner Road and 60 km/hour on Webster Road. Regular CVSE patrols and inspections are being carried out on commercial vehicles to ensure continued safety.
Project Cost
The project is estimated to cost $103.4 million
Status
Construction is underway
Project Benefits
This project will benefit the community by:
Providing a safer, more reliable route
Reducing travel time through the elimination of the 17-km detour route
Schedule
Construction is anticipated to finish in 2023
Public Consultation
---
Videos
---
---
---