Railway Crossing Information System
The Railway Crossing Information System (RCIS) complements the railway overpasses constructed as part of the Roberts Bank Rail Corridor Program.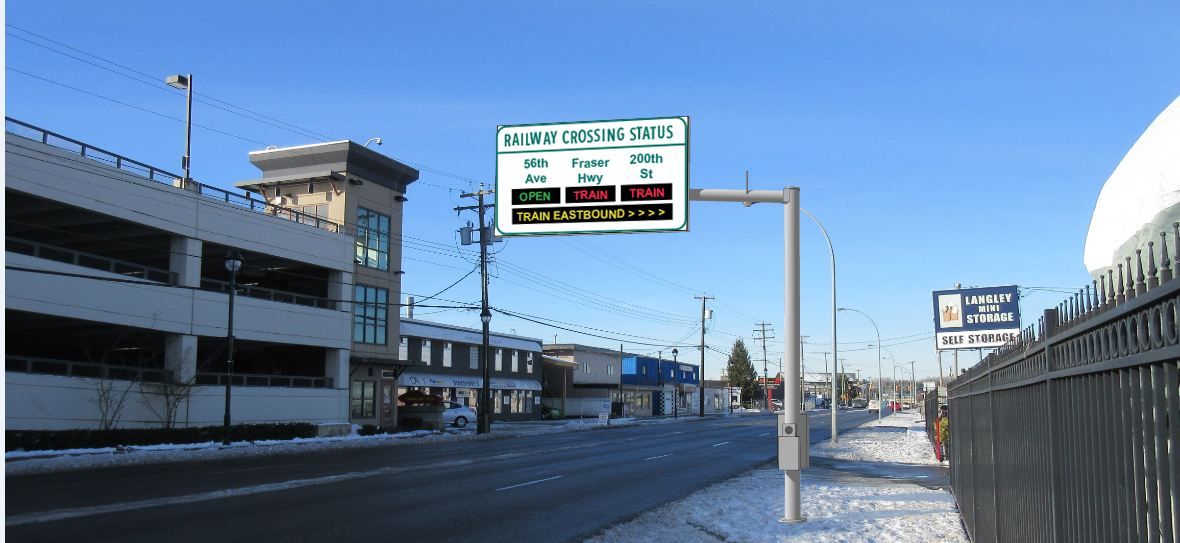 The Railway Crossing Information System project will include six Motorist Advisory Signs at key locations in Langley, Surrey and the Township of Langley. The Motorist Advisory Signs will give drivers timely rail-crossing information so they can make informed travel decisions. The Railway Crossing Information System project will help reduce congestion and delays for drivers crossing the Roberts Bank Rail Corridor.
Motorist Advisory Sign Locations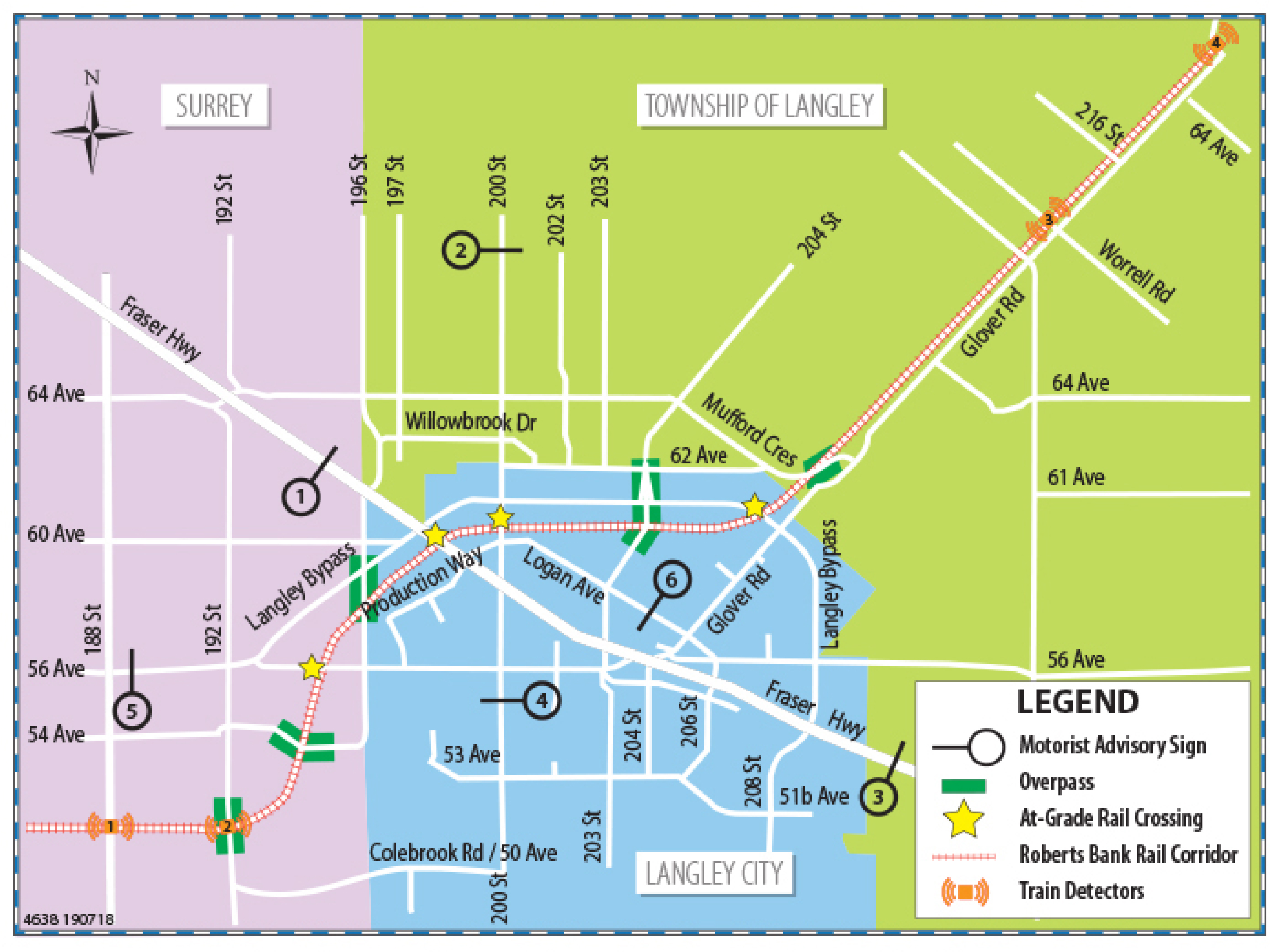 Sign Locations: 1-Fraser Highway at 196 Street; 2-200 Street at 64 Avenue; 3-Fraser Highway at Langley Bypass; 4-200th Street at 56 Avenue; 5-56 Avenue at 192 Street; 6 - Logan Avenue at 203 Street
How the Railway Crossing Information System Works
When a train approaches a crossing, a train detector will record its presence, direction and speed and send this information to a central control system. The system will then display the information on a Motorist Advisory Sign (below) to indicate the status of nearby crossings and the direction the train is moving in.
The status of each crossing on the Motorist Advisory Sign is shown based on the driver's expected arrival time at that crossing. The expected arrival time takes into account the current estimated travel time from the Motorist Advisory Sign location to each crossing to provide drivers with the information they need to make informed decisions on whether to continue to a crossing, or divert to an overpass or other alternate route.
Motorist Advisory Signs display train events which cause delays of two minutes or longer. Train events which cause delays less than two minutes duration will not be displayed on the Motorist Advisory Signs, as detouring for shorter events does not yield as great travel time savings benefits.

---
---
Instructional Maps for Motorist Advisory Signs 1-6
Project Cost
The $3.8-million project is funded with contributions from:
The Government of Canada under the Asia-Pacific Gateway and Corridor Transportation Infrastructure Fund ($300,000)
The Province of B.C. ($300,000)
Vancouver Fraser Port Authority ($300,000)
TransLink ($2.9 million)
Project Benefits
Gives drivers timely information when trains are occupying rail crossings

Reduces congestion and delays for drivers crossing the Roberts Bank Rail Corridor in the communities of Langley and Surrey
Improves accessibility for motorists and emergency vehicles when trains occupy rail-crossings
Improves community safety and quality of life
Reduces greenhouse gas emissions because of less idling times
Status
Civil works construction and systems development are complete.
Schedule
Civil Works Construction: January to September 2018
Systems Testing: September 2018 to Winter 2020
Project Completion: Winter 2020
Public Consultation
TransLink held a public consultation in April 2014 to engage stakeholders and request public feedback on the proposed Railway Crossing Information System project.