Highway 4 - Kennedy Hill Safety Improvements
The Highway 4 - Kennedy Hill Safety Improvements project will contribute to a safer and more reliable connection between Port Alberni and the west coast of Vancouver Island.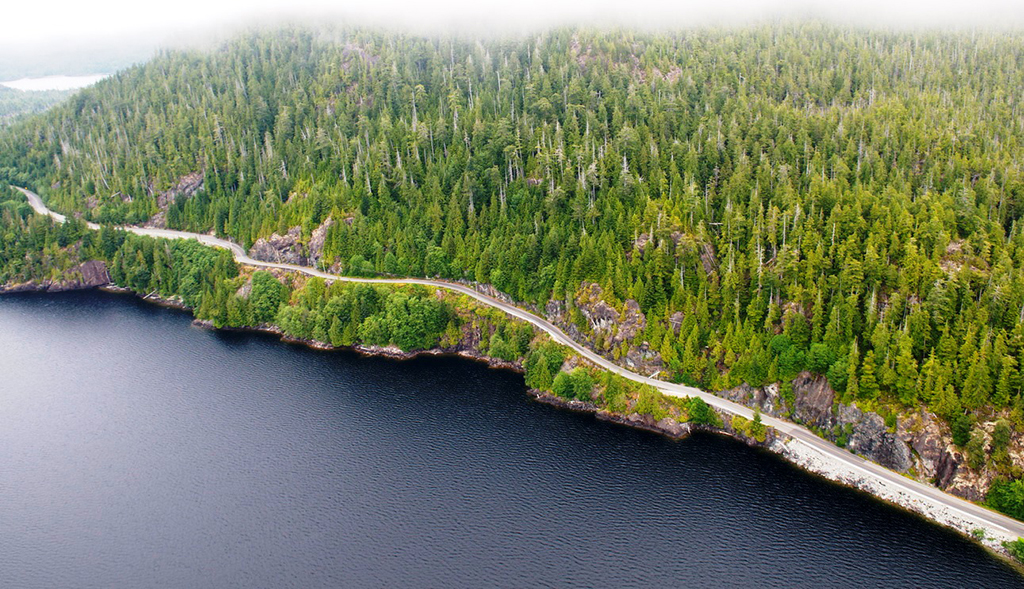 The Pacific Rim Highway 4 is the only east-west corridor on Vancouver Island servicing the west coast communities of Ucluelet and Tofino as well as the Pacific Rim National Park Reserve at Long Beach. This is a critical route for moving goods, linking communities, and supporting a thriving tourism industry in the region.
The project is located adjacent to Kennedy Lake approximately 14km northeast of the Tofino/Ucluelet Highway 4 junction. The project starts at the bottom/south end of Kennedy Hill at the TR19 Creek culvert, and continues up the hill towards Port Alberni for a distance of approximately 1.5km.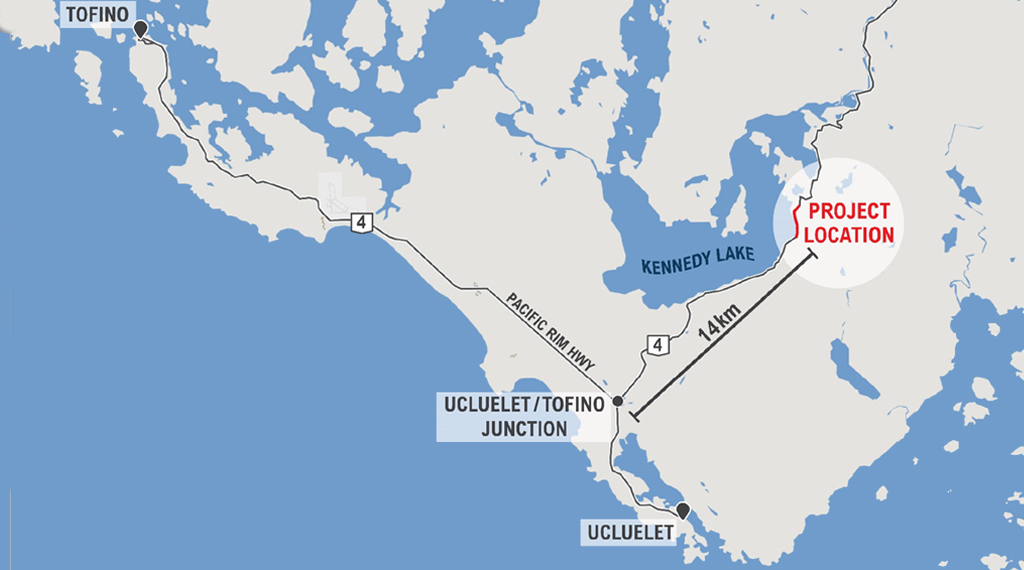 The safety improvements over the 1.5 kilometre project length include:
Widening the highway to accommodate two full lanes and 1.5m paved shoulders, including roadside barrier along the lakeside of the highway
Horizontal realignments to the highway to remove the sharp blind corners, straightening the road and eliminating the 30km/hr speed advisory curves
Vertical realignments to the highway to reduce the existing 12% grade along sections of the hill down to 9% at the bottom and 4% at the top.
Blasting and excavating bedrock to accommodate the above, and eliminating the existing overhanging rock above the road surface that is a hazard to larger transport vehicles currently requiring them to cross centreline
Providing for rock slope stabilization and slope meshing to mitigate rock fall onto the highway, including a wide rock catchment ditch
The provision of a rest area with view point utilizing a portion of the to be abandoned old highway, including an intersection to safely access the new facility by passenger vehicle, RV, bus, and even by transport truck.
Project cost:
$38.1 million has been jointly committed for the Kennedy Hill Safety Improvements project by the Province of B.C. ($24,600,000) and the Government of Canada ($13,500,000).
Status:
A $29-million contract was awarded to Emil Anderson Construction (EAC) Ltd. of Kelowna. Construction is now underway and scheduled to finish in summer 2020.
Project Benefits
The project will upgrade 1.5 kilometres of the Pacific Rim highway along Kennedy Hill adjacent to Kennedy Lake
The project will benefit the surrounding communities by stimulating economic development and tourism opportunities that rely on this vital corridor
Wider shoulders will improve safety for all users of the highway, including vehicles, cyclists and pedestrians
The project will benefit commercial and recreational vehicles with the reduced road grade and elimination of the overhanging rock
The new rest area and view point will be a benefit to area tourism
Public Consultation
Community Information Sessions were held on January 23, 2018 in Tofino and January 24, 2018 in Ucluelet.
Approximately 134 people attended the two sessions. We received more than 70 pieces of feedback. The majority show support for the project.
Information session materials:
---