Invasive Species Management Contacts
Report an Invasive Plant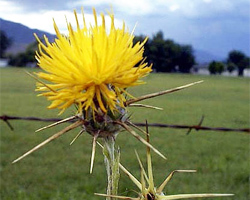 Include a photo with your report.
Call toll-free:
1-888-933-3722
(1-888-WEEDSBC)
Learn How to Spot Invasive Species
Do not touch plants with toxic properties.
Find out about invasive species in B.C.
For training opportunities contact:
Invasive Species Organizations
Invasive Species Council of B.C. (ISCBC)
The ISCBC works with a variety of stakeholders to undertake a coordinated, province-wide approach. Key networks include national and regional invasive species organizations, local governments and Indigenous partners.
Other organizations
Cariboo Regional District
Thompson Nicola Regional District Invasive Plant Management
Okanagan and Similkameen Invasive Species Society (OASISS)
East Kootenay Invasive Species Council (EKSIC)
Lillooet Regional Invasive Species Society (LRISS)
Sea to Sky Invasive Species Council (SSISC)