Human Trafficking: Canada Is Not Immune, 2nd Edition (2014)
Please note: the videos that appear throughout this course are currently unavailable. We are working on a resolution. Please check back soon.
B.C.'s Office to Combat Trafficking in Persons
Welcome to the Online Training!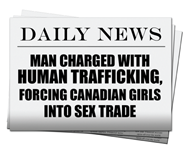 This online training course provides information on how to recognize, protect, and assist a person who may have been trafficked in Canada.
"As an organization responding to human trafficking issues and cases in Alberta, we require all of our volunteers and staff to take this training. It provides comprehensive information that all front line workers should know if they think they may encounter trafficked persons in their work."
- Andrea Burkhart, ACT Alberta
There are four modules in total. Each should take approximately one to two hours to complete. At the end of the course, you'll have the opportunity to take a quiz and print a personalized certificate of completion.
Navigating the Course
There are two options for navigating this course:
Click on each tab in the left-hand navigation panel, then click on each page to learn more information. Click on the module tab again to close one module and open another.

Use the "Next" and "Previous" buttons at the bottom of each page.
Please note: you will need Adobe Acrobat Reader to view the PDF files.
To begin, click on the Next button below.
Funding for this project was provided by Public Safety Canada and the Department of Justice Canada
Copyright © 2014 Province of British Columbia.