B.C. Watercraft Inspection Stations
If you are transporting a watercraft in B.C. it is a mandatory to stop and report to all invasive mussel watercraft inspection stations along your travel route. Watercraft includes sailboats, motorboats, car toppers, kayaks, canoes, and paddle boards being transported in B.C. The B.C. Conservation Officer Service has a team of specialized inspectors checking and if necessary decontaminating watercraft being transported into B.C.
Inspectors are trained in watercraft inspection and decontamination following the standard protocol that is used across the Pacific Northwest. All watercraft owners coming through watercraft inspection stations are asked a series of questions by the inspectors to determine if the watercraft is high or low risk. Two key questions asked by inspectors to determine watercraft risk are:
Where was the watercraft in the last 30 days?
How long has the watercraft been out of the water?
Any watercraft or piece of equipment that was in any province or U.S. state known or suspected of having ZQM in the past 30 days is considered high-risk. Any watercraft or equipment coming from a state or province that has quagga or zebra mussel infestations and is not clean to the extent determined as practical by inspectors, and has not been drained and dried is also considered high-risk even if it has been out of the water for over 30 days. Low risk watercraft are those that have been used solely within British Columbia or other non-contaminated provinces or states within the last 30 days.
Fines for Failing to Stop
Under Provincial legislation, all watercraft entering B.C. and passing by an open inspection station must report in. Failure to stop at an open inspection station could result in a $345 fine. In 2017, 59 tickets and 86 warnings were issued by Conservation Officers to motorists for failing to stop at inspection stations. Watercraft operators who fail to stop at an inspection station are being reported to the Report All Poachers and Polluters (RAPP) hotline and full time Conservation Officers are responding and following up. The program will be stepping up enforcement at the inspection stations during the 2018 season.
2018 Watercraft Inspection Season
B.C. watercraft inspection stations (see map below) opened on April 1st 2018 to mark the start of the 2018 season. Watercraft inspection stations will be operational until mid-September in northern locations (Mt. Robson and Dawson Creek) and late October in the remaining southern locations.
The 2018 inspection station locations and hours of operation were selected and adjusted using data collected from the 2017 inspection season. The locations are assessed for suitability as a watercraft inspection station based on encounter frequency (watercraft encounters/effort), safety/communication, direction of traffic targeted, the source location of boaters (percent coming from outside B.C.) and the number of high-risk and mussel infested watercraft intercepted.
Through partnership with the Ministry of Transportation and Infrastructure the program developed new watercraft inspection signs for the 2018 season (see below). The signs have been designed to improve visibility and awareness for motorists transporting watercraft.
If you are transporting a watercraft in B.C. it is mandatory to stop and report to all invasive mussel watercraft inspection stations along your travel route. Failing to stop at an inspection station can result in a fine of $345.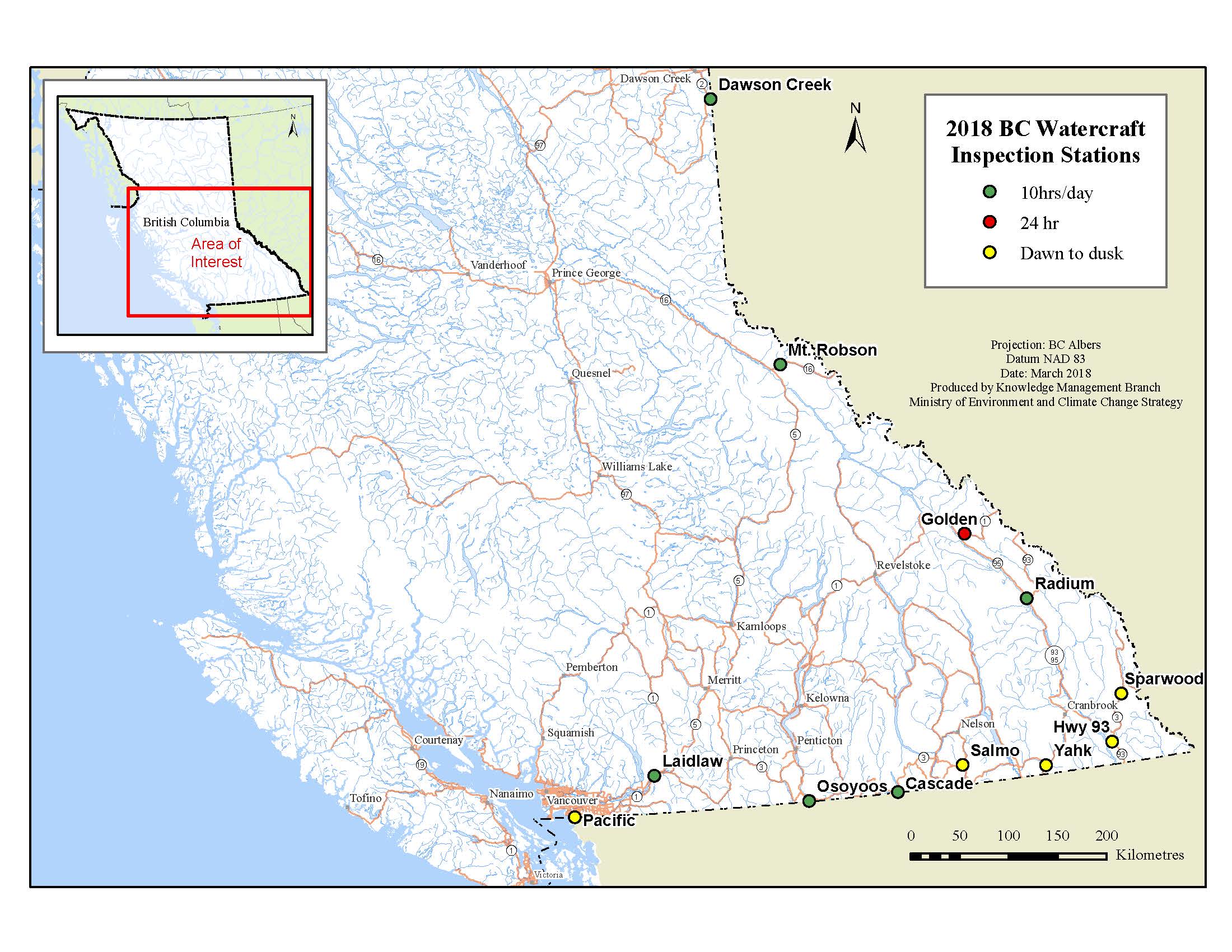 BC-AB Passport Program
In 2017 B.C. and Alberta launched a joint watercraft passport pilot program. The passport is aimed at watercraft that travel frequently through B.C. and Alberta. When passports are issued, boaters must sign a commitment to practice Clean, Drain, Dry and stop at all inspection stations. It is still mandatory for all passport holders to stop at inspection stations, but the inspection process is quicker. The passport is stamped each time a boater goes through an inspection station. The passport serves as a record of past watercraft inspections. The passport is available for boaters who travel between B.C. and Alberta and those who only travel within B.C.
Program Funders