Ice-flow indicators
Landform-scale (e.g. drumlins and flutes) and outcrop-scale (e.g. striations and grooves) ice-flow indicators record the movement of glaciers over the landscape.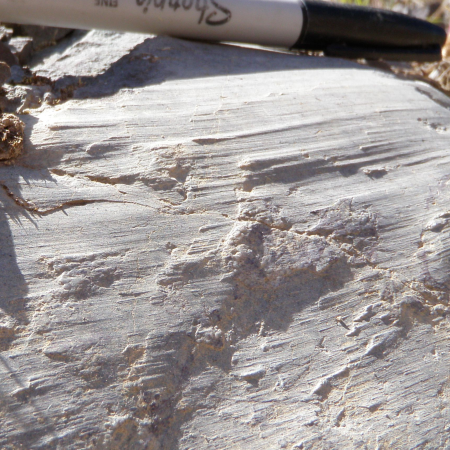 A compilation of ice-flow indicators digitally captured from published and unpublished surficial geology, terrain, glacial features, and bedrock geology maps has been produced for British Columbia.
Open File 2016-04 is the most recent compilation and consists of over 150,000 ice-flow indicators across British Columbia and Yukon. It builds on the first two compilations for British Columbia (Open File 2013-06 provincial compilation; Open File 2013-03 compilation for Interior Plateau physiographic region of British Columbia) and includes a database. The raw data are integrated into a single database; any data conflicts, from different sources, have not been reconciled. A better understanding of the Cordilleran ice sheet flow history is important for designing and implementing drift prospecting surveys, and interpreting resultant geochemical and mineralogical data. This map and database illustrate major ice divides, and flow directions, for the Canadian sector of Cordilleran ice sheet during the Late Pleistocene.
Field data are sparse in an area 300 km south of the British Columbia -Yukon border. New ice-flow indicator data were generated using digital stereo airphotos, digital derived-stereo orthophoto mosaics, and digital derived-stereo Satellite Pour l'Observation de la Terre (SPOT ) imagery and have been included in the database.
This compilation will be updated and available for download as new ice-flow indicators are mapped.
The current version of is downloadable here.
Ice-flow indicator compilation, British Columbia and Yukon
Ice-Flow Indicator Compilation, British Columbia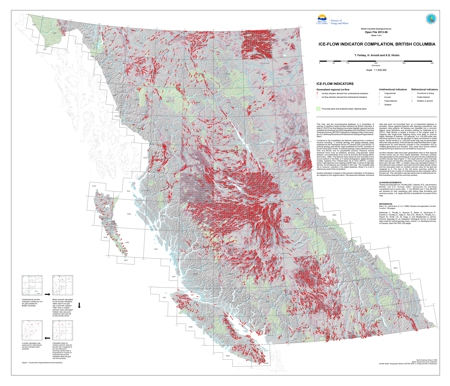 Compilation of Micro- to Macro-Scale Ice-Flow Indicators for the Interior Plateau, Central British Columbia