MHP Guide
Get an overview of the legislation that governs how Manufactured Home Park tenancies work in British Columbia. Information is presented in language that's easy to understand and includes details about the dispute resolution process.
Manufactured Home Park Tenancy Act: A Guide for Manufactured Home Park Landlords & Tenants in B.C.
A summary of how the Manufactured Home Park Tenancy Act affects landlords and tenants of manufactured home parks – also known as mobile home parks (March 2021 version).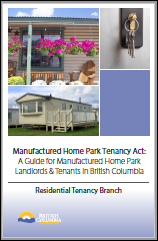 The content on this website is periodically reviewed and updated by the Province of British Columbia as per the date noted on each page: March 26, 2021.