Preventing and reducing homelessness: an integrated data project
The Province is undertaking an innovative data project to better understand, respond to, and prevent homelessness in B.C.
Learn more on this page:
Project Overview
Potential Uses
Project Phases
Data
---
Project Overview
The Ministry of the Attorney General and Responsible for Housing, in partnership with BC Housing and the Ministries of Social Development and Poverty Reduction (SDPR) and Citizens' Services, is undertaking an integrated data project to identify the cohort of individuals who have experienced homelessness or are at risk of becoming homeless in B.C.
By providing a comprehensive, robust and reliable dataset, the project will help the Provincial Government better understand, respond to, and prevent homelessness in B.C.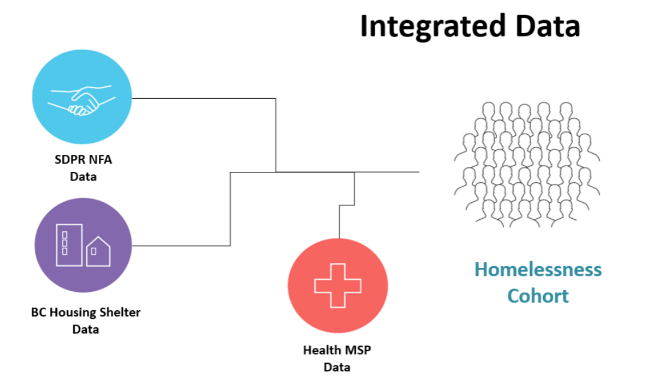 Potential Uses
To provide an evidence base for public policy decision making
A baseline for policy makers to assess the impacts of policy initiatives. Currently, this metric to evaluate policy outcomes at the population level does not exist.
To provide baseline understanding for service delivery decisions
New demographic insight about the population of people served. This will help to identify new opportunities for collaboration and more strategic delivery of client services to achieve greater collective impact.
To improve the quality, coverage or presentation of existing statistical information
Expand data gathering to all communities in B.C. and use this data to improve supports and services for people experiencing homelessness across the province.
Project Phases
Across the four proposed phases of the integrated data project, the team will:
Phase 1:

Use integrated data to provide an estimate of the number of people experiencing homelessness in B.C.

; Homeless Cohort
Phase 2: Examine how people use homelessness services
Phase 3: Investigate how people move into and out of homelessness
Phase 4: Predict demand and evaluate programs
Phase 1 defines the research cohort of de-identified individuals who experienced homelessness in B.C. in 2019. Descriptive analysis lends insight to the demographic and geographic composition of the cohort, aggregated by age, gender and census division.
In future phases, data gathered from the services utilized across public sector entities will allow for a greater understanding of the demographic characteristics of this population, and the pathways by which people enter homelessness. This information will provide insights into the cross-government interventions that support people to secure stable housing, exit homelessness and remain stably housed.
In addition to providing more information about homelessness, this work will highlight roles of different parts of government and its partners in preventing and responding to homelessness. It will also identify opportunities for coordination across government to better understand and effectively respond to homelessness.
Data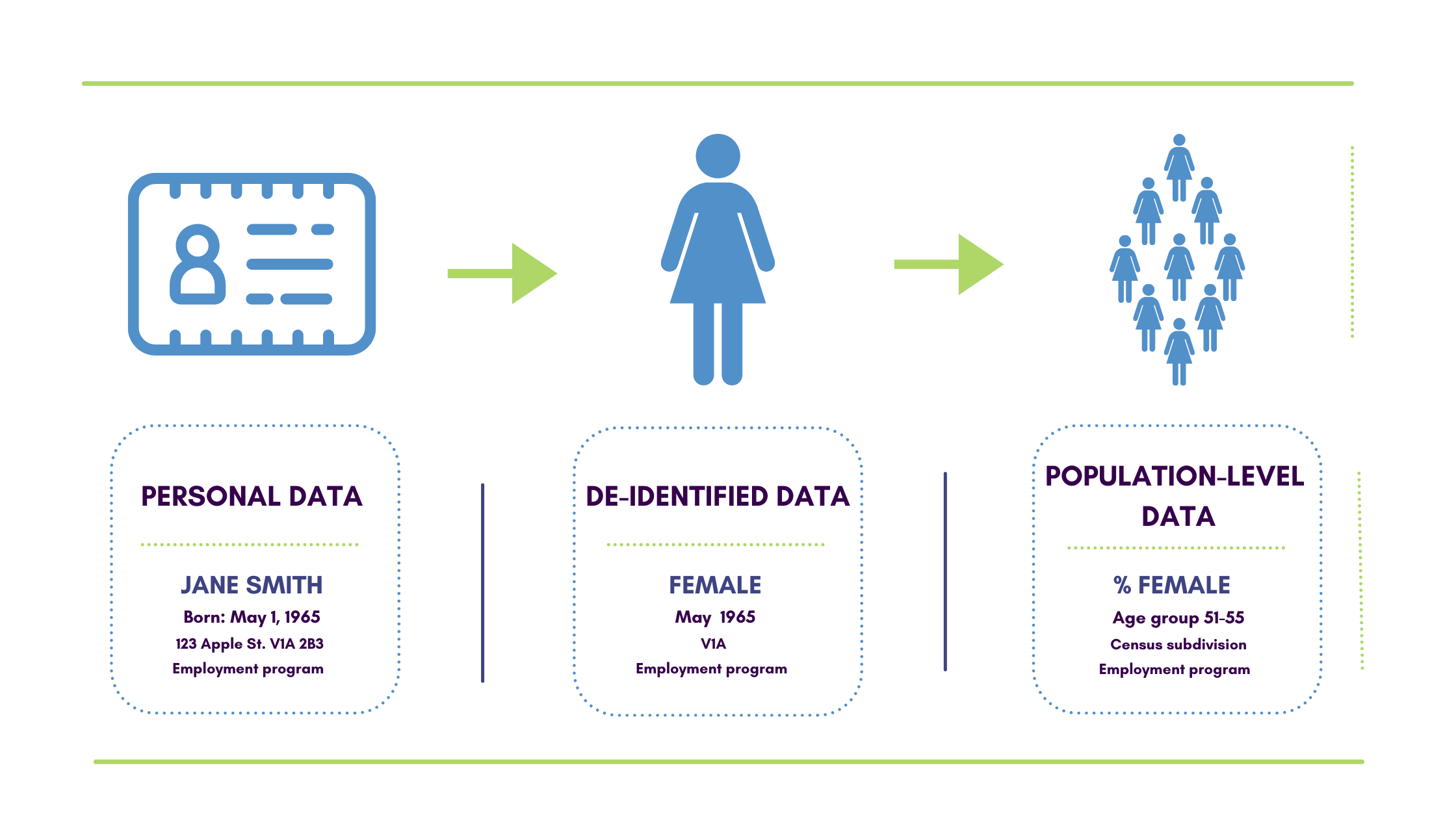 The project is enabled by the Data Innovation Program (DIP), a data integration and analytics program for the B.C. government. While every B.C. ministry collects and manages its own data, the Data Innovation Program can securely link and de-identify data from multiple ministries, giving government a broader understanding of complex issues. The Data Innovation Program is based on world-leading best practices for managing safe access to confidential or sensitive data, following the Five Safes model to protect data and reduce the risk of sensitive data being accessed or used inappropriately.
The data science work is conducted by the Data Science Partnerships program, a service provided through the Digital Platform and Data Division of the Office of the Chief Information Officer, Ministry of Citizens' Services, which aims to accelerate adoption of data-driven digital government by providing data science support to ministries.
Data sets used in Phase 1 of this project were:
B.C. Employment and Assistance Data (SDPR, Data Innovation Program)
2019 involvement data
2019 no fixed address data
Emergency Shelter Program (BC Housing, Data Innovation Program)
Shelter stays data
Clients' data
Client Registry (Data Innovation Program)
Statistics Canada Data
The analytic definition of the 2019 Homelessness Cohort integrates SDPR BC Employment and Assistance program no fixed address (NFA) data and BC Housing Homeless Individuals and Families Information System (HIFIS) shelter use data with the Ministry of Health Medical Services Plan (MSP) client registry as the population directory used to link the data.
---
The content on this website is periodically reviewed and updated by the Province of British Columbia as per the date noted on each page: November 8, 2021.