Summary Description
Provincial Health Officer's Annual Reports
First Nations Population Health and Wellness Agenda (PDF, 25.8MB)
Under the 2006 Transformative Change Accord: First Nations Health Plan (TCA: FNHP), the BC Provincial Health Officer committed to regular reporting on the seven indicators identified in the TCA: FNHP, in order to track the progress and meet the related 10-year targets. Under the initial TCA: FNHP monitoring period (2005-2015), reports were released in 2007, 2009, 2012, 2015, and 2018. The PHWA represents the next 10-year time frame (2020-2030) and a new stage in how the health and wellness of First Nations in BC is monitored, assessed, and reported.
The collaborative process between the FNHA and the PHO to develop a new suite of indicators, set targets, and develop reports together is a step forward in reconciliation work in BC and in decolonizing reporting initiatives. The PHWA prioritizes a First Nations perspective and offers a holistic strengths-based approach to First Nations health and wellness. It uses "two-eyed seeing" to use Western data and First Nations teachings, qualitative data, and stories together. This baseline report introduces the indicators that the partnership will monitor for 2020-2030, which includes the original seven from the TCA: FNHP and an additional 15 new indicators.
The PHWA is organized into three key areas: Healthy, Self-Determining Nations and Communities has three indicators (self-determination, connection to land, and cultural wellness); Supportive Systems has six indicators (e.g., food insecurity, acceptable housing, and certified, practicing First Nations health care providers); and Healthy, Vibrant Children and Families has 13 indicators (e.g., infant mortality, diabetes, life expectancy). Each indicator has a 10-year target for 2030. Analyses by socio-demographic variables such as sex and geography are explored when possible.
This baseline report reveals areas where progress continues to be made and other areas that require more attention and action by system partners and institutions. This report closes by providing seven key recommendations to systems partners, institutions, organizations, and collectives to advance the health and well-being of all First Nations in BC. Our aim is to continue to support First Nations people in BC to reach their full potential, and to work together as a province with one heart and one mind to achieve the vision of healthy, vibrant, self-determining children, families, and communities.
PHO's Annual Report (2012): Is "Good", Good Enough? The Health and Well-Being of Children & Youth in BC (PDF, 6.1MB)
This report examines child and youth health and well-being in BC using a comprehensive set of 51 indicators that play a significant role in a child's life. This suite of indicators spans five dimensions of health and well-being: physical health and well-being; mental and emotional health and well-being; social relationships; economic and material well-being; and cognitive development. This report uses the indicators presented in 2013 in the joint PHO-CIHI special report Child and Youth Health and Well-being Indicators Project: CIHI and BC PHO Joint Summary Report. The report serves as a baseline for measuring improvement in children and youth's health into the future, and offers five recommendations with the goal of improving health and well-being of children and youth in BC overall, and of addressing disparities in health status based on sex/gender and on geography. This report has a companion website that provides charts from the report in an interactive format, with downloadable highlights, tools and resources: www.ChildHealthIndicatorsBC.ca.
Go back >
PHO's Annual Report (2011): Where the Rubber Meets the Road: Reducing the Impact of Motor Vehicle Crashes on Health and Well-being in BC (PDF, 12MB)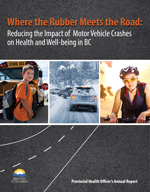 This report examines road safety and motor vehicle crashes in BC using a comprehensive safe system approach (including safe road users, safe speeds, safe roadways, and safe vehicles) in combination with a population health approach and a public health approach. It highlights areas where BC has achieved successes over time, and supports the provincial strategy, BC Road Safety Strategy: 2015 and Beyond. The report aims to support and advance the health of the BC population as a whole, while examining sub-populations that face a greater burden of MVC serious injuries and fatalities. Analyses explore data according to road user type, age, sex, and health authority area. Analyses also examine road safety for Aboriginal peoples and communities. The report concludes with 28 recommendations for reducing the burden of MVCs and improving road safety in BC.
Go back >
PHO's Annual Report (2010): HIV, Stigma and Society: Tackling a Complex Epidemic and Renewing HIV Prevention for Gay and Bisexual Men in British Columbia (PDF, 5.8MB)
This report examines the HIV epidemic in BC among gay and bisexual men.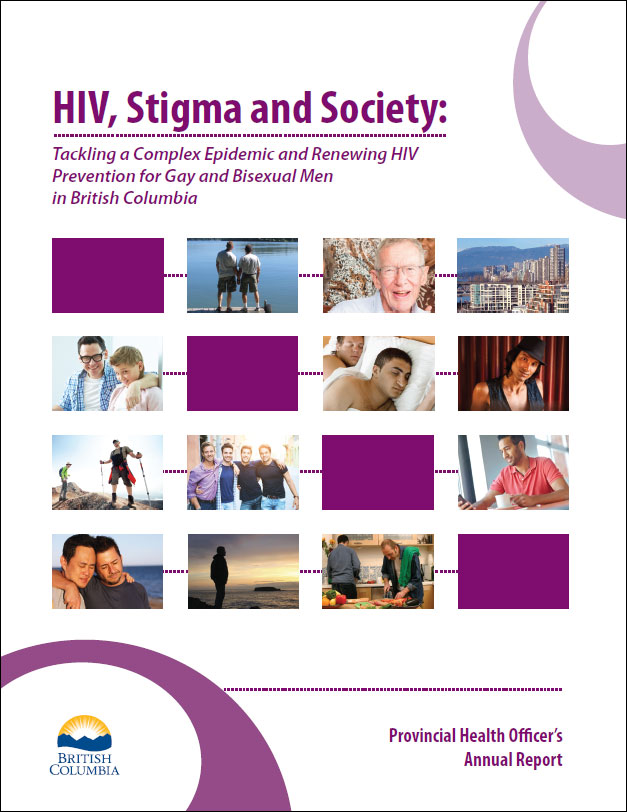 Highlights from the 2010 PHO's Annual Report
While the number of HIV infections in BC has been decreasing in recent years due to improvements in HIV prevention and treatment, the exposure group of gay and bisexual men has not had the same level of improvement as other groups.
In BC in 2011, gay and bisexual men made up 57 per cent of new HIV infections and 45 per cent of all people known to be living with HIV.
Some sub-populations among gay and bisexual men experience additional vulnerability based on age, birth cohort, ethnicity, and geographic location. For example, over the past ten years, there has been a steady increase in the number of new HIV infections among gay and bisexual men born between 1980 and 1999, while the highest number of new diagnoses occurs among those men born between 1960 and 1979.
Condom use remains high among gay and bisexual men: 75% of those surveyed in 2010 reported always or almost always using condoms with casual sex partners.
80% of gay and bisexual men have been tested for HIV in their lifetime. Rates are lower outside Vancouver.
Mental health problems can lead to increased sexual risk-taking behaviours, which ultimately then results in HIV infection. Gay and bisexual men experience a greater number of poor mental health outcomes, such as high rates of verbal harassment and suicidality.
Drivers of the HIV epidemic among gay and bisexual men in BC examined in this report include: stigma; HIV prevalence; sexual behaviours; sexual networks; the effect of HIV treatment; HIV viral load; acute HIV infection; testing and awareness of HIV status and other STIs; access to appropriate health care; marginalization and mental health; migration and immigration; racism; and broader systemic challenges.
Two advisory groups involved in the development of the report offer 15 recommendations in this report, and they are endorsed by the PHO.
Six priority PHO recommendations are offered with the goal of renewing HIV prevention for gay and bisexual men in BC and reducing overall rates of HIV incidence and prevalence in BC. These recommendations focus on: developing a comprehensive health strategy for gay and bisexual men; enhancing related protective factors; improving and expanding health care for HIV-positive individuals; advancing support for mental health and substance use among gay and bisexual men; revisiting prosecutorial guidelines pertaining to HIV; and expanding research and monitoring for HIV prevention among gay and bisexual men.
Go back >
PHO's Annual Report (2009): Lower the Stakes: A Public Health Approach to Gambling in British Columbia (PDF, 6.8MB)
This report examines gambling trends in BC from a public health perspective.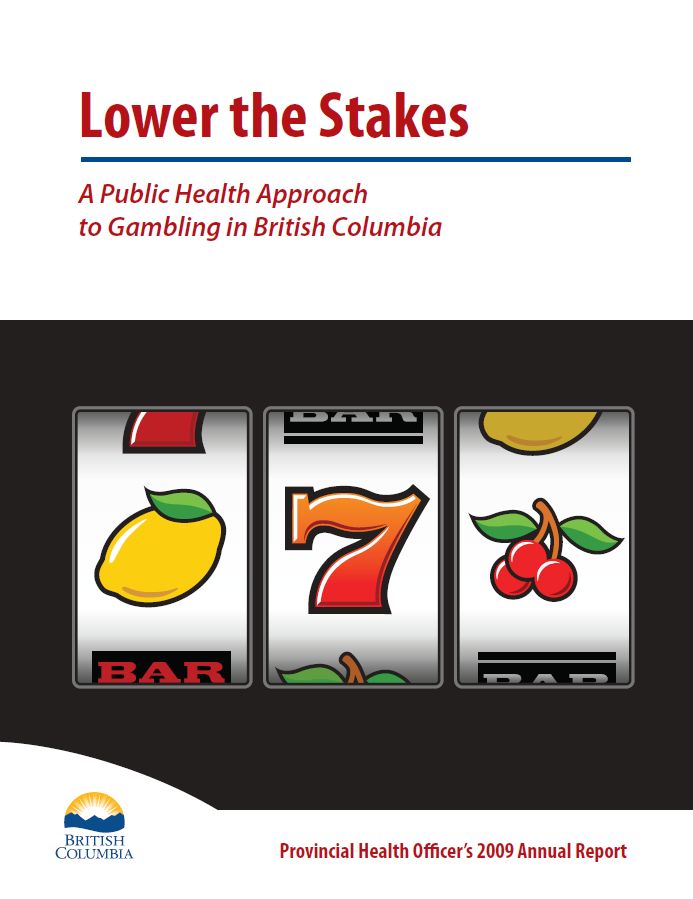 Highlights from the 2009 PHO's Annual Report
Over the last decade, government revenue from gaming in BC has increased substantially, and BC earns more of its total provincial revenue from gaming than the Canadian provincial average.
Despite moderate to high levels of revenue from gaming, in 2011/2012, BC distributed the smallest amount of gaming revenue to responsible gaming and problem gambling initiatives among reporting provinces—including percentage of gaming revenue (0.51 per cent compared to the average of 1.45 per cent)—and the smallest amount per capita age 18 and up ($1.50 compared to the average of $3.59).
Over the last nine years, the number of higher risk games (such as electronic gaming machines) has increased 210 per cent, while the number of lower risk games (such as bingo) has decreased.
Between 2002 and 2007, gambling participation decreased overall in BC, but the number of problem gamblers more than doubled, increasing from 0.4 per cent of the population age 18 and up (approximately 13,000 people) to 0.9 per cent (approximately 31,000 people).
The BC government deserves recognition for implementing various problem gambling prevention and treatment programs (such as the Voluntary Self-Exclusion Program, the Discovery Program, and the Problem Gambling Help Line).
This report concludes with 17 recommendations related to the public health themes of preventive interventions, health promotion, health protection, and assessment and surveillance, with the overall goal of balancing the known negative impacts of gambling with its potential benefits.
Go back >
PHO's Annual Report (2007): Pathway to Health and Healing (PDF, 13MB)
This report provides an update to the 2001 Provincial Health Officer's report on the health and well-being of Aboriginal people in B.C.
Highlights from the 2007 PHO's Annual Report
Progress has been made in improving both the determinants and outcomes of Aboriginal health especially in the areas of life expectancy and overall mortality
Significant gaps in health status continue to exist as the Status Indian population have two- to four-fold higher likelihood of being hospitalized for external causes such as injuries and mental and behavioural disorders due to substance use
The most concerning trend is the widening gap between Status Indians and other residents for HIV/AIDS disease, which is clearly reflective of both increased vulnerability and lack of access to Highly Active Antiretroviral Therapy (HAART)
Evidence shows that health status, economic and educational advances can be made by Aboriginal communities through the application of best practices and the removal of barriers and discrimination
Continuing the foundational work in the Transformative Change Accord and working with Aboriginal political entities to address the challenges should result in continuous improvements in health determinants and outcomes
Go back >
PHO's Annual Report (2006): An Ounce of Prevention Revisited (PDF, 3.1MB)
This report provides a review of health promotion and selected outcomes for children and youth in B.C. schools.
Highlights from the 2006 PHO's Annual Report
Research consistently shows that health and education are inextricably linked and those with better education are healthier than those with less education
Overall, students and youth in B.C. rated their health and well-being quite high
In the last 15 years, significant progress has been made in tobacco use among teens as well as reduction in youths trying alcohol especially those <15 years of age
More effort is still necessary in the areas of obesity, mental health and substance use

A large percentage of children and youth are overweight or obese and are likely to suffer a poor quality of life in adulthood
15% of B.C. students suffer from some type of mental disorder
Marijuana use increased significantly between 1992 and 1998.

Several groups of students require special attention in order to succeed and make a successful transition into adulthood
Go back >
PHO's Annual Report (2005): Food, Health and Well-being in British Columbians (PDF, 6.4MB)
This report intends to inform British Columbians of the role of food and nutrition in the lives of people in BC.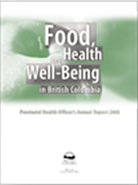 Highlights from the 2005 PHO's Annual Report
Poor food choices and obesity can be a significant risk factor for chronic disease
19% of adult British Columbians are obese
A healthy food system is essential to support healthy food choices, but 17% of B.C.'s population could not afford the quality or variety of food they wanted, worried about not having enough to eat, or had not had enough to eat at some time in the previous 12 months
The First Nation populations have higher incidence and prevalence rates of chronic diseases compared to the rest of the B.C. population. This is linked to the complex interactions of biological, cultural, and behavioural factors that have contributed to higher rates of overweight and obesity the First Nations populations
Facing epidemics of obesity and chronic illness, it is necessary to work towards creating a positive and healthy social, nutritional, and physical environment where people can have access to healthy and safe foods, and can take part in physical activity that will allow them to live healthier lives
Go back >
PHO's Annual Report (2004): The Impacts of Diabetes on the Health and Well-being of British Columbians (PDF, 3.6MB)
This report intends to inform British Columbians of the status of diabetes with a focus on recommendations for improvements in prevention and management of diabetes in BC.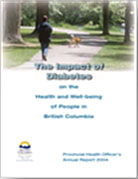 Highlights from the 2004 PHO's Annual Report
In 2003/2004, there were 220,000 people living with diagnosed diabetes in British Columbia with an average of 20,000 newly diagnosed cases each year
The prevalence rate of diabetes among Status Indians is about 1.4 times higher than other B.C. residents. Status Indians also experience higher rates of diabetes-related co-morbidities
Mortality rates among people with diabetes are twice as high as those of similar age who do not have diabetes
Ministry of Health has launched prevention and wellness programs with a population based focus including ActionSchools!, ActNow BC, B.C. Chronic Disease Framework(PDF) and the BC Nutrition Survey
If prevention methods are employed and successful, the incidence of diabetes can be reduced by 25% with an annual savings of $200 million within 10 years
Governments and communities need to work together to provide effective, aligned, multi-sectoral interventions as well as committed resources and funds to maintain these programs over long periods of time
Go back >
PHO's Annual Report (2003): Every Breath You Take… Air Quality in British Columbia, a Public Health Perspective (PDF, 3.8MB)
This report focuses on air quality in B.C, including indoor and outdoor air pollutants and their health effects.
Highlights from the 2003 PHO's Annual Report
There is a significant health burden due to air pollution in B.C.
Annually, approximately 140-400 deaths, 700-2,000 hospital admissions, and 900-2,700 emergency room visits are due to air pollution with health care costs of $167 million
British Columbia's air quality achievements include 2001 First Nations Tobacco Strategyto promote the health and well-being of Aboriginal people and to prevent and stop tobacco misuse, the AirCare Program that requires all light-duty vehicles to be inspected, the BC Action Plan for Clean Air with new provincial policies, regulations and standards for vehicle emissions and motor fuels
Public health should focus on educating the public on the sources of air pollution and their associated health impacts in order to stimulate public support for regulatory changes that affect air quality, and to encourage individuals to make small but positive changes in their day-to-day activities
We have a collective responsibility to engage and participate in efforts to reduce the negative effects of air pollution on our own health and the health of others around us
Go back >
PHO's Annual Report (2002): The Health and Well-being of People in BC (PDF, 3.1MB)
This report details progress towards achieving B.C.'s health goals that were established in 1996. The Provincial Health Officer also provides tangible social, economic, environmental, and health targets for focusing our collective efforts and improving the health and well-being of B.C.'s citizens and communities.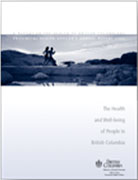 Highlights from the 2002 PHO's Annual Report
British Columbia has made significant progress and improvements in the population's health and wellness
B.C. leads the country in having the highest-educated working-age population and the lowest percentage of smokers
Health trends have remained relatively unchanged in the infant mortality rate as well as hip fractures, tuberculosis cases and mental health hospitalizations
Data indicate less encouraging trends indicating that more people are drinking heavily, greenhouse gas emissions are worsening and the number of boil-water advisories is increasing
Top ten actions for individuals and policymakers in the report highlight the need for informed social policy, effective public health programs and targeted government action
Go back >
PHO's Annual Report (2001): The Health and Well-being of Aboriginal People in BC (PDF, 11MB)
This report provides an update on British Columbia's progress toward the goal of improved health for Aboriginal people.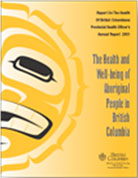 Highlights from the 2001 PHO's Annual Report
Over the past few decades, there has been a significant recovery in the health status of Aboriginal people
Infant mortality, unintentional injuries, and suicide rates have improved steadily
Significant gaps still remain as Aboriginal persons living in British Columbia have standard of living that is 20% below the provincial average based on measures such as income, employment, educational attainment, and housing adequacy
Many Aboriginal organizations provided input throughout the development of this report and recommend formal commitments, improved standard of living, more recognition, a more holistic approach, more autonomy and more representation to improve Aboriginal health
The Provincial Health Officer proposes provincial-level targets for efficiently and strategically targeting health inequities
Go back >
PHO's Annual Report (2000): Drinking Water Quality in BC: The Public Health Perspective (PDF, 1.2MB)
This report provides information on current drinking water quality issues including the regulation and management of B.C.'s water systems, Canadian and international water quality guidelines and scientific evidence to guide public health decisions on safe drinking water.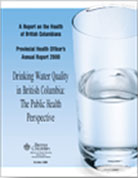 Highlights from the 2000 PHO's Annual Report
For many years, B.C. has had the highest reported rate of intestinal illness of the provinces in Canada, and consuming contaminated water or food has caused most of these illnesses
B.C. has a system of safeguards to protect the water we drink, including pollution prevention programs for drinking water sources and public health standards for water treatment
The Provincial Health Officer, government ministries, regional health officials, and the BC Centre for Disease Control collaborated to review the measures that need to be in place to prevent outbreaks of waterborne bacterial and parasitic diseases and to manage emerging health risks in our water
There are 8 key messages and 32 recommendations related to improving drinking water quality and safeguarding B.C.'s drinking water based on the best evidence from research and the extensive consultations involved in the development of this report
Go back >
PHO's Annual Report (1999): A Report on the Health of British Columbians (PDF, 1.6MB)
This report provides an update on progress toward achieving B.C.'s health goals and lays out the framework and a set of 93 indicators used to monitor the population's health.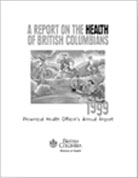 Highlights from the 1999 PHO's Annual Report
There are some notable areas of progress toward achieving B.C.'s health goals

B.C. leads the world in having one of the best infant mortality and life expectancy measures
Positive trends can be seen in almost half (42) of the 93 indicators that are presented in the report

Some aspects of health show less encouraging results

39 indicators have not shown much improvement and 6 are worsening
Many families show signs of distress, reported episodes of regular heavy drinking, diabetes, asthma and allergies are becoming more common

The report identifies priority actions for each of the six health goals

Living and working conditions
Individual capacities, skills, and choices
Physical environment
Health services
Aboriginal health
Disease and injury prevention
Go back >
PHO's Annual Report (1998): Immunization (PDF, 1.4MB)
This report provides a review of the province's immunization programs and advocates for improvements in the current immunization system to achieve the best possible benefits to health for British Columbians.
Highlights from the 1998 PHO's Annual Report
Immunization is highly effectively

More than 900 diphtheria cases were reported in 1928, the year before diphtheria immunization was introduced
Today, diphtheria cases and deaths are extremely rare

B.C. has one of the most comprehensive immunization programs in the world

Approximately 80% of infants and preschool children have been immunized by the time of their 2nd birthday

Immunization is also a bargain

The Ministry of Health will spend $2.75 per person ($11 million annually) on immunizations
Research has shown that each dollar invested in immunization can save between $7-80 in medical and other related costs
Vaccine-preventable diseases still account for 2,200 hospital cases and 17,000 bed-days each year at a cost of $9.7 million per year in B.C.

Maintaining and improving immunization programs are the best way to keep people healthy and to reduce these health care costs
This report identifies 81 specific actions we can take to strengthen our current immunization program sand to prepare for the future
Go back >
Provincial Health Officer's Annual Report (1997): The Health and Well-being of British Columbia's Children (PDF, 1.4MB)
This report focuses on the health and development of British Columbia's children and identifies actions to improve their health.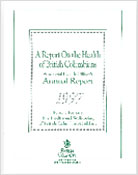 Highlights from the 1997 PHO's Annual Report
The importance of child health and well-being has been recognized in leadership initiatives nationally and provincially
We have made progress in many areas of child health

Overall, the children of B.C. are among the healthiest in the world and live in supportive families with a stable and adequate family income

There is still some distance to go if we are to meet our commitments to ensuring that all young children receive the best possible start in life

Aboriginal children, children in low-income families, and children living in the north and in parts of Vancouver experience high death rates, compared to their counterparts
One child in five lives in a low-income family and the trend is not improving.

Reducing child poverty and providing stimulating and supportive child care are the most important actions we can take to improve the well-being of children
The report identifies 122 specific actions that can be taken by the many individuals and groups who influence the health of children at provincial, regional and community levels