2020 Award for Road and Bridge Maintenance
---
The nominees for the 2020 Award of Excellence for Road and Bridge Maintenance are:
Dawson Road Maintenance Ltd.
Location: Service Area 16 – South Cariboo
Dawson Road Maintenance Ltd. in the South Cariboo region has approximately 5,873-lane kilometres of maintained roads, four rest areas, approximately 180 bridge structures, avalanche and rockfall areas and an inland ferry. The maintenance contractor serves 14 Indigenous communities and the municipalities of 100 Mile House, Cache Creek, Clinton, Ashcroft and Lillooet.
Dawson Road Maintenance Ltd. maintenance staff respond quickly to emergency events and providing reliable updates on DriveBC and its social media platforms. The crews work during extreme weather during all hours and holidays to open roads for the public.
Dawson Road Maintenance Ltd. proactive approach is demonstrated in its preparation for flooding, landslides and avalanches. In 2020, it responded to multiple severe flooding events throughout the district and restored damaged roads quickly. Dawson Road Maintenance Ltd. also provided additional resources in response to COVID-19 by providing enhanced rest area services and protocols.
Employees of Dawson Road Maintenance Ltd. volunteer time and services to support its community. Staff volunteer for food bank drives, deliver sandbags and clear snow at fire departments. Dawson Road Maintenance Ltd. provides exceptional maintenance of the highways, bridges and inland ferry in its service area.
---
Capilano Highway Services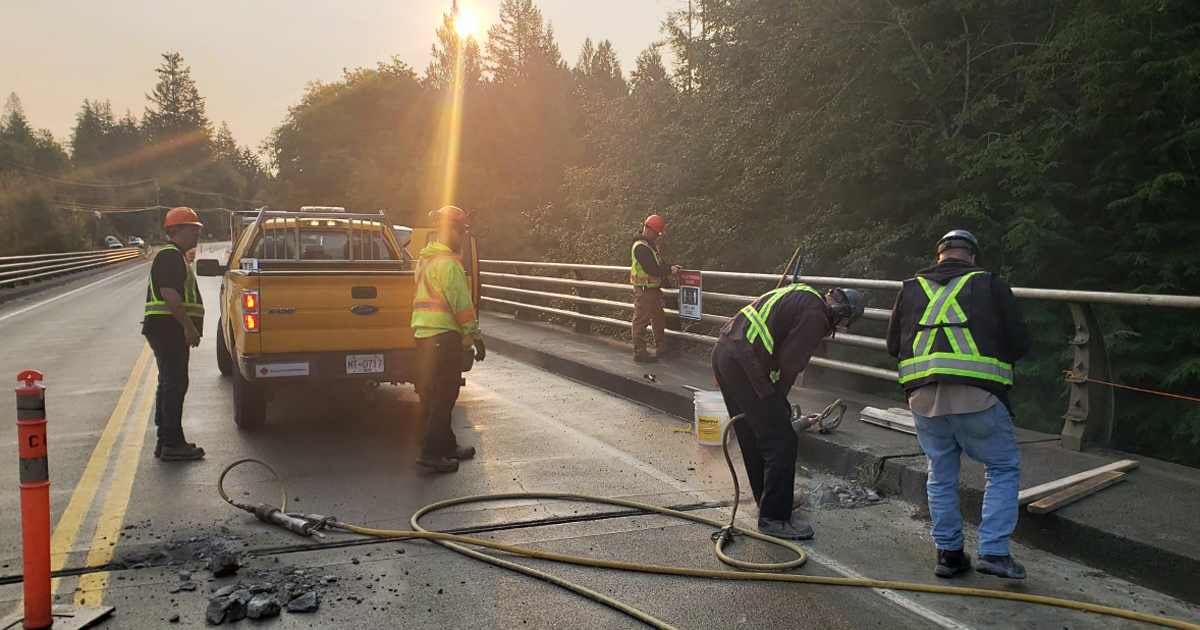 Location: Service Area 5 – Sunshine Coast
Capilano Highway Services is responsible for nearly 1,000 kilometres of roads and 24 bridges on the Sunshine Coast from Port Mellon up Highway 101 all the way to Lund, and several islands including Savary Island, Texada Island, North Thormanby Island, Keats Island and Gambier Island.
Capilano Highway Services remain committed to the numerous communities that it serves. Its management and staff frequently engage with local municipal and regional district stakeholders and are committed to working with the local Indigenous communities including the Tla'amin and Shishahl Nations.
During the COVID-19 pandemic, Capilano Highway Services provided travel information and changeable message boards to ensure residents of the Sunshine Coast were provided with timely information. Capilano Highway Services also participated in the Amber Light Tribute to salute the areas front-line workers in Powell River and Sechelt.
Capilano Highway Services partnered to deliver funding for StrongerBC, the COVID-19 provincial economic recovery plan. It delivered projects including asphalt paving to side roads, new bike lanes, widened shoulders along Highway 10 and gravelling to island communities. This project allowed Capilano Highway Services to keep most of its winter seasonal staff employed until spring, while it continued to fulfill contractual obligations for highway maintenance.
---
Dawson Road Maintenance Ltd.
Location: Service Area 16 – South Cariboo