Fish Processing Permit Amendment Project
In 2018, the Ministry of Environment and Climate Change Strategy (the ministry) launched a project to review and update effluent discharge permits issued under the Environmental Management Act for fish processing facilities in BC. It did not include aquaculture operations such as hatcheries or fish farms.
The project addressed recommendations in the ministry's Fish Processing Facilities Sector Compliance Audit Report (PDF). You can find the audit report and additional background materials on the Fish Processing Plant Sector Compliance Audit page.
Project Objective
The objective was to review and update all fish processing effluent permits to contain adequate provisions to protect the environment. The effluent permits included liquid waste and/or sewage waste discharges.
Facility Information
The fish processing facilities include plants that process both wild and/or farmed fish and shellfish. More information about the types of fish processed and production volumes is available in the Fish Processing Facilities Sector Compliance Audit Report (PDF).
This map shows the location of each facility based on its authorization (permit) number. Click on the map to view a larger version.
How were the permit amendments prioritized?
The facilities were categorized into tiers based on production volume and operating status. The ministry updated the permits in batches.
Tier 1: Three large facilities that process between 18,000-35,000 tonnes/year of fish (accounting for over 80% of the fish processed in BC at facilities with discharge permits)
Tier 2: Fifteen facilities processing less than 3,000 tonnes/year
Tier 3: Ten facilities which are not currently operating or discharging
Project Stages
At the start of the project, the ministry had limited effluent and receiving environment information for Tier 2 facilities and one Tier 1. Therefore, the permits for these facilities are being updated in two stages. During stage 1, all the permit conditions were updated with the exception of discharge limits. This approach will allow monitoring data to be collected during the next operating season so that during stage 2, the ministry can use this information to set site-specific discharge limits for these permits.
Project Status
All active fish processing production is now occurring in accordance with modernized permits under the Environmental Management Act. Furthermore, all facilities with a blood water discharge from farmed salmon processing now have the secondary treatment and a disinfection system.
In the next two years, the ministry will receive environmental monitoring information for facilities requiring stage 2 amendments and these permits will be updated with site-specific discharge limits and long-term monitoring requirements.
The ministry is currently reviewing Tier 3 permits and is anticipated to finish by the spring of 2020.
Important Next Step for Permittees
For most permittees, monitoring data collected during the current or upcoming operating season will be used to set discharge limits and further update their permits as part of stage 2. This information will be included in a Technical Assessment Report (TAR) prepared by permittees.
While preparing the reports, permittees and their qualified professionals may determine that certain authorization parameters, limits and/or works do not reflect actual operations and either a major or minor amendment as defined in the Public Notification regulation may be necessary.
For example, permittees may find that in addition to proposing effluent discharge quality limits, their permit may also require:
Major amendment, as part of the Stage 2 permit amendment; application via Routine Application Process;
Minor amendment that is required prior to submitting the TAR, in advance of the Stage 2 amendment; application via Routine Application Process;
Minor amendment, as part of the Stage 2 amendment.
The following flow diagram provides an overview of what is required under each of these circumstances.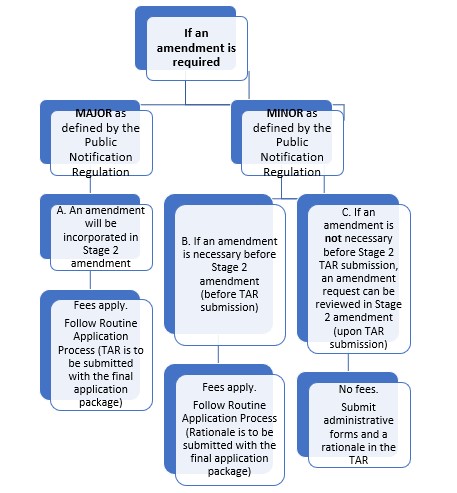 Search for Status and Documents
All fish processing permits can be found in the ministry's E-Licensing system. Before you conduct a search, download the guide to E-Licensing search functions (PDF). To search for the status of authorization in the amendment process or obtain a copy of an amended permit, visit:
---
Piscean Orthoreovirus (PRV) Science Review
Due to the detection of Piscean Orthoreovirus (PRV) in seawater near a salmon processing plant, the ministry retained local scientists in 2018 to examine the state of science on PRV in B.C. waters. Specifically, the ministry requested a literature review to:
Assess the risk to wild salmon that may come into contact with PRV when present in fish processing plant wastewater,
Provide clarity on the issue of Pacific salmon contracting Heart and Skeletal Muscle Inflammatory disease (HSMI) as a result of infection from PRV that could be present in wastewater, and
Develop guidance to identify mitigation procedures and knowledge gaps for further research.
The full report is provided here:
In addition, the Ministry consulted and is continuing to work with Fisheries and Oceans Canada, which is the lead agency on virus-related issues.