Fish Processing Permit Amendment Project
The Ministry of Environment and Climate Change Strategy (ENV) has launched a project to review, and where necessary, amend, all 30 effluent discharge permits issued under the Environmental Management Act (EMA) for fish processing facilities. The objective of the project is to ensure effluent discharge permits in the fish processing sector contain provisions that are adequate for protection of the environment.
This permit amendment project has been developed to follow up on recommendations made in ENV's compliance verification audit of effluent discharge permits within the fish processing sector. You can find the audit report and additional background materials at the Fish Processing Plant Audit page.
What is included?
This project is about waste discharges from fish processing plants. It does not include aquaculture operations such as hatcheries or fish farms. See the related links on the right for information about aquaculture.
Facility Information
The 30 EMA discharge permits for fish processing facilities include plants that process both wild and/or farmed fish and shellfish.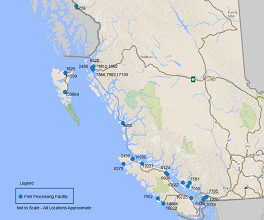 Detailed information about the types of fish processed and the production volumes is provided in the Fish Processing Plant Sector Compliance Audit Report (PDF).
Locations of the fish processing facilities with EMA discharge permits are shown on this map and are identified by authorization (permit) number. Click the map to view a larger version.
How will permit amendment decisions be made?
Statutory decision makers under EMA have authority to amend waste discharge permits. Permits are site-specific documents, and therefore, requirements within permits are also site-specific. For the fish processing permit amendment project, issues are being considered on a sector-wide scale. At the same time, decisions about what is reasonable and appropriate for protection of the environment, and resulting permit requirements, will be made one at a time, considering the unique situation of each individual facility. First Nations consultation will be conducted for each permit amendment.
Gathering Information from Permittees
Input from permittees and First Nations is important to the permit amendment process and will inform decision making.
A generic Information Requirements Table (IRT) was sent to all permittees on August 17, 2018 and was updated on September 28, 2018. This table is broad in order to cover a variety of scenarios and the information listed may not be applicable to every facility. A final Information Requirements Table specific to each permit will be created after review of the site specific considerations. To explain the amendment process and the information requirements, the Ministry gave a presentation to permittees through a series of webinars in September 2018 .
When will permit amendments begin?
The Ministry is initiating permit reviews and amendments in batches. Grouping of permits into batches and prioritizing which batches to review is based on fish processing production volume and operating status. Facilities processing the highest volume of fish have been batched together and are being addressed first, and facilities that are not currently operating have been assigned a lower priority. Also, permit reviews and amendments will be grouped based on other characteristics such as permit holder, location, similarity or sensitivity of the receiving environment, and/or First Nations territory. This will enable efficiencies in the technical assessment and consultation processes.
Permit reviews for higher priority facilities began in July 2018. It is anticipated that amendment and consultation processes for these permits will continue through the summer and fall. A general schedule is provided below. This schedule is subject to change as the project proceeds, but the Ministry is committed to completing the project in as timely a manner as possible.
Tracking Amendments
Once a permit has been selected for amendment, it will be entered into the Ministry's E-Licensing system. Authorizations and their status in the amendment process can be searched at:
Before you do your search, download the guide to E-Licensing search functions (PDF), specific to the Fish Processing Permit Amendment Project.
---
Other Actions Taken
In addition to this permitting project, the Province has undertaken the following actions:
Compliance Audit
ENV's Compliance Team conducted a province-wide compliance verification audit to assess compliance against the existing requirements in fish processing effluent discharge authorizations, as well as the general provisions of EMA to not cause pollution. Detailed information about the audit is provided at the following resources:
Piscean Orthoreovirus (PRV) Science review
In response to concerns related to recent detection of Piscean Orthoreovirus (PRV) in seawater near a salmon processing plant, ENV retained local scientists to examine the state of science on PRV in B.C. waters. Specifically, the Ministry requested a literature review to:
Assess the risk to wild salmon that may come into contact with PRV when present in fish processing plant wastewater,
Provide clarity on the issue of Pacific salmon contracting Heart and Skeletal Muscle Inflammatory disease (HSMI) as a result of infection from PRV that could be present in wastewater, and
Develop guidance to identify mitigation procedures and knowledge gaps for further research.
The full report is provided here: