Train Derailment near Kitwanga
DISCLAIMER: Information provided is based on reports received by Emergency Management B.C. Information provided is considered to be current at the time of posting, but is subject to change as new information becomes available.
Incident Description
| | |
| --- | --- |
| Incident Date | January 7, 2020 |
| Name | Train Derailment near Kitwanga (DGIR: 193446) |
| Source | Train derailment |
| Nearest Community | Kitwanga, B.C. |
| Spilled Content | Wood Pellets |
| Who is involved? | CN Rail, B.C. Ministry of Environment & Climate Change Strategy (ENV), Response Contractors |
---
Response Phase Detail
The responsible person or spiller is legally required to clean-up or manage the clean-up of a spill. In incidents where the responsible person is unknown, unable or unwilling to manage the clean up, the Ministry of Environment & Climate Change Strategy (ENV) may assume the role. The updates below reflect the Ministry's oversight of the spillers' actions; details describe the spill response phase, only, and not the complete lifecycle of the spill. See More Information for other related reports.
Updates are in reverse chronological order, with the most recent at the top. Industry-specific language may be explained in the Glossary of Terms (PDF).
Most Recent Update
January 8, 2020 - 3:15 pm
On January 7, 2020 CN Rail reported a train derailment, east of Kitwanga B.C. A total of 19 train cars carrying wood pellets derailed with 16 cars having lost their contents to the surrounding area. There are no major environmental impacts to the Skeena River reported at this time. CN Rail is planning cleanup operations for the derailed cars and spills contents. Local First Nations have been notified.
An Environmental Emergency Response Officer (EERO) will continue to monitor the response actions for this incident. No additional updates are anticipated.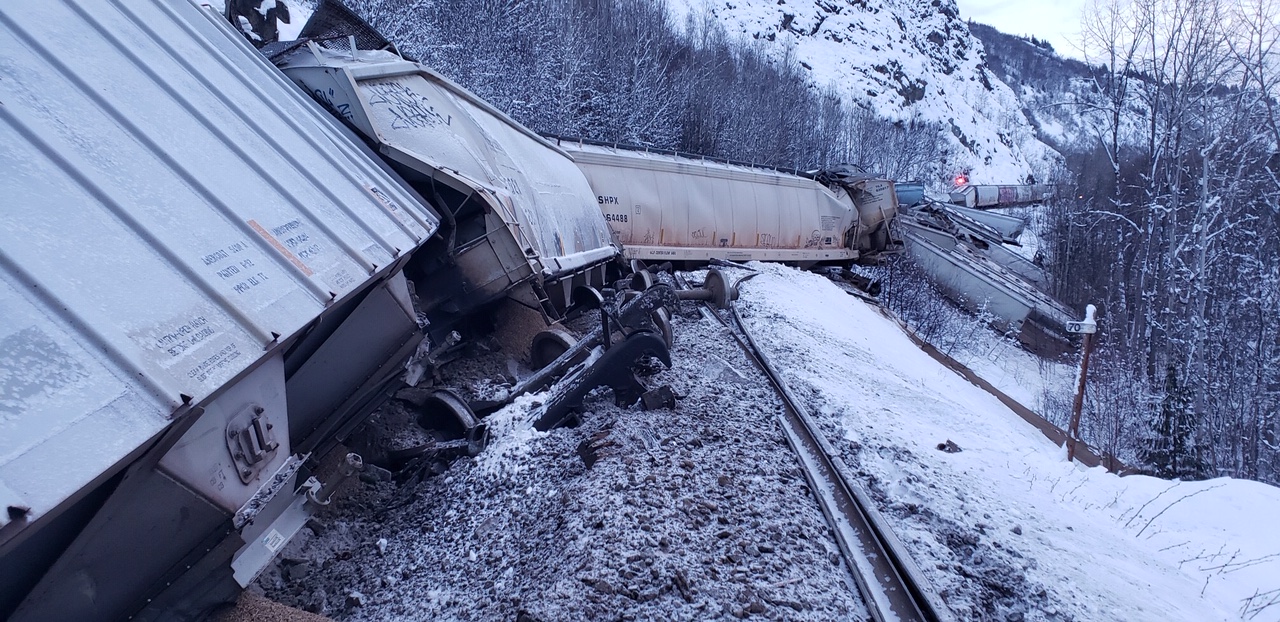 (Incident site, January 7, 2020)