B.C. Air Quality Scholarship Winners
---
Robert Caton Scholarship Award ($3,000)
Poushali Maji
Poushali is a PhD student at the Institute for Resources, Environment & Sustainability, University of British Columbia. She works at the intersection of three major energy challenges facing large developing countries - clean energy access and development, air quality improvement and climate change mitigation. Her research focuses on using large-scale datasets to analyse patterns of historical energy consumption as well as building predictive models of energy systems. She has an undergraduate degree in Physics from the University of Delhi, and a Master's in Renewable Energy from the University of Edinburgh. In the past, she worked with WWF's Climate Change & Energy programme and as a wind energy consultant. Outside of school, she likes running and traveling, and is an avid reader of science writing.
---
David Bates Scholarship Award ($1,000)
Juma Orach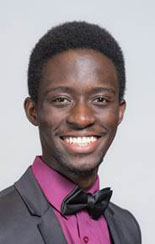 Juma is a graduate student in the Experimental Medicine program at the University of British Columbia (UBC). Having grown up in Uganda, he was fortunate to receive the MasterCard Foundation scholarship which enabled him to pursue and complete a BSc. in Microbiology and Immunology at UBC. His broad research interests included the effects of pollutants on gut bacteria, as well as infectious diseases like Kaposi's Sarcoma and HIV/AIDS in sub-Saharan Africa. During this time, he developed a keen interest in the extensive contribution of pollution towards the instigation and exacerbation of human diseases. Under the supervision of Dr. Chris Carlsten at the Chan Yeung Center for Occupational and Environmental Respiratory Disease (COERD), Juma investigates the dose-response as a result of controlled human exposure to diesel exhaust. Specifically, he aims to identify a protein signature in the blood, urine and/or nasal lavage that can be validated as a robust biosignature. Additionally, he studies lung function and inflammation, as well as polycyclic aromatic hydrocarbon metabolites in urine which could elucidate the observed protein response. Identification of a biosignature could provide mechanistic insight into the health effects of diesel exhaust, provide therapeutic targets, and facilitate development of reliable health monitoring tools that can be used to prevent and treat lung diseases caused by diesel exhaust. Juma also has a keen interest in neurogenic inflammation, which he studies as a potential mechanism for the symptoms and effects resulting from diesel exhaust exposure. Collectively, his work is one crucial step towards protecting the health of Canadians, and other populations affected by diesel exhaust exposure.