Public Sector Bargaining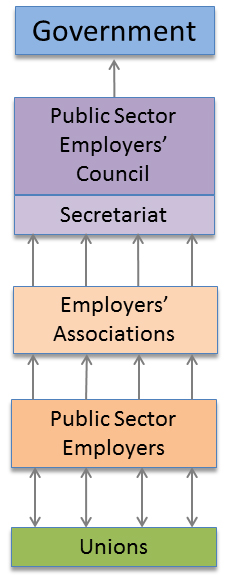 Government is ultimately accountable to taxpayers for the costs and service delivery outcomes that result from bargaining and non-union compensation. Provincial mandates in B.C. lay out the broad terms for collective bargaining, consistent across all sectors.
The Public Sector Employers' Council Secretariat (PSEC Secretariat), as a central agency, coordinates union and non-union compensation across the public sector.
Through this centralized model, the PSEC Secretariat coordinates bargaining with unions through sectoral employers' associations. It also protects the interests of taxpayers by ensuring public sector compensation costs are aligned with the fiscal plan through the budget objectives set by government.
Public Sector Employees in B.C.
Currently, there are more than 500,000 people working across the provincial public sector, including the core public service, Crown corporations, health, community social services, K-12 public education, post-secondary institutions, and research universities.
Of those people, approximately 393,000 are unionized employees paid under collective agreements or professionals paid through negotiated compensation agreements.
The government and provincial public sector employers spend nearly $38.6 billion on compensation or equivalent to more than half of the Province's budget.
An increase of 1% in total compensation for all B.C. public sector employees is estimated to cost $386 million. For union and other negotiated agreements, a 1% increase would cost nearly $311 million.