Wellness

WELLNESS
---
SCHOOL DISTRICT 33
Chilliwack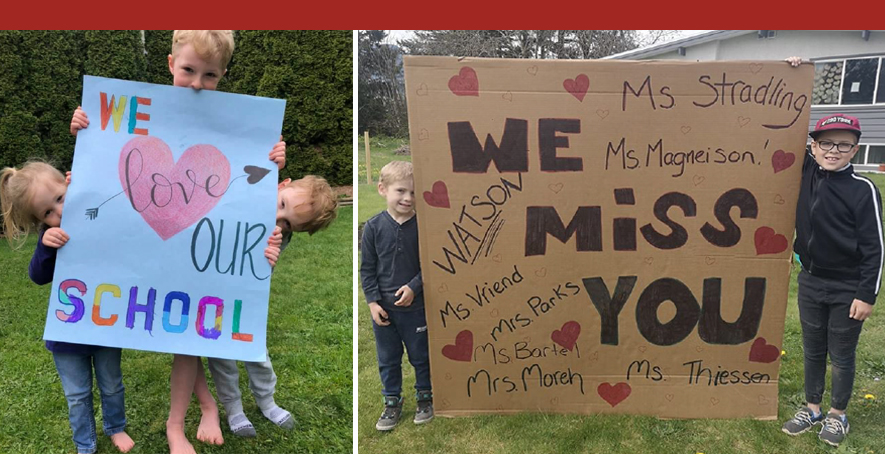 School parade inspires laughter, tears and balloons!
On April 20, Watson Elementary staff held a parade to build positive connections with students and families. As the convoy passed by, students held up signs with heart-felt messages like "we miss you" or "we love our school." For educators, students and families alike, this was a powerful celebration of their school community.
SCHOOL DISTRICT 33
Chilliwack
School staff build connection with stories, videos, and food. Robertson Elementary staff wrote a daily story, called The Adventures of Chitmexw, so that families could read together every night. The school also sent a weekly video to families to remind them they are missed, and dropped off food for a "Curbside Connect" with families on Wednesdays and Thursdays.
SCHOOL DISTRICT 33
Chilliwack
Daily videos celebrate students. Throughout the COVID-19 pandemic, Greendale Elementary staff produced a daily video for students to boost morale and help them stay connected. The videos included helpful information, interviews, activities, birthdays, monthly virtues, literacy and student recognition. An excellent way to acknowledge and engage students in a remote learning environment!
---
SCHOOL DISTRICT 71
Comox Valley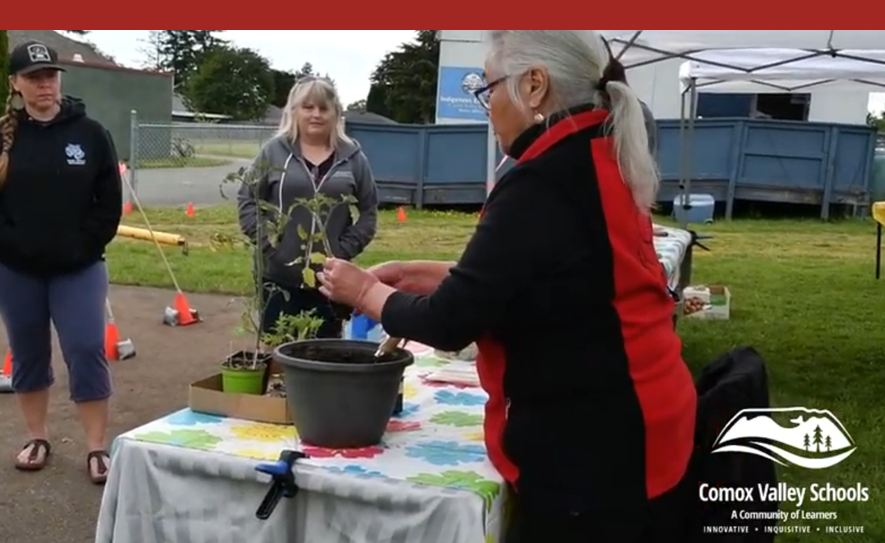 Growing a home garden requires little to no space - just a spot for a pot! K'omoks First Nation Elder Barb Whyte has been sharing her love for gardening and growing fresh produce with school district students and their families for more than 25 years. Grown children remember the experience and are pleased to see the tradition continue. This year, COVID-19 restrictions took the in-class lesson to an outdoor setting so that students and staff could safely space out to plant their salad pot. The project was made possible by #sd71 Indigenous Education and is part of the District's food literacy program that teaches students about food security through ecologically sound and sustainable methods.

SCHOOL DISTRICT 36
Surrey
Embracing learning in the great outdoors! Students and educators are still finding tremendous opportunities for outdoor learning. The vice-principal at East Kensington Elementary, which hosts the district's EKOLogy program, said, "It's great how learning from home has prompted more students to take their education outside and learn in a different setting. One of the biggest benefits of outdoor learning is an increased attention span, as being outside can take students out of a noisy, crowded classroom and put them in a more peaceful, open environment."
Read more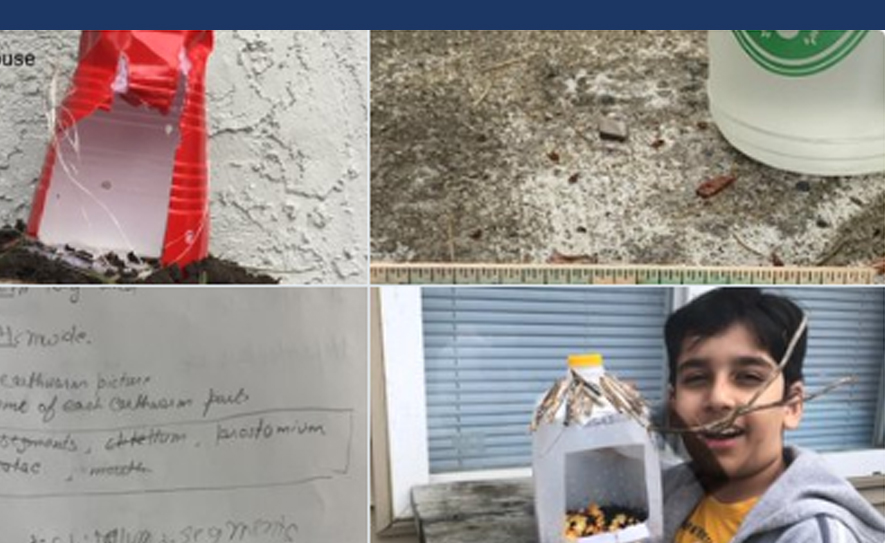 SCHOOL DISTRICT 48
Sea to Sky
The Sea to Sky district is providing an additional layer of support as their counselors, youth workers and staff are reaching out to both parents and students to create connections and provide personalized mental health and wellness supports and strategies. The district will continue to collaborate with community partners such as Child and Youth Mental Health, Howe Sound Women's Centre (HSWC). Mental health and wellness supports and resources for parents are posted on a Resources for Parents webpage and have been sent to families through email. District employees also have access to a number of mental health and wellness supports on the district's website
---
SCHOOL DISTRICT 41
Burnaby
The Burnaby district is working directly with students and families, as well as with community partners to support mental health and wellness during these uncertain and challenging times. The district's website includes visual and simple tips to support mental wellness along with links to resources and a valuable list of support that families can access including online counselling within the community.
SCHOOL DISTRICT 42
Maple Ridge-Pitt Meadows
An attitude of gratitude in Maple Ridge – Pitt Meadows. During the week of April 6 – 9 home activities focused on gratitude. Teachers invited Kindergarten students and their families to choose an activity that works for them in their family context that expressed gratitude.
SCHOOL DISTRICT 73
Kamloops Thompson
Teachers in the Kamloops Thompson School District are connecting with parents on continuity of learning for Indigenous students. The school district is working with the 7 First Nations in their district and urban Indigenous community partners to ensure all supports are working together and effectively to support Indigenous learners
---
SCHOOL DISTRICT 71
Comox Valley
The Comox Valley School District's StrongStart educators are taking a page out of a beloved children's book and encouraging children to get up, get out and get moving with their families. Inspired by the book, We're Going on a Bear Hunt, the community-wide, individually conducted activity involves a walk. Not just any walk. Read more ​

SCHOOL DISTRICT 48
Sea to Sky
The Sea to Sky School District is leading learning through an Indigenous lens that is focused on connecting and caring for people's mental health and safety first. Some schools in their district are creating virtual circles to ensure First Peoples Principles of Learning continue while in-class learning is suspended.

SCHOOL DISTRICT 74
Gold Trail
In Gold Trail, a virtual Strong Start session is being planned for mid-April. The Strong Start facilitator and parents brainstormed activities like home scavenger hunts, stories and songs that they can participate in via Zoom.
---

SCHOOL DISTRICT 52
Prince Rupert
In Prince Rupert, a kindergarten teacher set up Face Time or Skype check-ins with her students. The mother of the little boy shared that when she told her son that his teacher was going to have a "virtual visit" with him on Thursday, he exclaimed "Oh I am so excited! That is only 2 more sleeps till I see her!"
SCHOOL DISTRICT 42
Maple Ridge-Pitt Meadows
All Maple Ridge – Pitt Meadows teachers have made personal verbal contact with each student in their district to check-in on the student's well-being. Principals also did the same wellness check-in with each teacher in their district.

SCHOOL DISTRICT 48
Sea to Sky
The Sea to Sky district has working with local public health nurses to create space in schools dedicated for infant vaccinations so those important programs and services can continue while following the guidelines established by the Provincial Health Officer.
---

SCHOOL DISTRICT 36
Surrey
Surrey is the first school district in Canada to pilot a new online resource for Grade 4-12 students and their parents addressing youth wellness during the COVID-19 pandemic. In collaboration with the Stigma-Free Society, the district is working with the charity to offer the Stigma-Free COVID-19 Youth Wellness Toolkit, an online community-based participatory program to promote mental wellness. Developed with mental health experts, professors and psychologists, the resource provides students, teachers and parents effective and useful content for children and teens to manage their health and wellbeing.

SCHOOL DISTRICT 61
Greater Victoria
The Greater Victoria district is providing weekly snapshots that focus on social and emotional wellness to help support their learning community during these challenging times. The COVID-19 snapshot series includes resources for staff, students, parents and guardians, which promote physical and mental health while sharing tips to help foster connection, generate open-dialogue, and build a healthy community.