Wildlife Accident Reporting System
Protecting B.C.'s Wildlife
Caribou, Kootenay Pass

The Wildlife Accident Reporting System (WARS) is a comprehensive program that began in 1978 to help mitigate wildlife-vehicle crashes on B.C.'s network of highways and roads. Hundreds of ministry employees and contractors are actively involved in monitoring wildlife incidents and developing solutions.
WARS Reports
Highway maintenance contractors identify and record the species and location of each animal killed on B.C.'s highways. This helps to identify where mitigation efforts are most needed.
Since 1993, about 4,700 wild animals have been reported killed on British Columbia highways each year. Over the last 10 years, about 80% of wildlife collisions involved deer. Bear-related vehicle collisions peak in September in the northern parts of the province and in October in the southern regions.
To make travel safer for motorists and to protect B.C.'s wildlife populations, the Province has reduced wildlife collisions through wildlife exclusion fencing, overpasses, underpasses and warning signs, located on rural highways.
So far, this program has contributed:
Over 500 km of wildlife exclusion fencing
4 wildlife overpasses
29 large wildlife underpasses
More than 70 small underpasses
Approximately 1,200 species-specific wildlife warning signs, the most comprehensive inventory of wildlife warning signs in the world
Wildlife Exclusion Fencing, Highway 5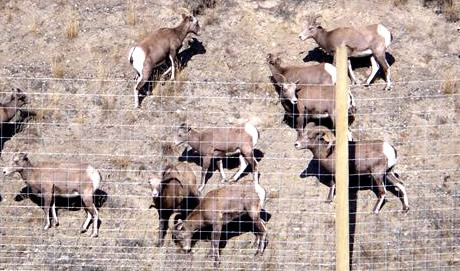 With over 500 kilometres installed, B.C. has more special fencing to protect wildlife than any other transportation agency in North America. The fencing is about 97% to 99% effective in reducing wildlife-related collisions when the fencing is installed on both sides of highway.