Active transportation
The B.C. government aims to double the percentage of trips taken by active transportation by 2030.
---
How we're doubling active transportation trips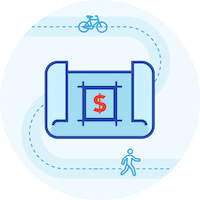 We fund communities to build active transportation projects, and individuals and businesses to buy electric bikes (e-bikes).
Spreading the word about active transportation helps more British Columbians discover this healthy and efficient option.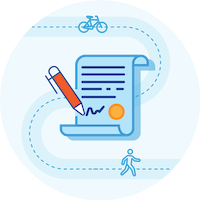 We're updating our policies and regulations so more British Columbians can choose active transportation and stay safe on our roads.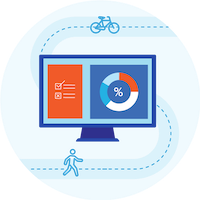 Research can help us reach our active transportation goals.
---
What is active transportation?
Active transportation is human-powered transportation that connects your destinations. You might:
Walk to the grocery store
Cycle to work
Kayak to a picnic
Ski to school
If you get to your destination under your own power, that's active transportation.
Active transportation also includes travelling with the help of a device that gives you a boost, such as:
Mobility aids
Electric bikes (e-bikes)
Electric kick scooters (e-scooters)
More and more British Columbians are choosing active transportation as a convenient way to get where they need to go.
---
Helping more people choose active transportation
Our support for active transportation is part of the B.C. government's CleanBC plan to make active transportation an option for more people and to reduce greenhouse gas emissions and build a better future for all British Columbians.
Learn how the B.C. government aims to double the percentage of trips taken by active transportation by 2030.
Active transportation can be an be an easy, efficient, safe, and affordable way to get to work, school, or other places in your community.
What We Do
We work with our partners to help:
Build active transportation facilities, such as bike lanes
Deliver education and encouragement programs
Enforce rules that make the roads safer for everyone
Evaluate our progress to make sure we're on the right path
Follow active transportation news and updates on BC Gov News.
---
We acknowledge all Indigenous peoples on whose territories we work and play. We honour their connections to the land and respect the importance of the diverse teachings, traditions, and practices within these territories.
---
The friendly url for this web page is gov.bc.ca/active-transportation