HOV lanes in B.C.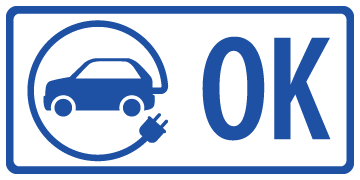 EVs displaying an official decal are allowed in these HOV lanes.
Lower Mainland
Highway 1: Westbound from east of 202 Street to Gilmore Way overpass
Highway 1: Eastbound from Gilmore Way overpass to 208 Street overpass
Highway 7: Westbound HOV lane starts past (West of) Golden Ears Way and ends just ahead (East) of Old Dewdney Trunk Road
Highway 7: Eastbound HOV lane starts past (East of) Old Dewdney Trunk Road and ends just ahead (West) of Golden Ears Way
Highway 17A: Northbound only Ladner Trunk Road to Highway 99
Highway 99: Northbound south of Highway 17 to north of Highway 17A
Highway 99: Southbound south of Westminster Highway to north of Steveston Highway
Kelowna
Highway 97: Northbound Pandosy Street to Highway 33
Highway 97: Southbound Highway 33 to Pandosy Street
Learn more about how to use HOV lanes.
Tips for applying
If you receive an error message, it may be because:
You have just purchased your vehicle: It takes up to 10 days for your ICBC registration to get updated in the system.
ICBC entered the incorrect fuel type for your vehicle: If the fuel type entered on the Owner's Certificate of Insurance and Vehicle Licence is gasoline, contact us to complete the application for you. For all other incorrect fuel type entries, contact ICBC to have it corrected
Contact us if you need help submitting the application. Send a full-page picture of your Owner's Certificate of Insurance and Vehicle Licence by email. Please make sure the image is legible before sending.
Replacement decals
If the HOV decal is lost, damaged or stolen you must apply for a replacement decal before you use HOV lanes.
If you did not apply for your decal using our online application system you will need to submit a new application.
Note: Auto body shops are not responsible for replacing decals removed during paint or bodywork.
Mailing address
Make sure the address on the Owner's Certificate of Insurance and Vehicle Licence is where you would like us to mail your decal. If the address is for the lease company, please provide your mailing address in the body of the email.