Electric Vehicles & HOV Lanes
Due to the popular purchase incentive programs, there is a significant increase in the number of applications. Please allow 3 to 6 weeks for processing. Ministry staff are working diligently and appreciate your patience.
Electric vehicles (EVs) displaying an official decal are allowed in high occupancy vehicle (HOV) lanes in British Columbia regardless of the number of passengers in the car, unless a sign is posted indicating otherwise.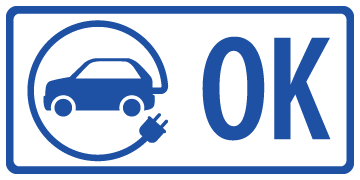 Eligible vehicles include:
Battery electric vehicle (BEV)
Fuel cell vehicle (FCV)
Plug in hybrid electric vehicle (PHEV)
Extended range electric vehicle (EREV)
To apply for an HOV lane/electric vehicle permit and decal, please complete the application form and return the signed application and a copy of the vehicle registration by facsimile, email or mail.
Your vehicle make, model, year and fuel type will be checked against the eligible vehicle list to confirm eligibility.
Vehicle Manufacturers
The B.C. Ministry of Transportation and Infrastructure requires vehicle manufacturers to apply for additional makes and models of electric, plug in hybrid, and fuel cell vehicles to be added to the Electric Vehicles in High Occupancy Vehicle Lanes Program eligibility list. The existing list will remain in effect; this change only pertains to adding further makes and models to the list. Please complete the application form for each additional model of qualifying clean energy vehicle.