Alexei Rukhlov, Ph.D., P.Geo.
Provincial Geochemist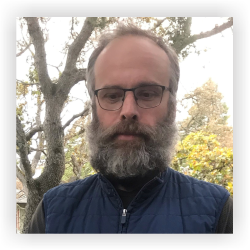 Phone: (250) 952-0396
Email: Alexei.Rukhlov@gov.bc.ca
As a petrologist by training, Alexei combines field and laboratory approaches using isotopic and trace-element systematics in minerals and rocks, advanced statistics, and numerical modelling.
Education
St. Petersburg State University (B.Sc. Honours, Geology, 1994)
St. Petersburg State University (M.Sc., 1996)
St. Petersburg State University (Ph.D., 1999)
Expertise
Alexei taught a number of undergraduate courses and geological field school as a senior lecturer with the Department of Petrography at St. Petersburg State University; measured C, O, Ca, Sr, Pb, Nd, and Hf isotopes in carbonatites worldwide to track mantle evolution as a research associate with the Department of Earth Sciences at Carleton University; explored Nb-Ta and REE deposits in British Columbia as a project lead with Dahrouge Geological Consulting Ltd.; and studied Alberta's metallogeny, including petrogenesis of the Sweet Grass Hills ultrapotassic rocks and magmatism and mineralization of the Rockies as a minerals geologist with the Alberta Geological Survey.
As a Provincial Geochemist with the British Columbia Geological Survey since 2012, Alexei manages the geochemical laboratory and conducts collaborative research in the field of applied geochemistry. His research focuses on petrogenesis of carbonatites and alkaline rocks and their isotopic systematics as tracers of the mantle evolution, as well as developing of new methods of geochemical exploration. His recent projects include evaluation of Carlin-type Au signals in modern drainage sediments from north-central B.C., application of Pb isotopes in glacial till as tracers of concealed deposits, and discrimination of ore deposit types and tectonic settings using trace elements in apatite. Cordilleran case studies include applications on detrital apatites in tills at Mount Polley, Highland Valley, Gibraltar, and Woodjam porphyry Cu-Mo-Au deposits and TREK study area in central B.C.
Publications