Mitch Mihalynuk, P.Geo.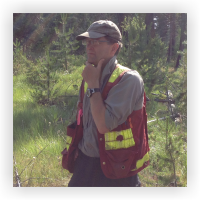 Phone: (778) 698-7226
Email: Mitch.Mihalynuk@gov.bc.ca
Expertise
Mitch has 35 years of experience in geological mapping and resource evaluation in British Columbia. He is a recognized authority on the remote and mountainous northwestern quadrant of the province. Mitch has a particular interest in the geological setting of volcanogenic massive sulphide, lode gold and porphyry deposits, and their tectonic/paleogeographic setting. His emphasis is on structural and volcano-stratigraphic controls to mineralization.
Mitch's work at the BCGS has focused on mapping projects in northwest BC: Haines Triangle (Windy Craggy VMS district), Tagish Lake area (Llewellyn gold belt), Taku-Tulsequah area (VMS, mesothermal (orogenic) gold), Iskut River (VMS, porphyry Cu-Au), Jennings-Teslin Lake area (VMS) and the Atlin and Dease gold camps. In central and southern BC his work has centered on Chilcotin River region ((mineral potential recon in Beetle Impacted Zone -epithermal and porphyry potential) and the Nicola arc (Alkalic porphyry Cu-Au belt from Copper Mountain to Mount Polley). Outside of Canada, Mitch has worked in equatorial Africa, Mexico and the southwest Pacific.
Publications