Yao Cui, M.Sc., P.Geo.
Senior Geomatics Geoscientist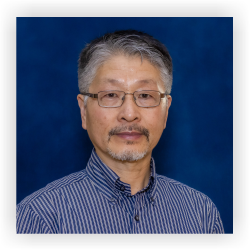 Phone: (250) 952-0440
Email: Yao.Cui@gov.bc.ca
Yao leads the Survey's management, research, and production of spatial geoscience data and the development of geospatial web services and applications.
Education
The University of British Columbia (M.Sc., 1993)
British Columbia Institute of Technology (GIS, 1993)
Chengdu University of Technology, China (M.Sc., 1988)
Chengdu University of Technology, China (B.Eng., 1982)
Expertise
Before joining BCGS in 2008, Yao worked over a decade in mapping, mining (one of the largest uranium mines in Asia), mineral exploration (uranium, gold, diatomite, and kaolinite resources), geochronology, and geochemistry (isotopes and numerical analyses). Yao also spent a decade in geospatial and information technology (geomatics, business analysis, enterprise database management systems, and statistics), resource management, and environmental health assessment (water and air quality). His career highlights include significant contributions to projects such as GeoBC Atlas, BC Digital Road Atlas, TRIM watersheds, BC gridded DEM, JTS Topology Suite, geospatial data conflation, Canadian Geospatial Data Infrastructure (CGDI) interoperability pilot project, Canadian Digital Elevation Data (CDED), Canadian National Road Network (NRN) and National Hydro-Network (NHN) standards and delivery of products from BC. Yao was an associate faculty member at Royal Roads University teaching GIS courses.
In his current role, Yao provides expertise and leadership in geomatics, spatial databases (PostgreSQL/PostGIS, SQL Server, and Oracle spatial), geostatistics (R and Octave) and geospatial web services (GeoServer, OpenLayers, and MapGuide Open Source) for the integration, management, production, and delivery of geoscience data and predictive mapping of mineral resources. Yao has developed a Geospatial Frame Data (GFD) model to simplify the updating and integration of digital geology, and Graph theory based algorithms to support high performance queries, including the catchment basin analysis for regional geochemical survey. Yao is the architect and team lead in the development of the new MapPlace web services.
Publications