Assisted Migration Adaptation Trial
Approximately 275 million seedlings are planted in British Columbia each year. When those trees are harvested 60 to 80 years after they are planted, the climate could be 3 or 4 degrees warmer than when the seedlings were planted, exposing the trees to maladaptation and health risks.
Consequently, government researchers have initiated a large, long-term climate change research study: the Assisted Migration Adaptation Trial (AMAT). The AMAT helps forest managers understand tree species' climate tolerances so they can select seedlots best adapted to current and future climates.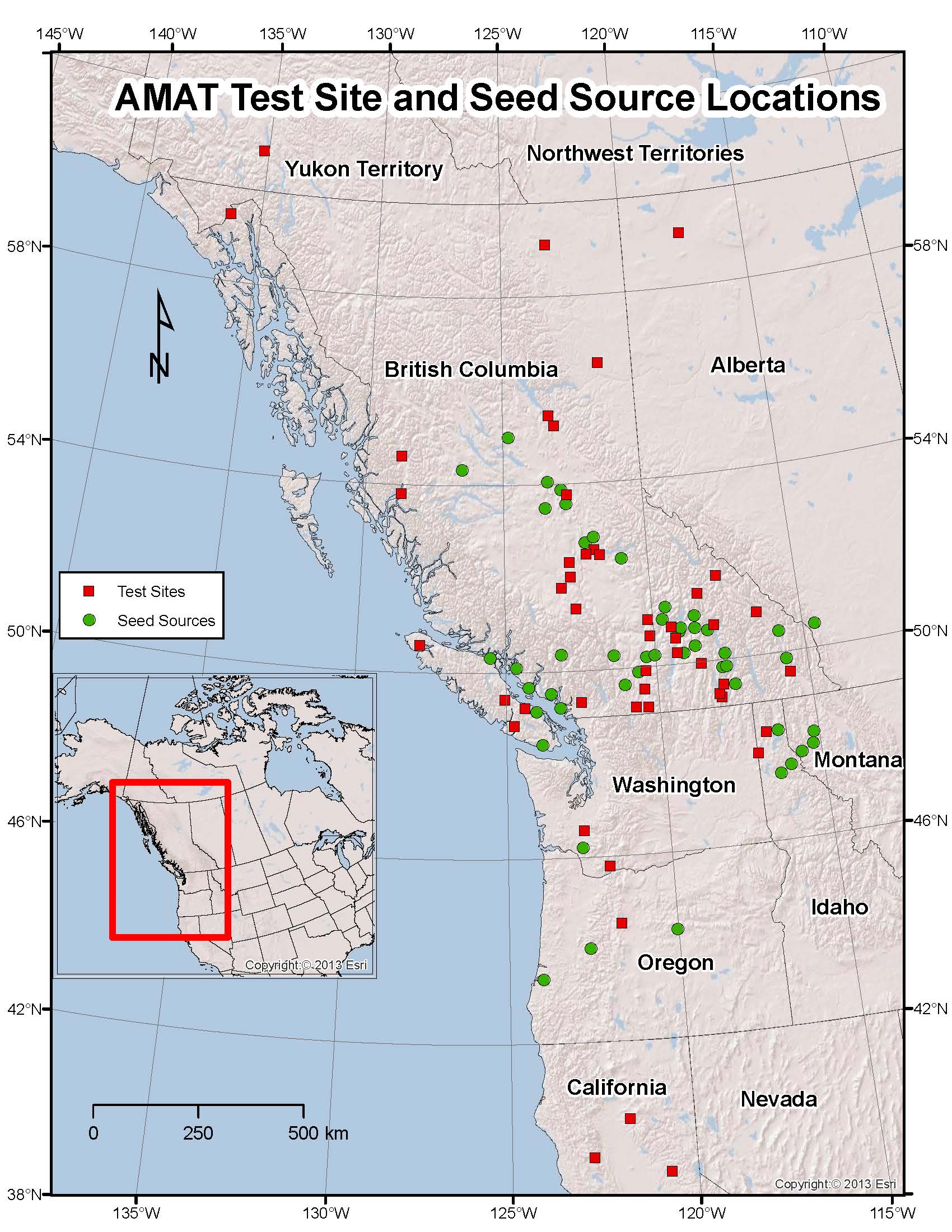 Design
Seeds from 15 species growing in B.C. and neighbouring American states were planted between 2009 and 2012 at 48 reforestation sites from northern California to southern Yukon.
The growth and health of the seedlings will be monitored and related to the climate of the plantations, enabling researchers to identify the seed sources most likely to be best adapted to current and future climates. The information will be used to revise B.C.'s species and seed source selection guidelines, helping to ensure maximum health and productivity of planted forests well into the future.
Species ID
Common Name
Latin Name

Bl

sub-alpine fir

Abies lasiocarpa

Ba

amabilis fir

Abies amabilis

Bg

grand fir

Abies grandis

Cw

western redcedar

Thuja plicata

Cy

yellow cedar

Callitropsis nootkatensis

Hw

western hemlock

Tsuga heterophylla

At

trembling aspen

Populus tremuloides

Ep

paper birch

Betula papyrifera

Ss

Sitka spruce

Picea sitchensis

Sx

interior spruce

Picea glauca

X

P. engelmannii

Lw

western larch

Larix occidentalis

Fd

Douglas-fir

Pseudotsuga menziesii

Pli

lodgepole pine

Pinus contorta

Pw

white pine

Pinus monticola

Py

ponderosa pine

Pinus ponderosa
AMAT & Assisted Migration Resources
Articles, reports and news media resources are available for those who wish to learn more about the AMAT and assisted migration in general.
The Assisted Migration Adaptation Trial has been a subject of interest for various media outlets.
Collaborators
Alberta Environment & Parks
Ardew Wood Products
ATCO Wood Products
BC Timber Sales
Brinkman Forest Ltd.
Canoe Forest Products
City of Cranbrook
Gorman Brothers
GRO TRZ
Inland Empire Paper Company
Inland Empire Tree Improvement Coop
Island Timberlands
Landmark Solutions
Louisiana Pacific Canada

Revelstoke Community Forest Corp.
Sierra-Pacific Industries
State of Alaska DNR, Dept. of Forestry
Stella-Jones Inc.
Tembec Inc.
Tolko Industries
UBC Alex Fraser Research Forest
UBC Malcolm Knapp Research Forest
University of Washington
USDA FS - Deschutes National Forest

USDA FS - Gifford Pinchot Nat. Forest/PNW Res. Stn.
USDA FS - Mendocino National Forest
USDA FS - Priest River Exp. Forest/RM Res. Stn.
USDA FS - Tahoe National Forest
West Fraser Timber Company
Western Forest Products
Weyerhaeuser Canada & USA
Yukon Department of Energy, Mines & Resources