Provincial Site Productivity Layer
The provincial site productivity layer project commenced in 2011. This work is integral to the Land Based Investment Strategy (LBIS) program needs and the Provincial Site Productivity Strategic Project Plan (2014-2016).
Recent Updates
The provincial site productivity layer, now version 5.0, has been updated as follows:
In the SIBEC Supertable, a new crosswalk table maps each PEM/TEM ecosystem unit to a precise combination of BGC unit, site series, region and source

Previously the crosswalk table specified only BGC unit and site series, while the script had to estimate among the multiple possible matches with various regions and sources. The PEM/TEM data and the SIBEC Supertable are unchanged

The maps catalogue now reflects current management unit names
Version 5.0 also retains two different editions of the site productivity data set:
"Site Prod with Approved PEM/TEM"




This uses only the 126 PEM/TEM data sets that have passed a third-party accuracy assessment or that used an Ecosystem Survey Intensity Level (ESIL) of 1 to 5 during the PEM or TEM mapping process.




"Site Prod with All PEM/TEM"




This incorporates all obtainable 186 PEM and TEM data sets that are available upon special request. See Appendices B and C in the technical document for a detailed list, plus maps of the PEM and TEM data sets used in each provincial site productivity data set edition.
Description
LBIS has requested FAIB to lead the improvement of access to site productivity information.
Successful completion of this work will meet one of LBIS's highest program goals over the 2010-11 to 2015-16 period.
This multi-year project is entering its fifth year (an updated site productivity layer from Year 5 is now available with version 5.0 of the database). Year 5 updates consist of a seamless site productivity layer with priority PEM and TEM data cleaned and loaded together with an in-house biophysical model.
The project team filled information gaps in the higher LBIS priority units first. They then selected the most current PEM or TEM information available for these units. The biophysical model filled in gaps where no vintage or accurate PEM or TEM data was available, or where SIBEC site index estimates were lacking.
Provincial Site Productivity Layer Documents
Provincial Site Productivity Layer Year 5 Coverage
All PEM/TEM Data for Site Productivity Layer, Version 5 (2015

-

2016)
The "All PEM/TEM Data for the Site Productivity Layer, Version 5.0" edition of the site productivity data set consists of all available PEM and TEM data sets, including those with low or unknown accuracy. This map (click to enlarge) displays the study area boundaries of all known PEM and TEM projects regardless of accuracy assessment or ecosystem survey intensity level (ESIL):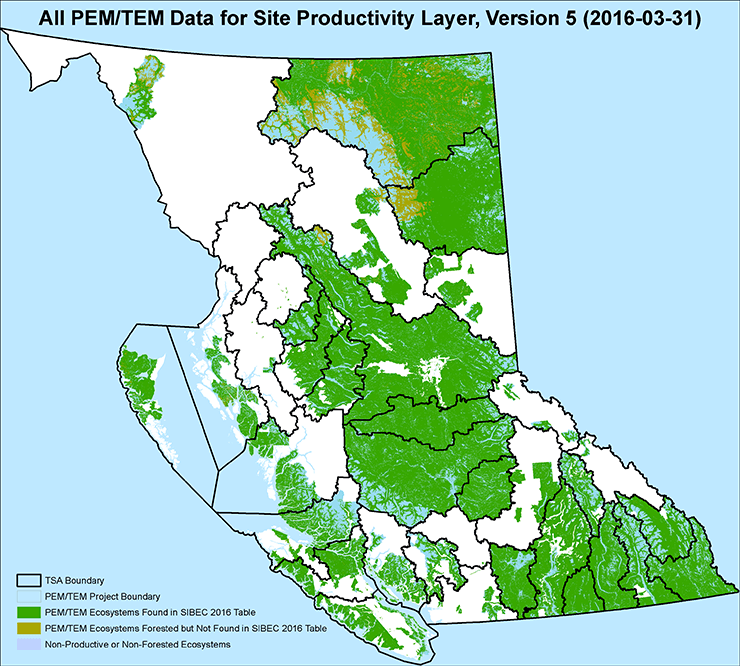 Note: This data set is available only upon request. Accuracy assessment has not been performed on all PEM and TEM data and the ESIL varies from project to project.
Approved PEM/TEM Data for Site Productivity Layer, Version 5 (2015/16)
The "Approved PEM/TEM Data for Site Productivity Layer, Version 5.0" edition consists of only those PEM and TEM data sets that have passed a third-party accuracy assessment or that utilized a suitable number of field sample sites during the mapping process, typically ESIL levels 1 to 5. More intensive levels of field sampling during the mapping process are considered to yield a greater degree of thematic map reliability.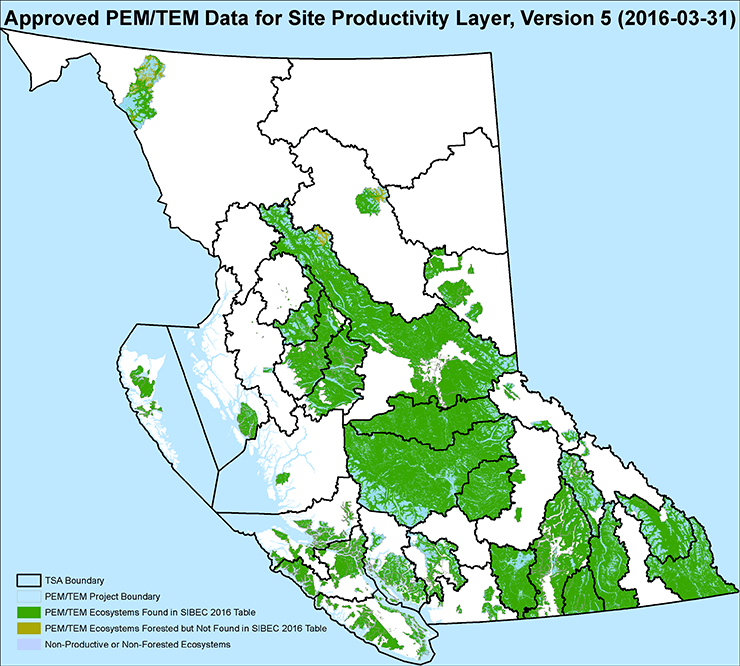 Access to the Database & PDF Maps Catalogue
Access to the raw GIS data and to the PDF maps catalogue changed in 2015. Version 5.0 of the provincial site productivity data is now available through a new user interface referred to as a Data Mashup Framework (DMF). Access the new interface:
Conditions on Uses of this Data
This provincial site productivity layer uses the best known and most current information as of March 31, 2016. All content appears "as is" without warranty of any kind, whether expressed or implied. The government of B.C. is not liable to any person or business entity for any direct, indirect, special, incidental, consequential, or other damages based on any use of this data.
All data used in the site productivity layer have been reviewed and any known errors have been corrected. However, end users should always use this information in conjunction with local knowledge and expertise. The information contained in this GIS layer is not intended to replace more accurate site-specific data, if available.
A draft PEM that has passed an independent, third-party accuracy assessment is the source for the site productivity data in the Kootenay Lake area. It may need extra work to address mapping deficiencies in some of the non-forested features such as avalanche and wetlands.
During 2016-17, FAIB will review, clean up and load more data, if required. They will also test and adjust the existing biophysical information that fills PEM and TEM data gaps across the province. An updated version of this layer will be available on June 30, 2017.
Maps of Site Index by Species
Site index coverage on PDF and Hectares BC maps will generally reflect the limited distribution of certain tree species in B.C. Due to very limited site productivity data, however, some maps may have low coverage for certain species:
Red alder (Dr)

Tamarack (Lt)

Whitebark pine (Pa)

Grand fir (Bg)
Hectares BC Website & Data Catalogue
Site index by species data from the provincial site productivity layer (version 5.0) is viewable using the standardized spatial themes and queries in Hectares BC online. This access and capability expand the options end users of this information have for looking at data and running queries.
Users can also access the information through the Data Catalogue.