B.C. Clinical Information Model
What is an Information Model?
A Clinical Information Model (CIM) is like a blueprint, a bird's eye view of our digital health information system and its components. CIMs provide a common foundation for health data standards and a truly interoperable healthcare system requires a fully specified CIM.
Components of an Information Model
CIMs are composed of data elements, value options, standards, systems, the relationships between them, and their context for use. CIMs promote data and institutional interoperability by:
providing information about both clinical data elements and the standards that support them,
providing guidance about implementation and design, and
acting as a discussion point for governance and decision making.
Benefits of using a CIM for developing digital health standards
CIMs improve information quality by preventing the implementation of home-grown codes and message structures (e.g., in the design of databases, interfaces and clinical applications),
They help ensures that important elements are supported across the system so there are minimal gaps in information,
They provide clarity to designers, developers, implementers, and users of digital health solutions – (e.g., e-Referrals, test requisitions and prescriptions are all derivatives of an "order" and should share a common base for content and distribution),
CIMs highlight how teams work together, how clinical decisions are supported and how gaps in patient care can be identified, and
They offer a collective vision for an efficient, effective, and longitudinal Electronic Health Record (EHR).
Scope
A provincial CIM should:
Provide an overarching information structure that will guide system planning, design, support interoperability,
Provide the backbone for a core data set and the required terminologies to represent the concepts in the model,
Provide a common language to facilitate communication and co-ordination between organizational systems,
Be grounded in current evidence to support safe, effective person-centered, equitable healthcare, and
Clearly outline a strategic implementation and maintenance plan.
The suggestion for the BC health sector is for the use of a "dual model" approach for the CIM that includes a reference model (building blocks) combined with archetypes (valid combinations of building blocks representing a specific meaning) based on ISO 13606 and OpenEHR.
ISO13606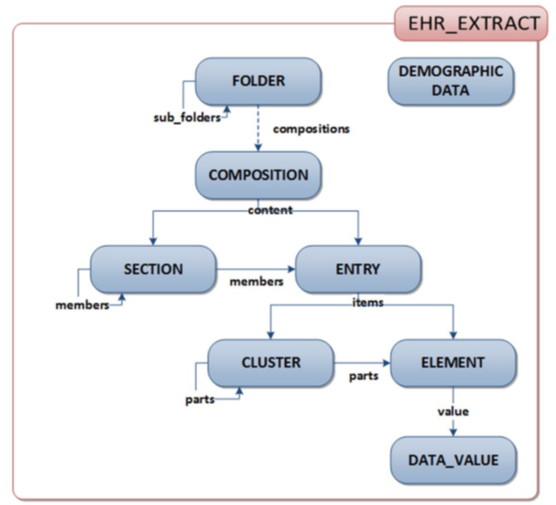 Governance
Oversight for the Provincial CIM is the responsibility of Digital Health Governance and is enabled by the BC Digital Health Standards Alignment Committee (DHS-AC) which reports to the Digital Health Standards Executive Committee.
Current Status
In development.
Maintenance (once published)
Significant analysis and review of documents and specifications will be undertaken to develop the CIM and to ensure that the standard is applicable to stakeholder groups and implementable.
Wherever possible, content templates will be defined and reviewed by standards bodies, and appropriate constraints for use in the BC context will be applied.
The content of the standard will require ongoing optimization including additions and/or maintenance to address issues identified through validation. Additional adjustments may be required over time to reflect BC requirements or to align with emerging pan-Canadian standards developments.
Download
In development.
Last updated: August 2023