For Public Health Professionals
Learn more about public health through the following frequently asked questions.
1. Why is Public Health Important?
Public health is fundamental to a modern 21st century health system and shares the same overall goals as the rest of the health system, which is to reduce premature death and to minimize the effects of disease, disability, and injury. The intent of public health is to promote a healthier population. Research has shown that good health is fundamental to leading not only a healthy but also a productive life. Public health focuses on health promotion, health protection, as well as disease and injury prevention, because healthier people create solid foundations for sustainable health systems and provide economic and social benefits for all.
Public health is distinguished from other components of the health system by two underlying principles:
A focus on the health of populations as a whole instead of individuals.
A focus on the promotion of health and the prevention (and control) of diseases and injuries, rather than treatment of diseases.
These principles allow public health to work in a complementary way with the rest of the health system. As an example of disease prevention, clinicians actively engage in counselling and providing pharmaceutical supports to facilitate smoking cessation for high-risk individuals. Moreover, public health professionals work with various partners and institutions that range from policymakers to the public to make cigarettes less accessible by regulation (taxation, restriction of advertisements and minimal legal age for purchasing) and health promotion (educating and social marketing targeted at adolescents to reduce smoking initiation).
One example of public health working in tandem with clinical medicine was the preparedness, planning and response to Ebola Virus Disease (EVD). Public health specialists formed part of the integrated response alongside laboratory medicine, infection control, ambulance services, primary care, emergency and acute care clinicians. Public health experts provided active surveillance of aid workers and travellers returning to BC from West Africa, and were a first point of contact for those people when they returned to BC communities. Medical health officers worked alongside emergency departments and ambulance services to ensure safe transportation and care for people who had returned from West Africa and required testing to rule out EVD. Public health expertise was integrated into the comprehensive guidance for the health system to ensure anyone who might develop EVD in BC could be safely cared for in acute care facilities, protecting the health of the patient, health care providers, and the general public.
Indeed, public health and clinical medicine are indispensable partners in a well-functioning health system that is critical to both individual and population health.
Public health has developed as a "society's response to threats to the collective health of its citizens and has an enviable record of contributions to population health status" (National Advisory Committee on SARS and Public Health, 2003). As such, public health requires multi-sectoral partnerships in order to work on complex issues and interactions between determinants of health. This means that everyone has a role to play in public health activities and programs, whether it is a pregnant mother who is concerned about the effects of exposure to second-hand smoke on early child development or a non-governmental organization that advocates a reduction in obesity or a business group that wants to develop healthy policies in a workplace.
Many of the health threats in the 21st century require changing personal health habits. Health care providers may intervene to help change these behaviours for those who are at high risk. To affect change at a population level, we need to change the norms in how we carry out our daily lives (e.g., what type of transportation we take to work, what and where we eat, and whether we exercise or not). This type of change takes time and requires combined and participatory approaches of education, community development and healthy public policy. Public health professionals and organizations are adept at assessing and analyzing population health issues, interpreting evidence and research to guide the development of health policies and programs, and facilitating collaboration of diverse partners to address population health issues.
References
Acheson, D., & Department of Health and Social Security. (1988). Public Health in England: The Report of the Committee of Injury into the Future Development of the Public Health Function [Command Paper]. London: HSMO.
National Advisory Committee on SARS and Public Health. (2003). Learning from SARS: Renewal of Public Health in Canada. Ottawa, ON: Health Canada.
Public Health Agency of Canada. (2008). Core Competencies for Public Health in Canada. Ottawa, ON: Author. Retrieved October 2, 2010, from http://www.phac-aspc.gc.ca/php-psp/ccph-cesp/pdfs/cc-manual-eng090407.pdf.
Public Health Agency of Canada. (2001). What is the Population Health Approach? [Internet]. Ottawa, ON: Author. Retrieved April 3, 2010, from http://www.phac-aspc.gc.ca/ph-sp/approach-approche/index-eng.php.
2. Who are Public Health Professionals?
The public health workforce consists of professionals from many fields with the common goal of protecting and promoting the health of a population. There are four broad categories of the public health workforce (PHAC, 2008):
1. Consultants/specialists: Consultants/specialists are public health staff who are likely to have advanced education and training in a special content area or a specific set of skills. They provide expert advice and support to frontline providers and managers although they may also work directly with clients. Examples of consultants/specialists include epidemiologists, environmental health scientists, evaluators, nurse practitioners and advanced practice nurses.
Public health epidemiologists study the health status and health indicators of British Columbians by designing, implementing, and conducting epidemiological studies and surveillance systems. They also work with regional health authorities and health professionals to interpret data, perform statistical analysis, and evaluate the efficacy of public health programs and interventions. Some public health epidemiologists are physicians that have advanced education and training in epidemiology.
2. Frontline providers: Frontline public health providers are public health staff who have post-secondary education and experience in the field of public health. Frontline providers have sufficient relevant experience to work independently, with minimal supervision. Frontline providers carry out the bulk of day-to-day tasks in the public health sector. They work directly with clients, including individuals, families, groups and communities. Responsibilities may include information collection and analysis, fieldwork, program planning, outreach activities, program and service delivery, and other organizational tasks. Examples of frontline providers are public health nurses, public health/environmental health officers, public health dietitians, dental hygienists and health promoters.
Public health nurses promote and protect the health of populations in diverse settings, such as community health centres, schools, street clinics, youth centres and nursing outposts, to meet the health needs of the whole or specific populations. They work with many partners in communities to implement maternal and child health promotion programs; disease and injury prevention programs; school health programs; sexually transmitted infection prevention programs that include treatment, education and outreach; immunization clinics; and communicable disease surveillance and control.
Environmental health officers investigate and influence conditions in the natural and built/physical environment that affect human health and well-being. They deal with the health impacts of contaminated air, water, land, and food, indoor and outdoor environments, and address biological, physical, chemical and radiological hazards. Environmental health officers' duties include inspections of and investigating complaints about food establishments, swimming pools, water supplies and sewage disposal systems. They also administer and enforce environmental health legislation related to these matters.
Public health dietitians plan, develop, implement, and evaluate nutrition policies, programs, and services. They consult with select populations for specific health conditions in order to assess and develop plans for sound food and nutrition practices. They also work with other public health professionals to advocate for programs and policy changes as needed.
3. Managers/supervisors: Managers/supervisors are public health staff who are responsible for major programs or functions. Typically, they have staff who report to them. Sometimes senior managers come from sectors other than public health and therefore rely heavily on consultants/specialists and other public health professionals for content expertise and advice. In other situations, managers with public health experience and qualifications are expected to bring more content knowledge. Examples of managers/supervisors include public health administrators and population health directors.
4. Medical health officers: Medical health officers are physicians who have public health training through post-secondary training and/or specialty training in Community Medicine. They use population health knowledge and skills to play leading and collaborative roles in the maintenance and improvement of the health and well-being of their communities. They are responsible, with the public health team, for monitoring, preventing and controlling communicable and chronic diseases, investigating disease outbreaks and hazards to health and coordinating public health responses to health threats. Medical health officers carry out legislated requirements under the Public Health Act and other acts that pertain to communicable disease prevention and control, environmental health, tobacco control, harm reduction, drinking water protection and community care facility licensing.
Reference
Public Health Agency of Canada. (2008). Core Competencies for Public Health in Canada. Ottawa, ON: Author. Retrieved October 2, 2010, from http://www.phac-aspc.gc.ca/php-psp/ccph-cesp/pdfs/cc-manual-eng090407.pdf.
3. What do Public Health Professionals Do?
Public health professionals have core values, attitudes, skills and knowledge (known as "core competencies") that allow them to carry out the work of public health. Identification of core competencies was one of the building blocks of the Federal/Provincial/Territorial framework on public health capacity building. The following highlight some of the core competencies under seven categories:
Public Health Sciences – a public health practitioner is able to demonstrate knowledge about the health status of populations, inequities in health, and determinants of health and illness. For example, frontline public health providers are able to discuss the need for prenatal nutrition programs in an Aboriginal community as well as contributing factors such as income, education, culture and traditional foods.
Assessment and Analysis – a public health practitioner is able to recognize when there is a health concern or issue, identify relevant sources of information, and determine appropriate implications, uses, gaps and limitations of information. For example, public health specialists in BC collect data via the BC Centre for Disease Control on an ongoing basis for provincial and national notifiable diseases. When there are higher than expected infectious disease outbreaks, local and provincial efforts take place to identify the cause of the increase in order to effectively manage the outbreak.
Policy and Program Planning, Implementation and Evaluation – a public health practitioner is able to describe policy and program options to address a specific public health issue, describe the legislative and fiscal implications of each option, and develop a plan to implement an appropriate course of action. For example, frontline public health providers may identify increased rates of sexually transmitted infections among youth, identify potential school-based interventions that may range from healthy sexuality education programs to a school-based HPV vaccine program, consider evidence of these interventions and how the interventions may affect different regions in the province, and determine available resources in order to pursue the most appropriate action.
Partnerships, Collaboration and Advocacy – a public health practitioner is able to identify and collaborate with partners in addressing public health issues. For example, the Provincial Health Officer seeks advice and input from policymakers, local communities, and public health organizations in order to make recommendations to improve the quality of British Columbia's drinking water.
Diversity and Inclusiveness – a public health practitioner is able to recognize and address population diversity when planning, implementing, adapting and evaluating public health programs and policies. For example, B.C.'s 10-year Tripartite First Nations Health Plan was developed from the consideration of the unique health challenges and longstanding health inequalities of this population. The 20-plus action items were designed to create fundamental changes to improve the health status of First Nations people in B.C.
Communication – a public health practitioner is able to communicate and mobilize individuals and communities by using appropriate media, community resources, current technologies and social marketing techniques. For example, a hepatitis outbreak in a youth hostel could prompt frontline public health providers to use community newspapers, local television, and social networking websites to target and notify the young travellers who may be at risk.
Leadership – a public health practitioner contributes to developing key values and a shared vision in planning and implementing public health programs and policies in the community. For example, each year, the Provincial Health Officer reports on the health status of British Columbians and the need for changes to policies and programs, and offers recommendations for individuals and organizations to improve their health.
Reference
Public Health Agency of Canada. (2008). Core Competencies for Public Health in Canada. Ottawa, ON: Author. Retrieved October 2, 2010, from http://www.phac-aspc.gc.ca/php-psp/ccph-cesp/pdfs/cc-manual-eng090407.pdf.
4. What are Core Functions in Public Health?
Having an effective, efficient and modern public health system in place is an important contributing factor for a healthy population. Public health has been and continues to be confronted by challenges, such as the following:
A large and growing burden of chronic disease.
Significant outbreaks or threat of outbreaks of communicable disease (e.g., SARS, West Nile, Ebola, etc.).
Changing environmental conditions that affect health (e.g., climate change, air and water pollution, etc.)
BC made a commitment to strengthen and renew its public health system to more effectively address these and other challenges. In March 2005, the Ministry of Health released a Framework for Core Functions in Public Health, which clearly defined the core functions of a public health system and identified a comprehensive set of public health services, based on the best available evidence and best practice. This policy work then formed the foundation of Promote, Protect, Prevent: Our Health Begins Here. BC's Guiding Framework for Public Health—the 10-year directional document for the public health system released in 2013.
The Guiding Framework reinforces core functions as the framework for public health program and service delivery in the province. The Core Functions Framework diagram outlines the core public health programs within the seven Guiding Framework goal areas that health authorities provide as they seek to improve the overall health of their populations. Four strategies (health promotion; health protection; preventive interventions; and health assessment and surveillance) are used to guide implementation. A population lens and inequalities lens are used to ensure the health needs of specific populations are addressed. Finally, provincial-level functions and infrastructure are in place to support the implementation of the core programs.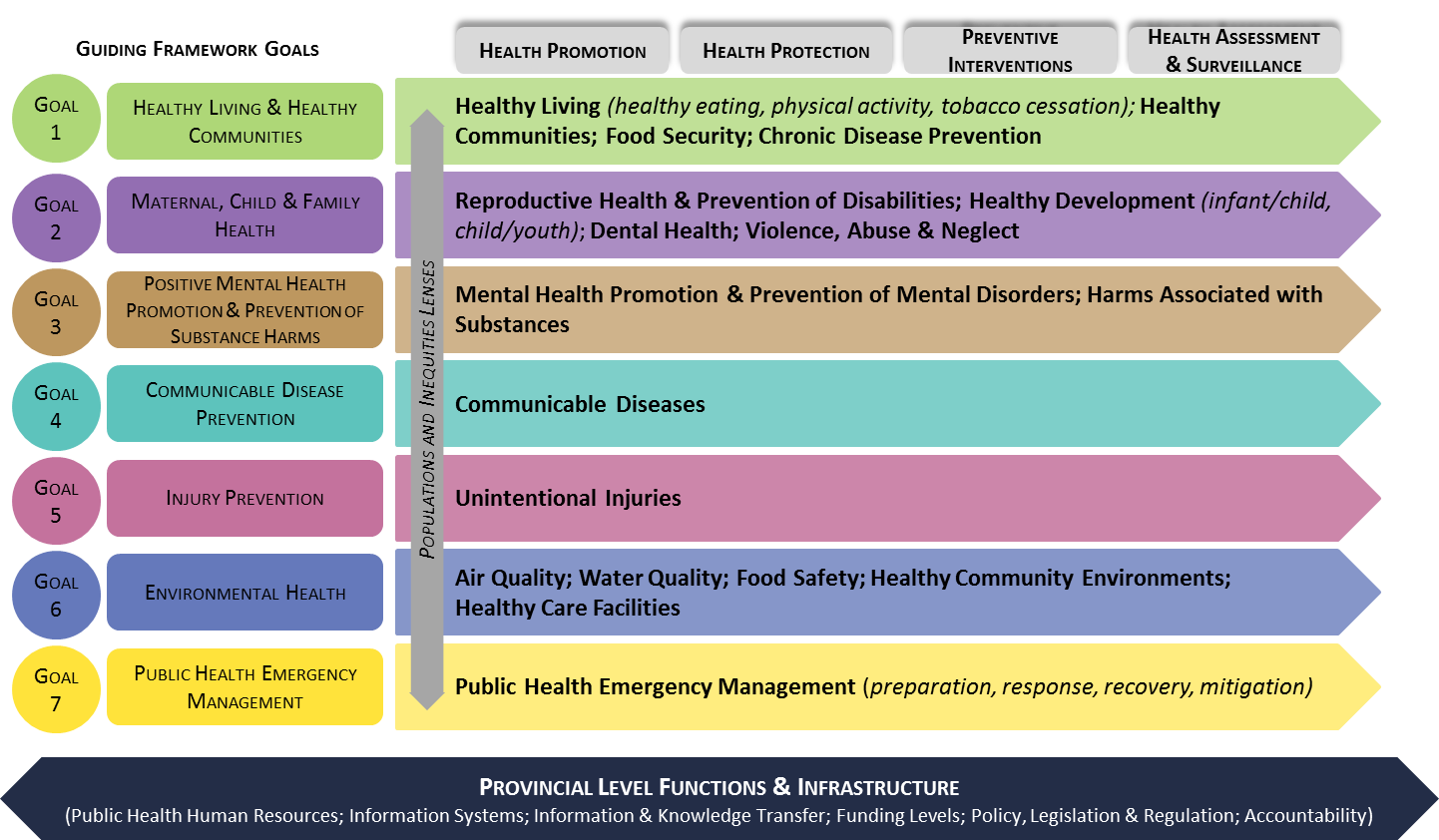 Core Public Health Programs
Core public health programs are the public health programs health authorities provide as they seek to improve the overall health of their population. Each core program has tools that support them. Model core program papers describe the essential elements of the program. Evidence reviews describe the best available evidence for interventions related to the core program. The following table lists the model core program papers and evidence reviews for each of the 20 current core public health programs. The complete catalogue of core program papers—including links to the individual papers listed below—can be found here in the Ministry of Health's reports and publications database.
Healthy Living and Healthy Communities
Core Public Health Program
Model Core Program Paper
Evidence Reviews
Healthy Living
Healthy Living

Physical Activity & Healthy Eating
Tobacco Control

Healthy Communities
Healthy Communities
Healthy Communities
Food Security
Food Security
Food Security
Chronic Disease Prevention
Chronic Disease Prevention
Chronic Disease Prevention
Maternal, Child and Family Health
Core Public Health Program
Model Core Program Paper
Evidence Reviews
Reproductive Health and Prevention of Disabilities
Reproductive Health and Prevention of Disabilities

Reproductive Health
Prevention of Disabilities

Healthy Infant and Early Child Development
Healthy Infant and Early Child Development
Healthy Infant and Early Child Development
Healthy Child and Youth Development
Healthy Child and Youth Development
Healthy Child and Youth Development
Dental Health
Dental Health
Dental Health
Prevention of Violence, Abuse and Neglect
Prevention of Violence, Abuse and Neglect
Prevention of Violence, Abuse and Neglect
Positive Mental Health & Prevention of Substance Harms
Core Public Health Program
Model Core Program Paper
Evidence Reviews
Mental Health Promotion and Prevention of Mental Disorders
Mental Health Promotion and Prevention of Mental Disorders

Mental Health Promotion
Prevention of Mental Disorders

Prevention of Harms Associated with Substances
Prevention of Harms Associated with Substances
Prevention of Harms Associated with Substances
Communicable Disease Prevention
Core Public Health Program
Model Core Program Paper
Evidence Reviews
Communicable Disease Prevention
Communicable Disease Prevention

Vector-borne Disease Management
Immunization
Health Promotion
Harm Reduction
Secondary Prevention
Public Health Measures
Public Health Laboratories (Part 1)
Public Health Laboratories (Part 2)
Sexually Transmitted Infections
Injury Prevention
| Core Public Health Program | Model Core Program Paper | Evidence Reviews |
| --- | --- | --- |
| Unintentional Injury Prevention | Unintentional Injury Prevention | Unintentional Injury Prevention |
Environmental Health
Core Public Health Program
Model Core Program Paper
Evidence Reviews
Air Quality
Air Quality

Indoor Air Quality
Outdoor Air Quality

Water Quality
Water Quality

Drinking Water Quality
Recreational Water Quality

Food Safety
Food Safety
Food Safety
Healthy Community Environments
Healthy Community Environments
Healthy Community Environments
Healthy Health Care Facilities
Healthy Health Care Facilities
Healthy Health Care Facilities
Public Health Emergency Management
Core Public Health Program
Model Core Program Paper
Evidence Reviews
Public Health Emergency Management
Public Health Emergency Management

Health Emergency Management
Public Health Emergency Management
Health Assessment & Disease Surveillance
| Core Public Health Program | Model Core Program Paper | Evidence Reviews |
| --- | --- | --- |
| Health Assessment and Disease Surveillance | Health Assessment and Disease Surveillance | Health Assessment and Disease Surveillance |