Truck fire north of Hudson's Hope
DISCLAIMER: Information provided is based on reports received by Emergency Management B.C. Information provided is considered to be current at the time of posting, but is subject to change as new information becomes available.
Incident Description
| | |
| --- | --- |
| Incident Date | August 14, 2018 |
| Name | Tanker truck fire north of Hudson's Hope |
| Source | Tanker Truck |
| Nearest Community | Hudson's Hope, BC |
| Spilled Content | Petroleum condensate |
| Who is involved? | B.C. Ministry of Environment & Climate Change Strategy, RCMP, Hudson's Hope Fire Department |
---
Response Phase Detail
The responsible person or spiller is legally required to clean-up or manage the clean-up of a spill. In incidents where the responsible person is unknown, unable or unwilling to manage the clean up, the Ministry of Environment & Climate Change Strategy (MOE) may assume the role. The updates below reflect the Ministry's oversight of the spillers' actions; details describe the spill response phase, only, and not the complete lifecycle of the spill. See More Information for other related reports.
Updates are in reverse chronological order, with the most recent at the top. Industry-specific language may be explained in the Glossary of Terms (PDF).
Most Recent Update
August 15, 2018 - 8:35 am
All fire activity at the scene of the incident was extinguished last night (August 14, 2018). The responding Environmental Emergency Response Officer (EERO) spoke with CANUTEC and the Transport Canada Dangerous Goods inspector to ensure an inspection is prepared prior to tomorrow's removal of the tanker.
An initial vacuum truck removed 9,000 L of product and a second vacuum truck was scheduled to remove the remaining product.
No further updates are expected.
August 14, 2018 - 11:05 am
A tanker truck carrying petroleum condensate was involved in a motor vehicle incident earlier today on Highway 29, between Fort St John and Hudson's Hope. The truck and tank burst into flames after the collision, causing a spot fire on the opposite side of the highway. The Hudson's Hope Fire Department extinguished the spot fire and the fire at the incident site. The responsible person has dispatched their safety manager to the site. The driver was medevaced to Vancouver.
The truck's tank is reported to contain approximately 40,000 L of petroleum condensate. Onsite responders reported some fuel leaking from the tank, however, the exact amount spilled is still being determined.
An Environmental Emergency Response Officer (EERO) with BC Ministry of Environment & Climate Change Strategy is currently on site to aid in the response. A product recovery plan is being prepared to offload the remaining product and begin vehicle recovery and environmental remediation.
Highway 29 was closed in both directions during the initial hours of the incident. Please check DriveBC.ca for updates on highway closures.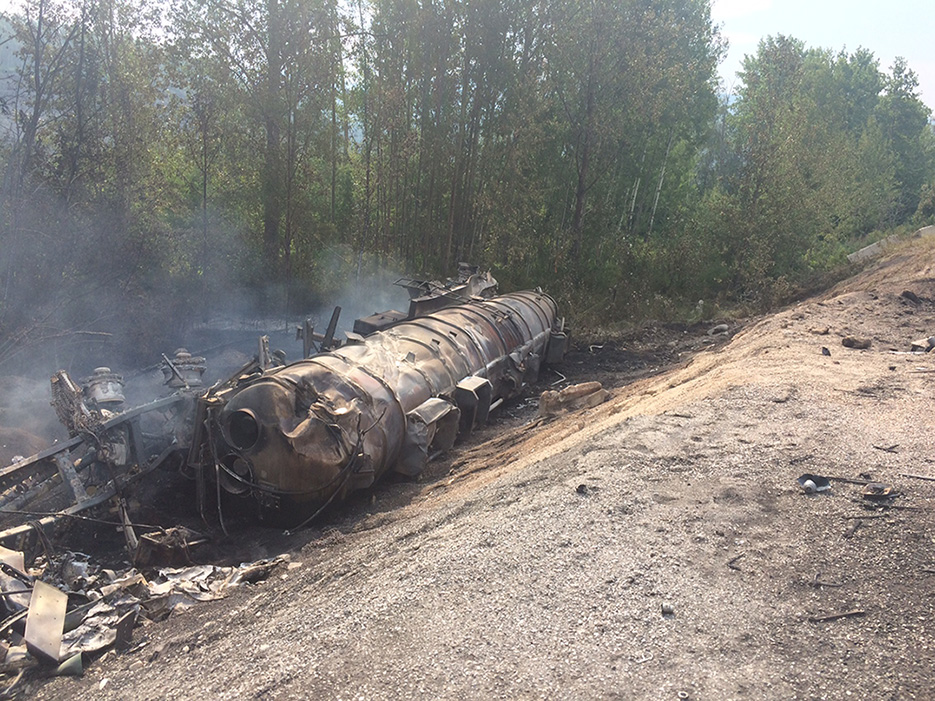 (Tanker truck carrying petroleum condensate in the ditch after vehicle incident - August 14, 2018)
(Panorama shot of tanker truck in the ditch along BC Highway 29 - August 14, 2018)