Ross Lake Vehicle Incident
DISCLAIMER: Information provided is based on reports received by Emergency Management B.C. Information provided is considered to be current at the time of posting, but is subject to change as new information becomes available.
Incident Description
| | |
| --- | --- |
| Incident Date | March 29, 2017 |
| Name | Ross Lake Vehicle Incident (DGIR: 163829) |
| Source | Motor Vehicle |
| Nearest Community | Hazleton, B.C. |
| Spilled Content | Vehicle Fluids, <1 L |
| Who is involved? | B.C. Ministry of Environment, Emergency Management B.C., B.C. Parks |
---
Response Phase Detail
The responsible person or spiller is legally required to clean-up or manage the clean-up of a spill. In incidents where the responsible person is unknown, unable or unwilling to manage the clean up, the Ministry of Environment may assume the role. The updates below reflect the Ministry's oversight of the spillers' actions; details describe the spill response phase, only, and not the complete lifecycle of the spill. See More Information for other related reports.
Updates are in reverse chronological order, with the most recent at the top. Industry-specific language may be explained in the Glossary of Terms (PDF).
Most Recent Update
April 25, 2017 - 1:23 pm
The vehicle that fell through the ice at Ross Lake on March 29, 2017 was recovered last week. On Friday, April 21st, the boat launch was temporarily closed to allow for vehicle retrieval operations to take place.
A dive company, hired by the responsible party, located and raised the vehicle from the lake. Four 500 kg lift air bags were used to raise the vehicle. The vehicle was then floated back to the boat launch and taken away by a tow truck. A small amount of sheen was visible on the lake's surface when the vehicle was raised but dissipated quickly. There are no short or long-term environmental impacts as a result of this incident.
A B.C. Ministry of Environment Emergency Response Officer and B.C. Parks staff were onsite to monitor the recovery operation.
Ross Lake is open to the public and there are no current restrictions on swimming or fishing.
Friday, April 21, 2017: Divers onsite at vehicle incident, Ross Lake, B.C. (photo courtesy of Kermodei Adventures)
Friday, April 21, 2017: B.C. Parks Ranger and B.C. Ministry of Environment Emergency Response Officers monitoring recovery operations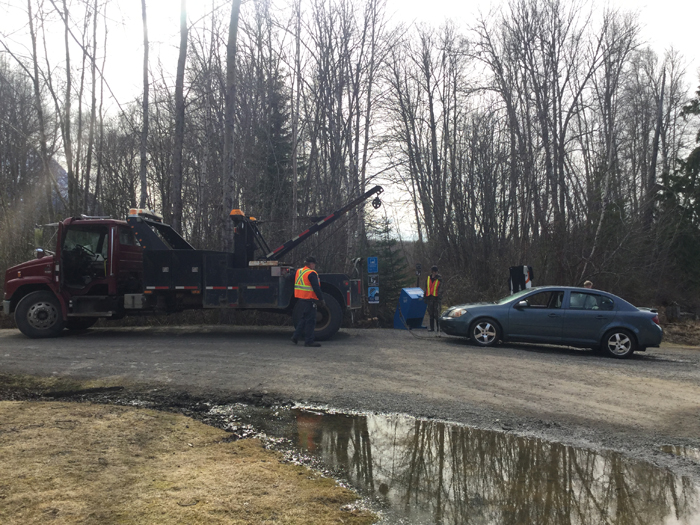 Friday, April 21, 2017: Previously submerged vehicle about to be towed away
March 31, 2017 - 12:30 pm
A member of the public drove their vehicle onto Ross Lake on March 29 to ice fish. The car went through the ice. The amount of vehicle fluids and gasoline spilled to environment is unknown at this time. There were no immediate reports of sheen.
The ice is deemed to be unstable at this time and it is recommended that recovery operations take place when the ice melts off.
B.C. Ministry of Environment and B.C. Parks staff are working with the responsible party and local stakeholders to develop a recovery and salvage plan.
The Gitanmaax Band, the Gitxsan Treaty Society and the Gitxsan Government Commission have been notified.
B.C. Park closure can be found here.