Equipment Failure- M/V ZIM Kingston
DISCLAIMER: Information provided is based on reports received by Emergency Management B.C. Information provided is considered to be current at the time of posting, but is subject to change as new information becomes available.
Incident Description
| | |
| --- | --- |
| Incident Date | October 23, 2021 |
| Name | Equipment Failure - M/V Zim Kingston (DGIR 212797) |
| Source | Shipping vessel |
| Nearest Community | Victoria |
| Spilled Content | Shipping containers |
| Who is involved? | B.C. Provincial Government, Federal Government, Indigenous Nations from Vancouver Island West and the Juan de Fuca Strait, local and municipal governments, Maersk Supply Service, Seaspan, Pacific Pilotage Authority Canada, and Danaos Shipping Company Ltd. |
---
Response Phase Detail
The responsible person or spiller is legally required to clean-up or manage the clean-up of a spill. In incidents where the responsible person is unknown, unable or unwilling to manage the clean up, the Ministry of Environment & Climate Change Strategy (ENV) may assume the role. The updates below reflect the Ministry's oversight of the spillers' actions; details describe the spill response phase, only, and not the complete lifecycle of the spill. See More Information for other related reports.
Updates are in reverse chronological order, with the most recent at the top. Industry-specific language may be explained in the Glossary of Terms (PDF).
Most Recent Update
November 25 – 16:00
The situation on board the M/V Zim Kingston remains stable, its final destination and available moorage is still being determined. The Incident Command Post and unified command have stood down. This incident will transition into a project phase that will continue to address the remaining containers and debris removal from beaches.
No further updates are anticipated for this event.
November 12 - 12:30
The vessel remains stable at Constance Bank, crews on-board continue to monitor the situation with no changes identified over the last week. Public air monitoring was ceased on November 2, 2021, as the fire had been extinguished. There were no air monitoring concerns on shore throughout the entire operation.
On November 8, 2021, the vessel transit plan was approved after review by Transport Canada, Pacific Pilotage Authority and Unified Command. Loose cargo on-board the ship has been secured in place and is ready for transit. Travel to which port is still being determined, pending moorage availability.
Accessing the remote beaches for recovery of the debris and containers on northern Vancouver Island has been a challenge due to stormy weather. Tides and heavy rainfall in the area are also contributing to more difficult access. Debris on beaches has largely been removed or is awaiting removal when weather allows. In some areas high-tide makes the beaches inaccessible and therefore need to be accessed only at low tide. The containers once empty are being cut up and airlifted from each site. The Environmental Unit continues to develop cleanup end-points for the missing cargo and impacted beaches.
Currently, the situation remains stable as shoreline cleanup continues.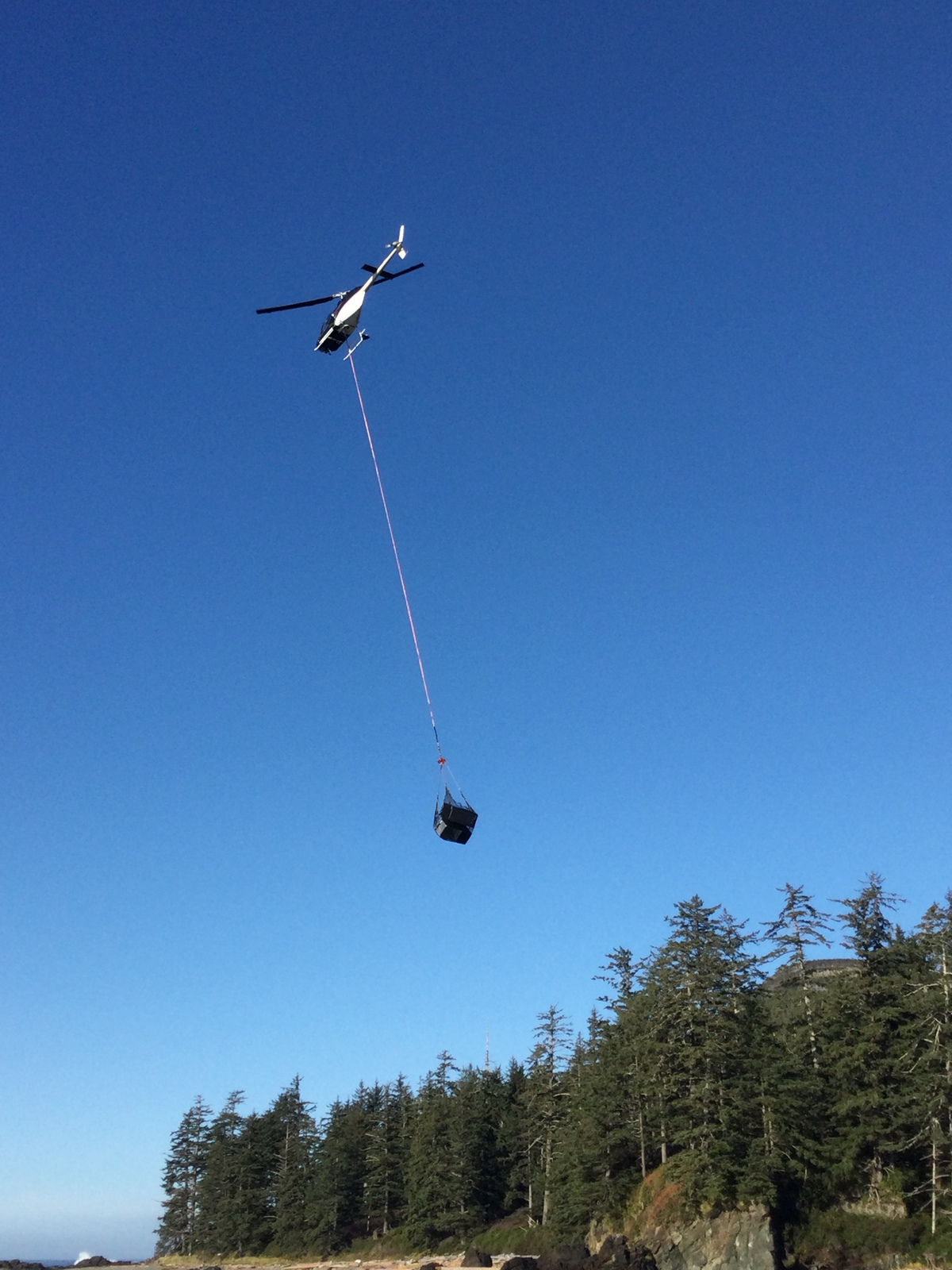 (November 1, 2021 - Helicopter air lifting fridges off the beach)
November 1 - 17:30
Reports from the beaches indicate that by Sunday (October 31, 2021) afternoon, a total of 71 refrigerators, 81 bags of Styrofoam, 19 bags of garbage, and 11 helicopter bags of garbage were flown off of Cape Palmerston beach and into metal bins in a nearby parking lot. All large debris is now off the Palmerston area beaches. Removal of debris from Guise Bay, an area reported to be impacted, is another cleanup priority this week as weather allows. Plans are underway for the removal of all four containers when a weather window permits.
The M/V Zim Kingston is securing its cargo on-board as part of the plan to transit to a safe port. Coast guard and tugboat vessels remain on-scene to provide support as needed. The one nautical mile emergency exclusion zone has been lessened to 3 cables (approximately 200 meters) around the vessel.
October 31 – 16:00
The M/V Zim Kingston has extinguished the active fires on-board and continues to monitor hot spots, 24 hours a day, to ensure there are no flare ups. The vessel is making plans with the Pacific Pilotage Authority, Transport Canada and the responsible person for transit to a safe port. All safety and environmental concerns will be addressed before the plan is put into action. Air quality monitoring on the vessel and on-shore have not detected any contaminants of concern today (October 31, 2021).
Cleanup of the beaches on northern Vancouver Island continued today. Teams at multiple locations have now recovered 65 bags of debris and an estimated 70 refrigerators have now been stacked in preparation for removal. A salvage master, hired by the responsible person, is flying the area to identify access points to recover the beached materials. Cleanup of the beaches where containers have come ashore will continue tomorrow (November 1, 2021).
The Transport Canada National Aerial Surveillance Program airplane is scheduled to fly tomorrow (November 1, 2021) to continue to search for any other containers or incident related debris in the area.
(October 30, 2021 - Container beached on the rocks on northern Vancouver Island)
(October 30, 2021 - Fridges stacked above the high tide mark for removal)
October 30 - 4:30 pm
Shoreline cleanup has begun, the owner of the M/V Zim Kingston has hired contractors to remove debris from the beach as well as recover the containers; this is being coordinated through the Incident Command Post. Crews were at Cape Palmerston yesterday (October 29, 2021) and today collecting debris from the beach. They removed 35 industrial garbage bags and three helicopter bags filled with Styrofoam yesterday and about 40 refrigerators have been moved above the high-water mark for removal.
Currently the incident is not requesting any volunteers for debris cleanup. Should members of the public encounter a container they should avoid opening it and call 1-800-889-8852 immediately.
Other than the initial four, no other containers have been found so far though the search continues.
October 27 - 5:30 pm
Fire suppression on board the M/V Zim Kingston has progressed, allowing for a more extensive survey of the ship's bays. It has been determined that over a hundred containers went overboard rather than the initially reported 40.
Unified Command has identified the contents of the containers that went overboard. Contents include Christmas decorations, sofas, poker tables, metal car parts, clothing, toys, yoga mats, stand-up paddle boards, and industrial parts. Based on current information, it is understood that only two containers with hazardous chemicals went overboard. It is expected that some of the containers have sunk as they are not water-tight and have been in heavy seas.
Poor weather and 10 to 12 metre swells continue to complicate efforts to understand the impacts of the containers that went overboard. The Environmental Unit is addressing potential impacts to sensitive areas. Air and water quality monitoring efforts continue.
Coast Guard and Transport Canada's National Air Surveillance Program overflights have located four containers from the incident washed ashore near the Cape Scott area. Should members of the public encounter a container they should avoid opening it and call 1-800-889-8852 immediately.
October 26 - 5:30 pm
The safety of responders, crew, and the public remain a high priority during this incident. Firefighting and salvage experts from Resolve Marine were able to board the M/V Zim Kingston last night. The team is assessing the situation today and continue to work towards suppressing any smouldering fires inside the containers.
Continual air-quality monitoring and environmental modelling are primary objectives. Crews were able to board the M/V Zim Kingston to establish air monitoring. Island Health is actively monitoring the situation, and currently they have no concerns about harm to residents of Vancouver Island from the fire.
The two chemicals of concern that were on the M/V Zim Kingston are potassium amyl xanthate and thiourea dioxide. These chemicals are identified as being non-bioaccumulating agents. This means that if there is human contact the chemicals would not accumulate in the body faster than they are excreted; therefore, the risk of poisoning or toxicity is very low.
No fisheries closures are currently in place, based on the assessment by the Department of Fisheries and Oceans and Environment and Climate Change Canada.
The Environmental Unit (EU) will continue to assess the toxicological risk posed by the container contents. The EU will monitor wildlife that may be near the vessel and floating containers, as well as evaluate any ecological sensitivities for potentially impacted shoreline habitats.
Unified Command continues to operate with members of the B.C. Ministry of Environment and Climate Change Strategy, W̱SÁNEĆ First Nation, Scia'new First Nation, Canadian Coast Guard, and a representative for the Responsible Person.
Further updates will be provided as information becomes available.
(Oct. 24 - Stack of containers aft of the bridge toppled over)
October 25 - 4:30 pm
The smouldering fire aboard the M/V Zim Kingston continues to be a response priority. An Environmental Unit has been stood up within the Incident Command Post that includes First Nations, municipal, provincial, and federal agencies with a focus on a harmonized response. Water quality sampling measures are being developed for the water column around the vessel. Currently, no fisheries closures are in place in the vicinity of the vessel.
Air quality monitoring crews have been on-shore since 4:00 pm yesterday and continue to monitor today. The focus is from Dallas Road to the Esquimalt shoreline, and the Esquimalt Lagoon to Ocean Boulevard. Air quality monitoring is continuous and is updated in real-time. To date, there have been no contaminants of concern detected that are a risk to public health. If safe to do so, air monitoring crews will be boarding the Maersk Trader and M/V Zim Kingston today, weather permitting.
Tracking of the floating containers continues with overflights when weather permits. They are currently drifting North-West, parallel to the coastline. Salvage contractors are waiting for an opportunity in the weather system to resume recovery actions. They are not expected to land on the shore at this time. If any shipping containers are encountered on shore by the public, people are advised to stay away from the container and report the incident to the Canadian Coast Guard response line at 1-800-889-8852.
The Responsible Person (RP) has been identified. M/V Zim Kingston is owned by Greece-based Danaos Shipping Company Ltd. Danaos has hired Resolve Marine Group to carry out local salvage operations and fire suppression activities as the response continues.
(October 24, 2021 - Aerial view of the burned shipping containers aboard the M/V Zim Kingston)
October 24 - 6:45 pm
Teams have been established to monitor air quality safety on the water and on land around the incident area. An Environmental Unit has been established with subject matter experts from federal and provincial agencies, local municipalities, and Indigenous Nations. The Environmental Unit will continue to closely monitor ecological and toxicological impacts and recommend appropriate strategies for mitigation as the incident unfolds. The Department of Fisheries and Oceans have not issued any fisheries closures at this time and continue to review information as it becomes available.
Canadian Coast Guard has reported that the fire has been stabilized. Emergency tow vessels, tugs, and the Canadian Coast Guard will monitor the vessel overnight. Coast Guard is conducting an assessment to determine the pollution threats and hazards from the containers. A one nautical mile emergency exclusion zone has been established around the vessel and remains in place at this time.
Island Health is monitoring the situation, and at this time public health concerns remain low. Coordination calls continue to be held daily to ensure up-to-date information is being shared.
This page will be updated as information becomes available.
[October 24, M/V Zim Kingston, Maersk ships providing cooling efforts]
October 23 - 11:20 pm
On October 21, 2021, a container ship, the M/V Zim Kingston, advised Marine Communications and Traffic Services that rough weather had caused the ship to release cargo. Approximately 40 shipping containers were lost overboard around the entrance of the Juan de Fuca Strait. The M/V Zim Kingston proceeded to more protected waters to further assess the situation and determine which containers and contents had been lost. The ship is now at anchor at Constance Bank, approximately 7 kilometres south of Victoria.
A GPS data buoy was deployed near the floating containers to mark their position as they drift. Currently the containers are off the west coast of Vancouver Island. Some of the contents in the containers have been identified as hazardous materials. Due to high winds and seas predicted around Vancouver Island in the next few days, no recovery is being attempted at this time.
Today, October 23, 2021, the M/V Zim Kingston reported that damaged containers on board had caught fire. The fire has now spread to an estimated 10 containers on the ship's deck. A tugboat is on scene and providing boundary cooling to the M/V Zim Kingston to help keep the fire contained. Salvage crew, more tugboats, firefighters, and a hazardous materials response team are being mobilized to respond to the incident.
The nature of this event includes many different First Nations, communities, municipalities, government agencies and the responsible person working together. A coordination call was held this evening to make sure information is being shared with all those involved. An incident command post has been established and the Canadian Coast Guard and B.C. Ministry of Environment and Climate Change Strategy have initiated unified command to respond to this incident.
This page will be updated as new information becomes available.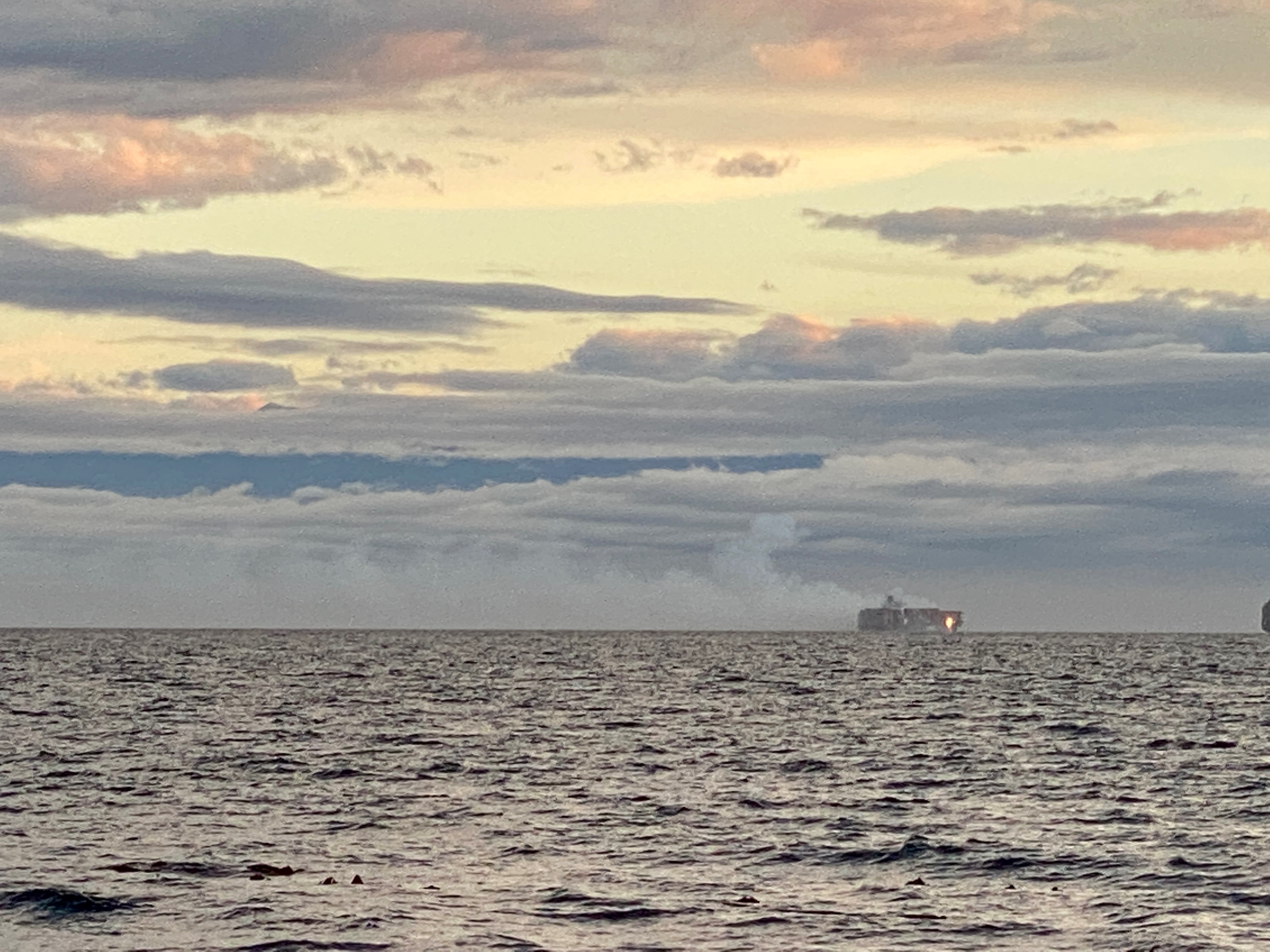 [October 23, 2021 M/V Zim Kingston at anchor at Constance Bank]