CN Derailment near Moose Lake
DISCLAIMER: Information provided is based on reports received by Emergency Management B.C. Information provided is considered to be current at the time of posting, but is subject to change as new information becomes available.
Incident Description
| | |
| --- | --- |
| Incident Date | December 26, 2019 |
| Name | CN Derailment near Moose Lake (DGIR: 193288) |
| Source | Train Derailment |
| Nearest Community | Tête Jaune Cache, Mount Robson Provincial Park |
| Spilled Content | Potash |
| Who is involved? | B.C. Ministry of Environment & Climate Change Strategy (ENV), Canadian National Railway, GHD Environmental, TERVITA Corporation, NUCOR Environmental Solutions |
---
Response Phase Detail
The responsible person or spiller is legally required to clean-up or manage the clean-up of a spill. In incidents where the responsible person is unknown, unable or unwilling to manage the clean up, the Ministry of Environment & Climate Change Strategy (ENV) may assume the role. The updates below reflect the Ministry's oversight of the spillers' actions; details describe the spill response phase, only, and not the complete lifecycle of the spill. See More Information for other related reports.
Updates are in reverse chronological order, with the most recent at the top. Industry-specific language may be explained in the Glossary of Terms (PDF).
Most Recent Update
January 8, 2020
An Environmental Emergency Response Officer (EERO) attended site yesterday (January 7, 2020) with representatives from Simpcw First Nation, B.C. Parks and GHD Environmental.
Environmental sampling is on-going daily to monitor any further impacts to the derailment site. A stream in the area has been diverted by culvert to avoid contamination while work is on-going. Tervita is on-site recovering the train wreckage and the rail line is currently open in both directions. A total of 2,200 tonnes of potash was released to ground during the incident and an estimated 10 to 20 cubic metres (m3) of product was released to the lake. The nearest water intake is over 20 kilometres downstream of the incident and current sampling at site shows no indication of contamination. This incident is being monitored by the local EERO with no further updates anticipated.
December 26, 2020
A Canadian National (CN) Railway Potash train derailed this morning (December 26, 2019) in the Fraser Fort-George region, near Moose Lake on Highway 16. Initial reports indicate at least 1 railcar containing Potash had gone into the lake.
An Environmental Emergency Response Officer (EERO) with the B.C. Ministry of Environment and Climate Change Strategy (ENV) has deployed from Prince George and arrived at the incident this afternoon. The EERO will oversee the incident and ensure appropriate actions are taken to protect the environment and clean-up the spill. Environmental response contractors GHD Environmental, NUCOR Environmental Solutions and TERVITA Corporation are also responding to the derailment.
A total of 27 railcars containing Potash are involved in the derailment and one car has been confirmed in the lake. No injuries have been reported with this incident and contractors are working to clear the tracks and recover product. Heavy equipment will be in the area as cleanup operations begin.
More information will be provided as information comes in from the field.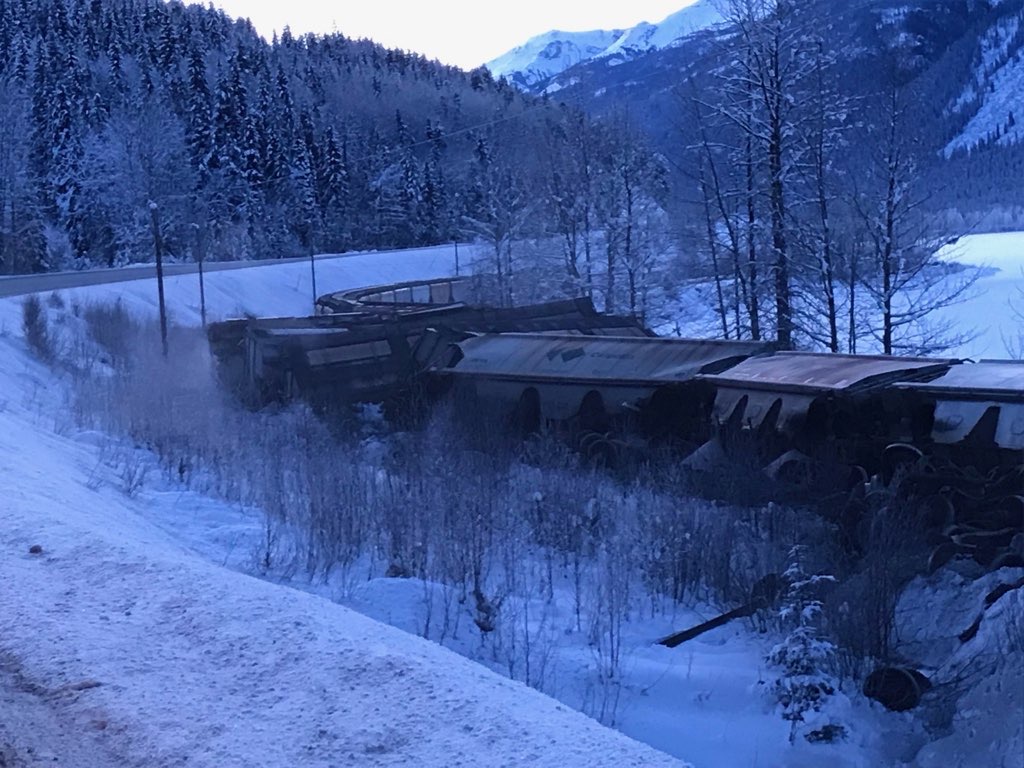 (Incident site along HWY 16 and Moose Lake, December 26, 2019)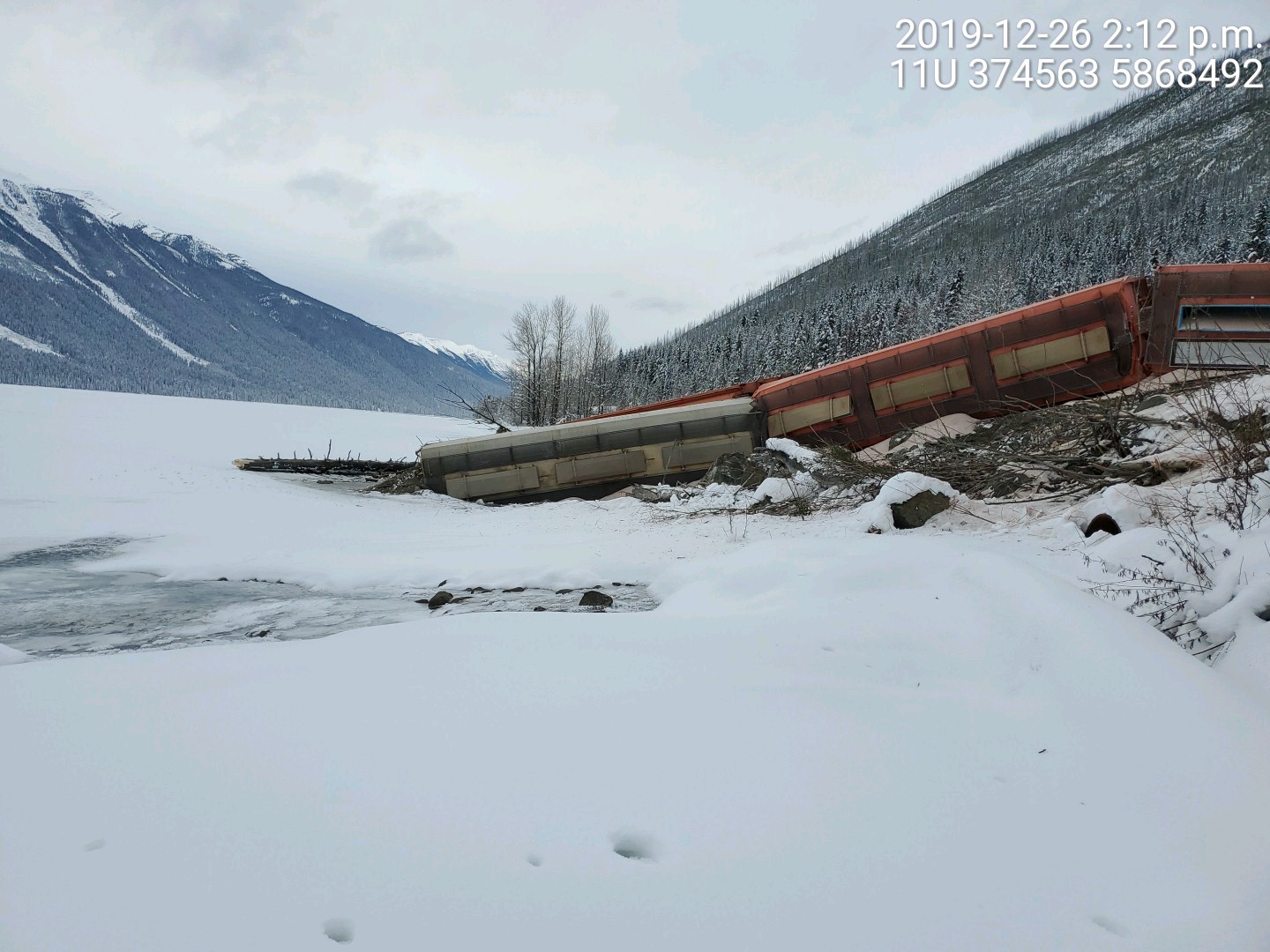 (One railcar semi submerged in Moose Lake, December 26, 2019)