Active transportation funding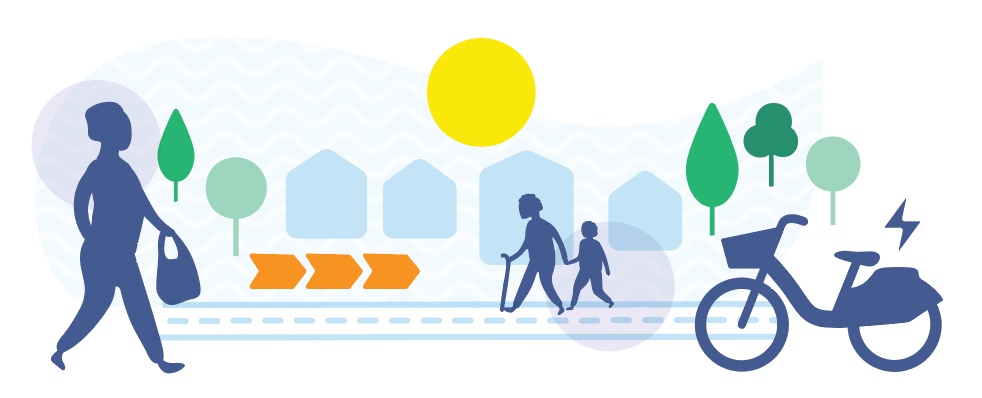 The B.C. government has funded over 300 active transportation projects since 2014. That's more than $40 million in grants to communities for new paths, overpasses, lighting, and more.
Read the news release: Rebates make new e-bike purchases more affordable
On this page:
---
E-bike rebates
More people are choosing e-bikes as their mode of transportation. Their unique characteristics suit a wide range of uses: commuting, recreation and tourism.
Want to buy an e-bike? We can help. People and businesses in B.C. can get money back when they buy a new e-bike.
E-bike rebates for individuals: Starting June 1, 2023, British Columbians, age 19 and older, can get a rebate when they buy a new e-bike.
There are three levels of rebate: $350, $1,000, $1,400. The lower your net income, the higher your rebate. You will need to send in your tax notice of assessment, to show your income, when you apply.
After applying, you will receive pre-approval and will then have 30 days to complete your e-bike purchase. You will then submit your receipts to claim your rebate.
You do not need to scrap a car to get this rebate. Learn more about the e-bike rebate.
E-bike rebates for businesses: Business owners in B.C. can get up to $1,700 when they buy a cargo e-bike. Cargo e-bikes can cut delivery costs and reduce truck traffic in our communities. The rebate covers one third the cost of a cargo e-bike.
Cargo e-bike rebate for businesses
---
Active transportation infrastructure grants: Indigenous and local governments
Indigenous and local governments can apply to have the B.C. government share the cost of their active transportation infrastructure projects, such as:
Protected multi-use paths
Lighting
End-of-trip facilities
Way-finding
The B.C. government may fund between 50 to 80 percent of the project cost, depending on the size and type of the community.
There is also a Network Planning grant available to support smaller communities in developing active transportation network plans to support active transportation for all ages and abilities. The B.C. government may fund 50 percent of the project cost.
How to apply
If you work for an Indigenous or local government you can apply for the active transportation infrastructure grant.
If you're a citizen who wants your local government to apply for an active transportation grant, contact your locally elected officials.
---
​Funded projects
Here are examples of some of the over 100 active transportation infrastructure projects the B.C. government has funded across the province.
Take the opportunity to hear, get informed and speak up about active transportation and how it's incorporated into other transportation projects.
---
​Tofino Multi-Use Path: The Multi-Use-Path (MUP) Project developed a 2.8km separated two-way cycling path, routed alongside the east side of Pacific Rim Hwy from the Tofino Information Center, to the northern boundary of the Pacific Rim National Park (PRNP) to connect with the ʔapsčiik t̓ašii Trail.
Year: 2019-2020
Community: Tofino
Funding from B.C. Government: $1,000,000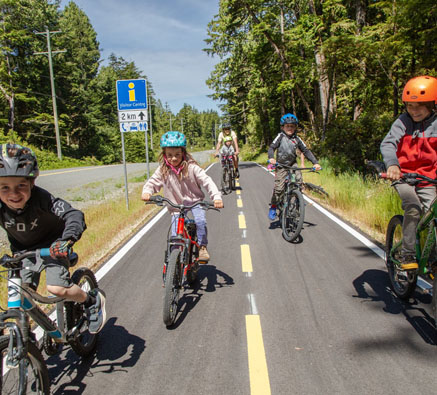 ---
Cadboro Bay Road bike lanes project: The separated bike lanes are 0.7km long and 1.8m wide along Cadboro Bay Road to Foul Bay Road to Bowker Avenue. The separated bike lanes serve commuters to the Royal Jubilee Hospital and surrounding businesses, as well as make active transportation more accessible to students at Oak Bay Secondary School.
Year: 2018-2019
Community: District of Oak Bay
Funding from B.C. government: $78,160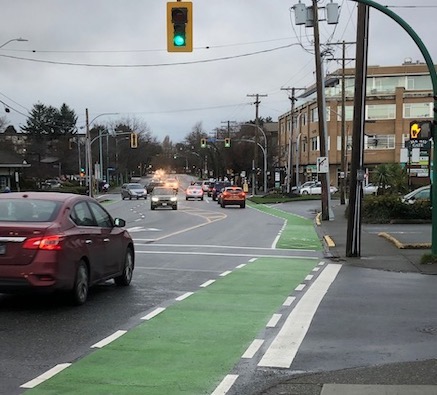 ---
Ethel Ave Transportation Corridor: This project consists of street-level protected bike lanes from Sutherland Avenue to Springfied Road / Cadder Avenue.
Year: 2019/20
Community: Kelowna
Funding from B.C. government: $237,532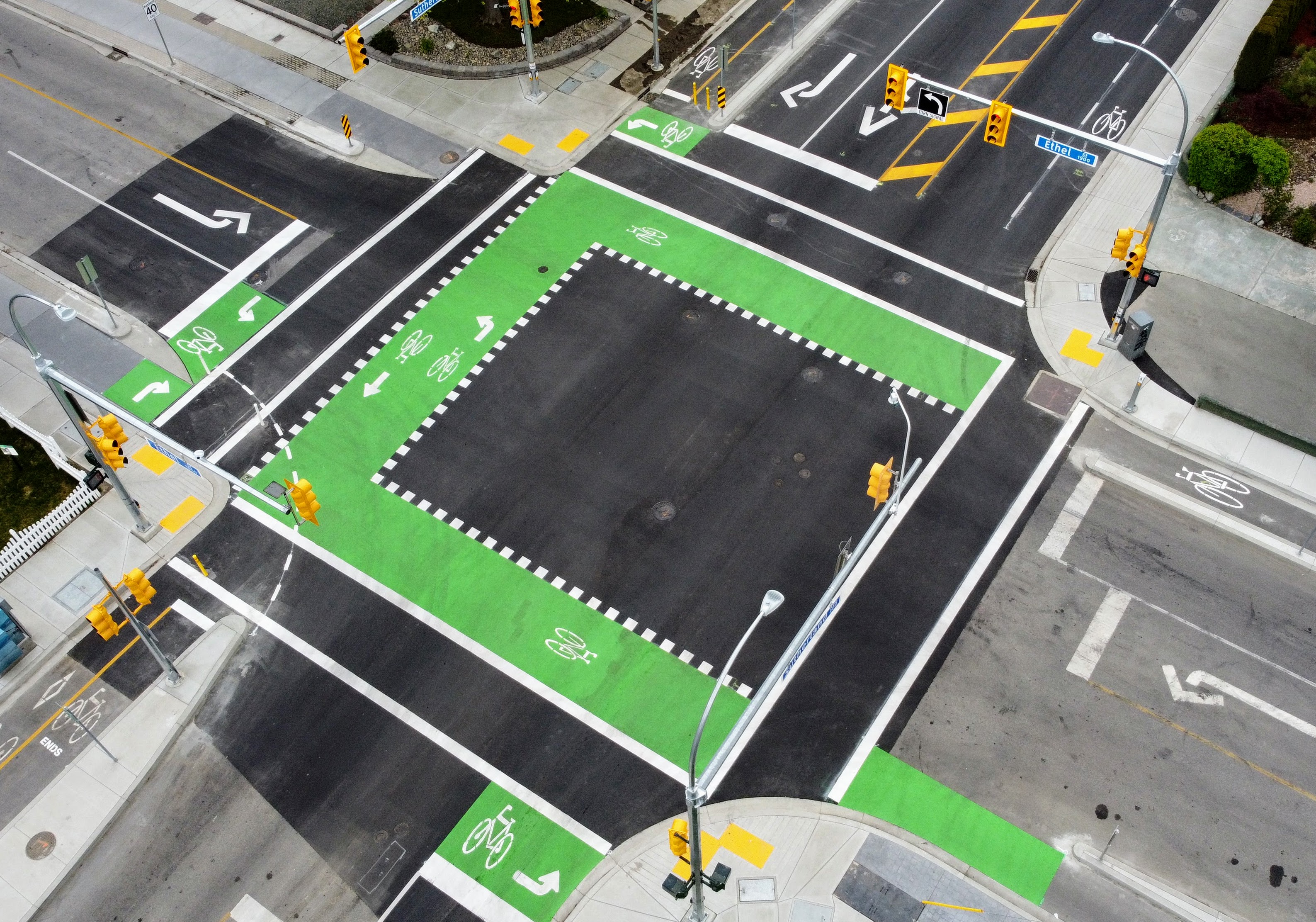 ---
Salmon River Road parallel trail: This separated multi-use path is 3.7km long and 2m wide between Silver Creek Community Park and Silver Creek Store. The trail provides safer access to and from Silver Creek Elementary School and a popular recreation park with beautiful old growth ponderosa pine and Douglas fir stands for nature-based learning excursions.
Year: 2018-2019
Community: Columbia River Regional District
Funding from B.C. government: $784,077
---
The Shoreline Trail improvements project - South Shoreline Trail: This project in Port Moody is a key connection to Rocky Point Park, Inlet Field and points along Burrard Inlet for approximately 1km. Trail improvements included widening the path to a 4.2m wide paved (0.8m gravel shoulder) multi-use path with improved drainage and sightlines.
Year: 2019-2020
Community: City of Port Moody
Funding from B.C. government: $205,295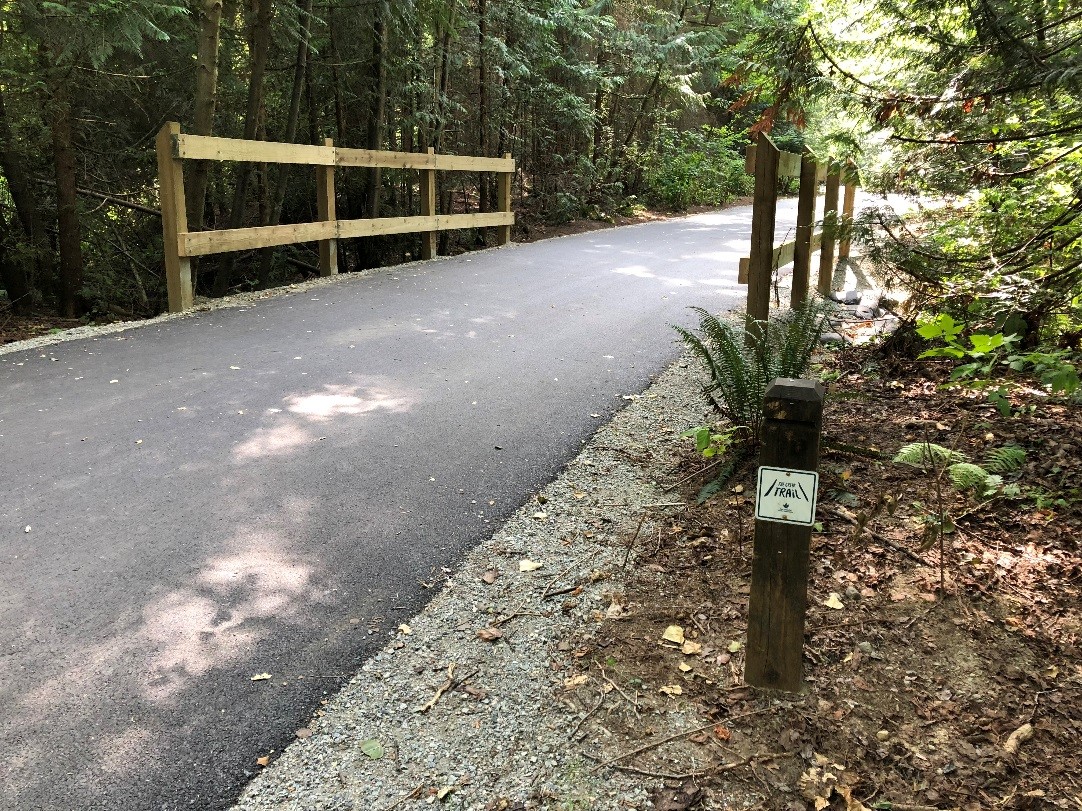 ---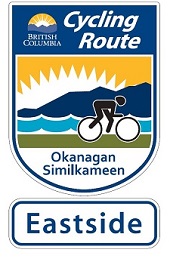 Cycling signs: We've partnered with the Regional District of Okanagan-Similkameen to pilot project signage to make it easier to find the right trail or route for your cycling adventure.
---
Community safety enhancement program
The community safety enhancement program provides up to $5 million in provincial funding to help communities make small improvements to their infrastructure. Proposals are submitted by the Ministry of Transportation and Infrastructure after consultation with local stakeholders.
Examples of work completed to date includes:
Gabriola Island ferry entrance pedestrian safety improvements

Flashing crosswalk to improve safety at Signal Hill Elementary School in Pemberton

Shoulder construction Hariot Bay Road for pedestrians and cyclists on Quadra Island