Active Transportation Funding
Applications are now being accepted for the Active Transportation Planning Grant.
This grant provides up to $10,000 to local governments towards incorporating active transportation into their land use plans.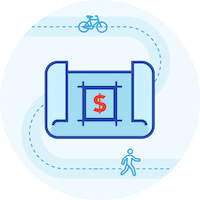 B.C. government programs have helped communities build over 100 active transportation projects since 2014. That's more than $40 million for new paths, overpasses, lighting, and more. We are also making electric bikes (e-bikes) more affordable for individuals and businesses, so more people can benefit from the connections in their communities.
Funding for Indigenous & Local Governments
Indigenous governments and local governments (including municipalities, regional districts and the Islands Trust) can get a grant to support the planning or construction of active transportation facilities.
Funding for Individuals & Businesses
We can help you get started with active transportation. The B.C. government supports funding programs to promote active transportation in B.C.
---
We acknowledge all Indigenous peoples on whose territories we work and play. We honour their connections to the land and respect the importance of the diverse teachings, traditions, and practices within these territories.