Mineral deposit profiles
Mineral Deposit Profiles provide brief summaries of the types of mineral deposits found in British Columbia. They include descriptions of host rocks, mineralogy, alteration, tectonic setting, associations, genetic models, and exploration guides, and give typical examples with grades and tonnages.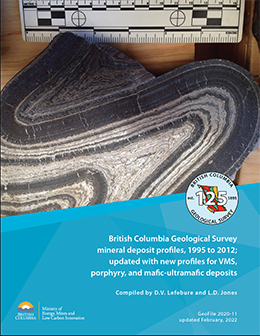 GeoFile 2020-11: British Columbia Geological Survey mineral deposit profiles, 1995 to 2012; updated with new profiles for VMS, porphyry, and mafic-ultramafic deposits.
D.V. Lefebure and L.D. Jones, (compilers)
The mineral deposit profiles compiled herein were initially prepared by the British Columbia Geological Survey (BCGS) between 1995 and 2012. Most of the profiles were initially published in BCGS Open File reports or in Geological Fieldwork volumes and were made available to the public on the BCGS website. The profiles are concise but comprehensive descriptions of metallic mineral, industrial mineral, gemstone, and coal deposits. These descriptions include geological characteristics, mineral exploration techniques, resource data, age of mineralization, tectonic setting, and concepts about deposit origins. Although the profiles have a global scope, many provide information specific to British Columbia. The present report re-releases all 120 profiles in one collection, with the original profiles virtually unchanged. In addition, the BCGS has initiated a multi-year mineral potential mapping project to identify areas of high prospectivity for key mineral systems across the province, and this release includes ten profiles for VMS, porphyry, and mafic-ultramafic deposits, which include mineral systems information and are included as an Addendum. The next generation of mineral deposit profiles will further support completing modern resource assessments, likely enabled by artificial intelligence applications
View GeoFile 2020-11 (PDF, 10 MB)