MapPlace 2 user guide
MapPlace 2 (beta) Workshop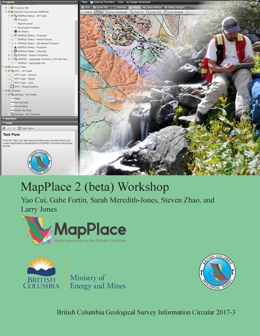 Cui, Y., Fortin, G., Meredith-Jones, S., Zhao, S., and Jones, L.
In the modern world of digital data sharing and online web delivery of geospatial and geological information, the need for a reliable, high-performance web service is paramount to the success of any geoscience organization. MapPlace 2 is such a web service.
Developed entirely in-house by the British Columbia Geological Survey (BCGS), MapPlace 2 serves the diverse needs of the mineral exploration industry, resource planners, public safety agencies, communities, First Nations, government, research organizations, and the general public. It builds on the success of the original MapPlace, which was created in 1995 and has a proven record of helping decision makers reduce the costs of accessing and analyzing geoscience data in British Columbia.
The revamped MapPlace 2 is easier to use and has much improved functionality and performance. It can be used on either a Mac or a PC, does not require plug-ins, and works in most web browsers. MapPlace 2 differs from many other web services because it allows visualizing and querying province-wide geoscience data at exceptional speed and provides advanced applications to search, analyze, report, and download these data.
MapPlace 2 embraces the most appropriate open-source software for rendering maps, integrating databases, and developing web applications. The real power of MapPlace 2 derives from databases that 'talk' to each other. This enables users to conduct queries and generate personalized results by connecting many data sources that are continuously updated.
This handbook introduces readers to the new MapPlace 2 interface and provides a review of how the basic tools function and what datasets are available. A series of scenario-based exercises teach readers how to get the most out of MapPlace 2 by doing drills and actions designed to reinforce the basic MapPlace 2 functions and some of its more advanced features.
MapPlace 2 results from the efforts of a dedicated team of Survey geoscientists. These efforts continue as BCGS continues to improve the service. Proud to release this beta version of MapPlace 2 to the general public, we gratefully acknowledge the support of our friends in the mineral exploration industry who challenged us to overcome past limitations and develop a web service to carry us into the future.