Steven Zhao, Ph.D.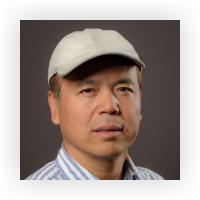 Phone: (250) 952-0329
Email: Steven.Zhao@gov.bc.ca
Steven is a web application developer with an emphasis on GIS data management, maintenance and visualization of geological data in British Columbia.
Education
Northwest Agriculture & Forestry University, China (B.Sc., 1986)
Northwest Agriculture & Forestry University, China (M.Sc., 1991)
Northeast Forestry University, China (Ph.D., 1998)
Camosun College, Canada (Diploma, 2010)
Expertise
After 22 year working as teacher, professor, research forest biologist in the field of biology teaching and research, Steven turned his direction into computer science and became a Java developer working with Natural Resource Canada in 2010.
Steven joined the British Columbia Geological Survey in 2012 as a GIS Geoscientist. Since then he developed the prototype of MapPlace 2. Now he is working on pro-release of this production. While primarily a GIS application developer, Steven works also as DBA and system analyser in maintain the developing server and production server and the related service. The new MapPlace 2 can provide a variety of services to fulfil users of different needs with cutting edge OpenSource technologies.
Publications