Easton Elia, GIT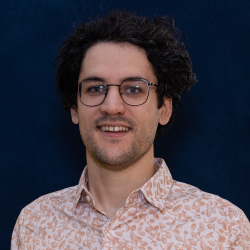 Phone: (236) 478-1542
Email: Easton.elia@gov.bc.ca
Easton is responsible for the integration of regional compilations and geoscience maps into the BC Digital Geology database, GIS support, and the development of a remotely piloted aircraft systems program.
Education
University of Victoria (B.Sc., 2019)
Expertise
Before working at the British Columbia Geological Survey, Easton spent multiple summers working in the Elk Valley's metallurgical coal mines in environmental and mine operations departments. Easton joined the BCGS in 2019 as a Geoscience Assistant, completing a surficial geology field mapping program in the Hogem batholith area, north-central British Columbia. During this program, Easton helped develop procedures and workflows surrounding the implementation of remotely piloted aircraft systems (drones) and their products to enhance surficial geology mapping.
At the BCGS, Easton is responsible for validating data and integrating geoscience maps to province-wide digital geology. Easton provides GIS support and aides in the implementation of the geospatial frame data model. Easton's interests include exploring the capabilities of remotely piloted aircraft systems to enhance procedures and data related to bedrock and surficial geology mapping.
Publications
Elia, E.A., and Ferbey, T., 2020. Generating photogrammetric DEMs in the field from remotely piloted aircraft systems. In: Geological Fieldwork 2019, British Columbia Ministry of Energy, Mines and Petroleum Resources, British Columbia Geological Survey Paper 2020-01, pp. 189-200.