Highway 16 Transportation Action Plan Updates

As of October 23, 2017
Transit Expansion
New inter-community transit services are coming to Highway 16 from Terrace to Prince George
All BC Transit Highway 16 transit services allow people to travel to their next largest community and return home the same day
On January 30, 2017, BC Transit started a commuter service between Smithers and Moricetown, on a 6 days per week schedule.
On June 19, 2017, BC Transit started a bus service between Burns Lake and Smithers and between Burns Lake and Prince George, on a 3 days per week schedule.
New transit service, 3 days per week, from the Hazeltons to Terrace will begin this fall.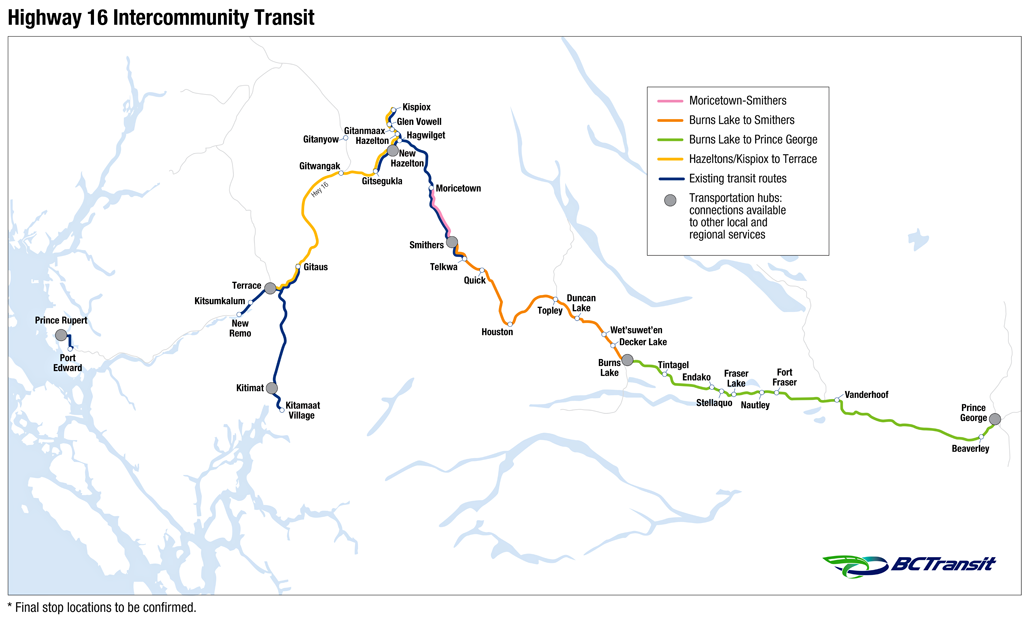 Community transportation grant program
First Nations driver education program
The ministry has entered into a contract with Carrier Sekani Family Services to run the First Nations driver education program. This program will provide hands-on training to First Nations members, to boost the number of Class 4 and Class 5 drivers in First Nations communities along the Highway 16 corridor.
Training is ongoing in several locations from Gitanyow to Prince George.
Highway infrastructure safety improvements
Six new all-weather bus shelters have been installed along the corridor, in Vanderhoof, Fraser Lake, Wet'suwet'en First Nation, Moricetown, Gitaus and Kitimat.
In 2016, the ministry activated five new web camera locations:

Highway 16 in Burns Lake at North Francois Highway
Highway 16 in Telkwa at Hankin Road
Highway 16 at Nautly Road in Fort George - Nechako
Highway 16 at Highway 27 in Fort George
Highway 16 at Main Street in Smithers.
The webcams help to increase the safety and visibility of pedestrians and motorists along Highway 16. More webcams will be installed and activated in the near future.
Collaboration to increase interconnectivity of services
The collaboration working group is reviewing existing schedules against new transportation services being offered, including the new community vehicle grant recipients, to maximize transportation access and opportunities.
The ministry, Northern Health Authority (NHA) and First Nations Health Authority are using integrated GIS mapping looking at medical transportation needs and patterns, to better coordinate medical transport services for people in First Nations communities. This includes boosting public awareness about existing medical transport services, and looking at ways to maximize services and schedules, to carry more passengers to hospitals and medical appointments.
NHA has confirmed that 100% of their drivers for the Northern Health Connections bus have completed the indigenous cultural competency training offered by the Provincial Health Services Authority.