Active transportation research and tools
Research can help us reach our active transportation goals.
Our team and partners track the growth of active transportation in B.C. to learn what works. We want to understand the barriers that may be holding people back. We gather data from communities and organizations so together we can plan what to do next.
Active transportation report card
After our one year anniversary of the launch of our active transportation strategy—Move. Commute. Connect.—we have prepared a report that looks back on its successes and challenges.
The report shows what we can achieve in partnership with other ministries, governments, non-profit agencies and advocacy groups.
---
Active transportation population survey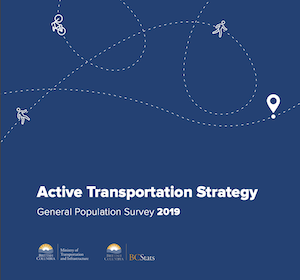 In 2019, we surveyed a random sample of British Columbians to learn how people in our province travel to work, school, and other destinations in their community. The survey also asked about barriers that make it harder to choose active transportation.
This survey sets our baseline as we work to double the percentage of trips taken by active transportation by 2030.
We will also use the survey's findings to guide future investments in active transportation programs and infrastructure.
Read about the survey's findings in the Active Transportation Population Survey Report (PDF, 8.8MB).
---
Active transportation design guide
We created the B.C. active transportation design guide to spread the word about the best ways to design and build active transportation infrastructure.
The guide gives specific recommendations on how to make transportation facilities accessible to people of all age and abilities.
The guide has attracted interest from governments around the world and has been downloaded over 6,500 times.
In winter 2019/20, we used the guide to train over 500 staff from the Ministry of Transportation and Infrastructure and local governments, as well as transportation professionals from across B.C.
---
Active transportation publications
Cycling in Cities
Cycling in Cities is a research program funded by the University of British Columbia mainly investigating factors that encourage or discourage cycling and route designs associated with increased or decreased risks of cycling injuries.
Reallocation of roadway space for physical distancing
Physical distancing from others is important during COVID-19. These guidelines will help local governments ensure space is available for active transportation opportunities for the community.
Contact Information
Contact us if you have questions about funding for Indigenous and local governments or for individuals and businesses.
Phone: 778 974-5469
Email: ActiveTransportation@gov.bc.ca
---
We acknowledge all Indigenous peoples on whose territories we work and play. We honour their connections to the land and respect the importance of the diverse teachings, traditions, and practices within these territories.