Active transportation policy and legislation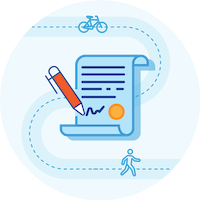 We're updating our policies and regulations so more British Columbians can choose active transportation and stay safe on our roads.
Pilot projects for active transportation
E-scooters, e-skateboards, and other micro mobility devices are a clean and efficient way to get around in B.C.
These devices aren't allowed on public roads or sidewalks yet, so we've changed the Motor Vehicle Act to let us test ways to introduce them safely.
Pilot projects in several B.C. communities will let us explore the potential of e-scooters and similar devices. We'll learn what's needed to keep everyone safe, so we can update our plans and regulations.
B.C. Climate Action Toolkit
The toolkit provides the latest news, best practices, practical advice, information, and strategic guidance to help local governments successfully reduce greenhouse gas emissions and, at the same time, strengthen their communities.
Vision Zero
Vision Zero is an international project that aims to reduce the number of serious injuries and fatalities on the road to zero.
Expanding walking and cycling infrastructure, boosting enforcement of road safety laws and delivering safety education programs are just some of the ways we are making walking and cycling safer across the province.
Contact information
Contact us if you have questions about active transportation policy and legislation.
Phone: 778 974-5469
Email: ActiveTransportation@gov.bc.ca
---
We acknowledge all Indigenous peoples on whose territories we work and play. We honour their connections to the land and respect the importance of the diverse teachings, traditions, and practices within these territories.