Winter Driving FAQ
When are M+S or Winter rated (severe winter service) tires required on BC highways?
Drivers must obey winter tire and chain signs throughout the province from October 1 to March 31.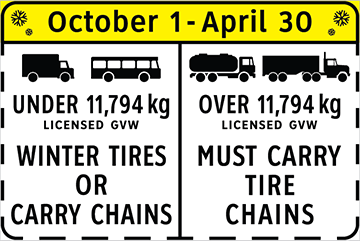 Where are winter tires and chains required on BC highways?
There are regulatory signs posted in various locations on numbered and un-numbered highways throughout the province. These signs are enforced by the police, ministry or other enforcement officials. Motorists who are not compliant may be turned away, and be subject to a fine.
Who is required to carry tire chains on B.C. highways?
It is recommended that all motorist be prepared by carrying chains in case of severe winter weather. However, chains are only required by trucks whose weight is 27,000 kg or greater, and those commercial vehicles who are unable to obtain M+S type tires, or tires with the mountain and snowflake pictograph.
Why is a single axle truck symbol represented on the winter driving signs to carry chains on highways in BC, as I know I can get mountain and snowflake (M+S) tires for my smaller commercial truck?
The single axle truck symbol is the symbol most often used on signs in North America to represent all commercial trucks. Not all commercial vehicles can obtain M+S tires for their commercial vehicles. If commercial vehicles under the 27,000 kg vehicle size (e.g. tractor-trailer type units) cannot obtain M+S tires, they are required to carry chains.
I drive a Class A recreational vehicle (RV) that looks similar to those buses used by commercial coach/bus lines that travel the highway system. What category do I fall under on the winter tires and chains sign? Do I need the mountain and snowflake (M+S) tires, or do I need to carry chains?
The symbol of the truck camper on the sign represents all classes of RV vehicles so your vehicle falls into the truck camper category. The minimum requirement for RV type vehicles is to use the M+S tires, however we recommend carrying chains from October 1st to March 31 in case severe winter conditions are encountered.
Do winter tire chains need to be the steel link type?
For commercial vehicles, winter tire chains of the steel link type are recommended, as these chains have a track record of providing superior traction and preventing lateral slippage. Lateral slippage can occur, especially when traversing through highway curves that have super-elevated/sloped curves. Cable chains that wrap around the tire are generally not used on commercial vehicles.
Passenger vehicles may use alternative traction devices which function and provide performance similar to steel type chains. It is recommended that alternative traction devices used be from a manufacturer who has tested their products for performance in winter conditions.