FireSmart
FireSmart™ is living with and managing for wildfire in your area and on your property. Becoming wildfire resilient is a shared responsibility across BC. FireSmart and its seven disciplines is an all-encompassing program, extending from the individual homeowner level up to a landscape land management level. FireSmart principles have shown that they are effective at reducing the risk to life and property in the most extreme wildfire conditions. The FireSmart program is backed by a vast amount of field, laboratory and wildfire modelling research. Its methods help reduce the risk of losses under even the most extreme fire conditions.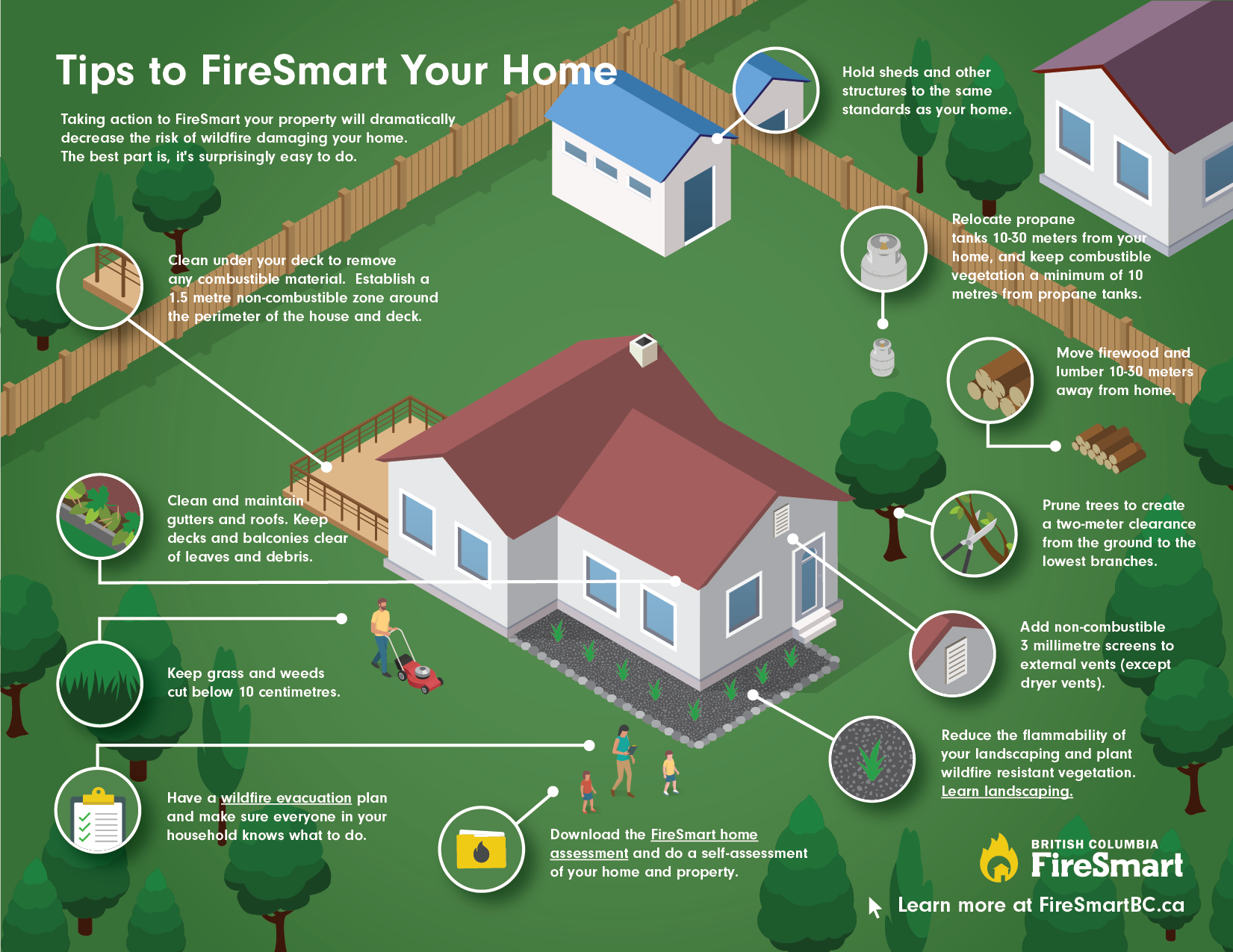 ---
FireSmart in BC
FireSmartBC.ca is the hub for FireSmart information in BC. Click the links below to access a variety of FireSmart resources.
FireSmart Assessments Education Materials Partners Initiatives FireSmart Research Guides and Manuals Recognized NeighbourhoodsPosters and Graphics Promo Items Videos
---
FireSmart Home Assessment
Watch Larry Watkinson (Fire Chief of Penticton) give a Home Ignition Zone Assessment for a homeowner in Penticton, BC. Home assessments are a great opportunity to identify where FireSmart practices can be applied on the home.
---
BC FireSmart Committee
The BC FireSmart Committee (BCFSC) consists of the BC Wildfire Service (BCWS), Office of the Fire Commissioner (OFC), Union of BC Municipalities (UBCM), Fire Chiefs' Association of BC (FCABC), Emergency Management BC (EMBC), Forest Enhancement Society of BC (FESBC), First Nations' Emergency Services Society of BC (FNESS), Indigenous Services Canada (ISC), BC Parks, Parks Canada and Ministry of Forests, Lands, Natural Resource Operations and Rural Development – Regional Operations.
---
FireSmart Begins at Home Manual
There are simple steps you can take to drastically reduce your property's risk. The FireSmart Begins at Home Manual outlines the FireSmart program and how each homeowner can make their property and neighbourhood FireSmart
Download now at FireSmartBC.ca
---
Funding for Wildfire Prevention
Are you looking to get funding for a wildfire prevention initiative in B.C.? You may be eligible to take advantage of funding programs.
---
FireSmart, Intelli-feu and other associated Marks are trademarks of the Canadian Interagency Forest Fire Centre.