FireSmart

FireSmart is a shared responsibility. It is about living in a fire-prone ecosystem and taking the necessary steps to protect your family, property, and community from wildfire.
Over time, FireSmart principles have shown that they are effective at reducing the risk related to losses in the most extreme wildfire conditions. With a few simple steps you can contribute to increasing your property, neighbourhood and community resiliency to wildfire.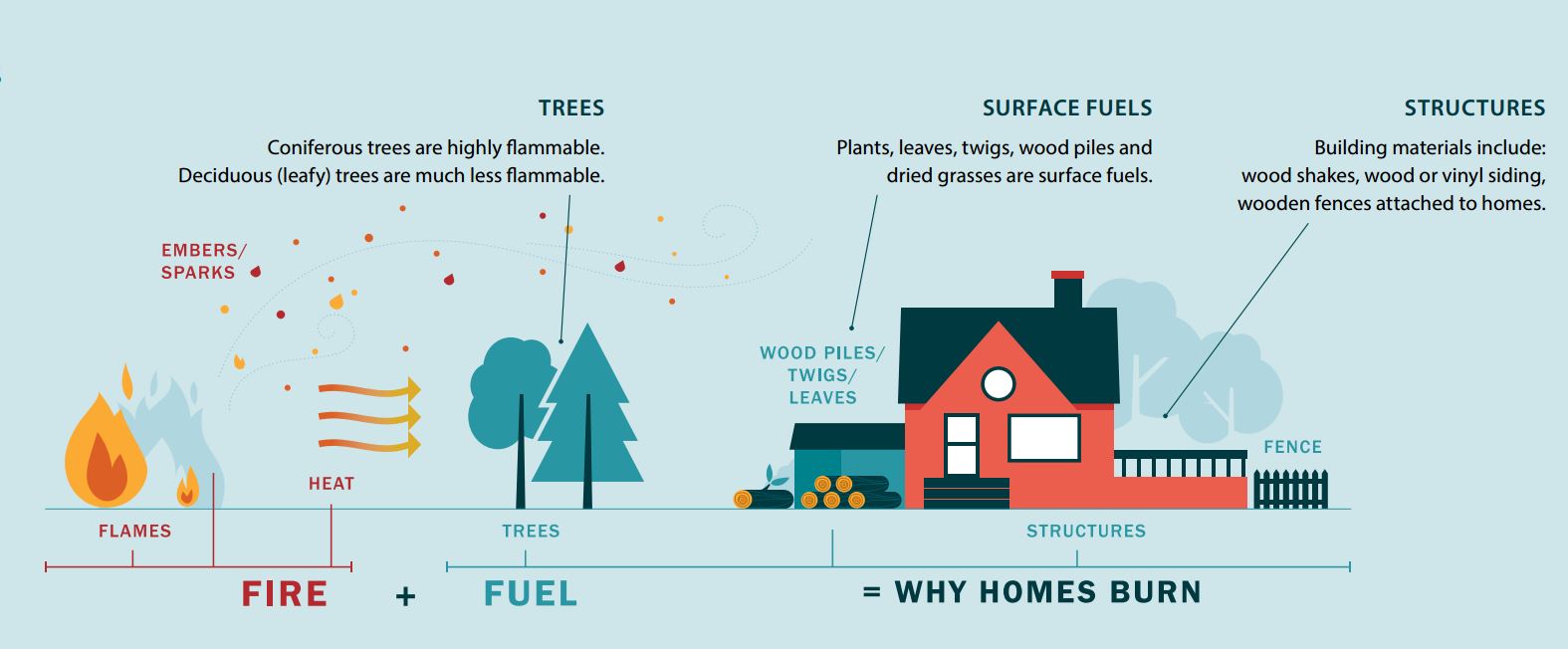 ---
FireSmart Begins At Home Manual
This 32-page manual outlines the FireSmart program and will help you identify changes you can make to help protect your home and neighbourhood from wildfire
Download the FireSmart Manual (PDF)
---
BC FireSmart Committee
The BC Wildfire Service initiated the BC FireSmart Committee (BCFSC) in May 2017. The BCFSC works to ensure greater direction and integration of the seven FireSmart disciplines across the province and is based on the FireSmart Canada model. The BCFSC members consist of:
BC Wildfire Service (BCWS)
Office of the Fire Commissioner (OFC)
Union of BC Municipalities (UBCM)
Fire Chiefs' Association of BC (FCABC)
Emergency Management BC (EMBC)
Forest Enhancement Society of BC (FESBC); and
First Nations' Emergency Services Society of BC (FNESS)
The BCFSC also runs and maintains firesmartbc.ca, BC's one-stop source for all things FireSmart!
---
FireSmart Canada
FireSmart is a national initiative to educate Canada on the steps they can take to protect their family, property, and community from wildfire.
Here are some examples:
Clearing all plants and other vegetation from within 10 metres of a structure
Ensuring that there are no trees or other vegetation overhanging the roof
When planting new trees, consider planting deciduous species such as birch and aspen
Small steps like these add up and make a big difference! Whether you are a homeowner, an active member of your community or participate in local government, there are things you can do today to prepare for the eventuality of wildfire in your area.
More information about FireSmart can be found on their website, firesmartcanada.ca
Visit FireSmart Canada's website​
---