Wildfire Structure Protection Program
In the winter of 2017, the Government of B.C.'s Structure Protection Program was incorporated into the BC Wildfire Service. Prior to that, the program was a service provided to the BC Wildfire Service by the Office of the Fire Commissioner. The Office of the Fire Commissioner continues to work jointly with the BC Wildfire Service to provide administrative support.
A sprinkler system, deployed from a structure protection unit, creates a "humidity bubble" (streams of water) around a structure.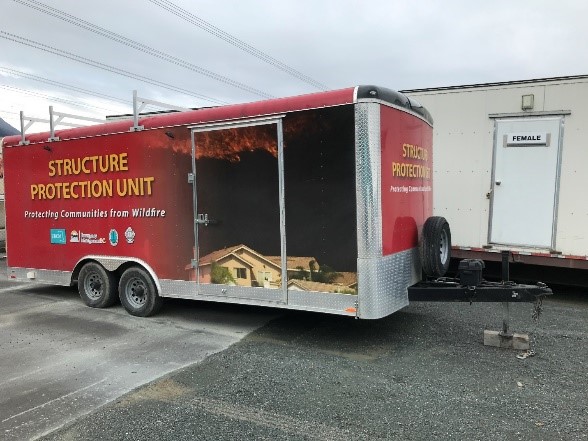 A structure protection unit trailer houses a cache of equipment that is used to defend structures threatened by wildfire.
Structure protection specialists
The BC Wildfire Service is mandated to fight wildfires, so its crews are not trained or equipped to fight structural fires (i.e. where a building is on fire). However, if a wildfire presents an imminent threat to structures, the BC Wildfire Service may (in some cases) deploy structural protection specialists to an incident. Structure protection specialists at the BC Wildfire Service plan and oversee structure protection strategies and tactics when there's a possibility that a wildfire could encroach into an urban environment. These specialists also employ FireSmart principles that can be very useful to helping to protect homes and buildings in a wildfire's path.
Structure protection units (SPUs)
A structure protection unit (SPU) is a cache of equipment stored in a trailer that is used by trained structure protection specialists to set up sprinklers on and around a structure. SPUs can be effective in reducing wildfire threats to some types of buildings, such as houses, cabins, barns or other outbuildings.
Frequently asked questions