Disaster risk reduction: Stronger together
Disaster risk reduction
Disasters happen.
Climate change is increasing the frequency of floods, wildfires and severe weather. Other hazards, ranging from power outages and disease outbreaks to earthquakes and tsunamis, also pose a risk to B.C. But risks can be reduced and resiliency increased through disaster risk reduction (DRR).
What is it?
In simple terms, disaster risk reduction is the systematic practice of preventing disasters where possible and lessening the impacts on people, property and the environment when they occur. This is done by considering all four phases of emergency management together: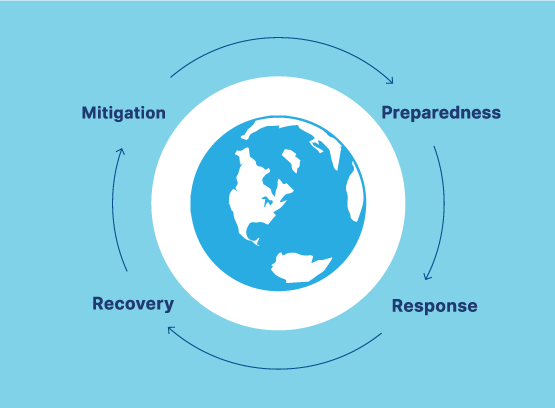 1) Mitigation
Preventing and minimizing disasters by eliminating or reducing hazards
2) Preparedness
Preparing to respond and cope during disasters
3) Response
Effectively reacting when disasters occur
4) Recovery
Building back better, stronger and more inclusively after disasters happen
Addressing the phases as a whole means not waiting for one to finish before starting another; there is no distinct start and stop from one to the next, just continuous improvement.
What does that look like in practice? One example would be following a wildfire and the loss of homes or infrastructure. Rather than rebuilding with the same materials, more fire resistant ones could be used. Or, if a location is increasingly vulnerable, perhaps it's time to re-locate what was there. That would be addressing mitigation and recovery together.
Another example is preparing for the likelihood of flooding in your area. Beyond drafting a plan and creating a grab-and-go bag for potential evacuation, you could consider mitigation steps for your home. If you're renovating, look at installing a sump pump, raising electrical sockets on the main floor or using water-resistant drywall. This is addressing mitigation and preparedness together to make your future recovery faster and easier.
What are hazards? Hazards are any source of potential damage or harm to something or someone. In emergency management we focus on natural hazards (e.g. earthquakes, tsunamis and wildfires) and man-made ones (e.g. oil or chemical spills). Can you name the top ones in B.C.?
---
What happens during the four phases of emergency management?
Mitigation
Mitigation means lessening the impacts of disasters by reducing the risk of hazards.
One example of mitigation is the FireSmart™ program. FireSmart consists of seven disciplines, or subjects, that work together to prevent wildfires, and if they are sparked, stop them from doing serious damage. Construction materials and the placement of features like vents, dormers or porches can ensure your house is protected. Even pruning trees and removing dead brush from forested areas around your property can make a huge difference.
Reducing (or mitigating) the negative consequences of a flood is also relevant to many of us in B.C. Flood mitigation is possible through land-use planning and structures that reduce the negative impacts of flooding on people, buildings and assets. Examples include dams, seawalls, and avoiding development in flood prone areas.
Earthquake early warning systems help reduce the impacts of earthquakes. These systems work by rapidly detecting an earthquake as it begins, then communicating a warning before damaging shaking arrives. Even a few seconds of warning provides time for protective actions, such as Drop, Cover and Hold On, slowing or stopping trains, stopping surgeries and halting landings of incoming air traffic. In British Columbia, several organizations are working to develop a system for our coast, including Ocean Networks Canada, the University of British Columbia and Natural Resources Canada.

Preparedness
Preparedness means ensuring people and communities are ready to respond quickly and effectively in the event of a disaster.
Preparedness education programs like Prepared BC are an excellent source of information for how to personally prepare for and respond to a disaster. You can also contact your local government for site-specific information.
In a nutshell, preparedness is knowing the hazards that could happen where you live, gathering emergency supplies for a household emergency kit and grab-and-go bags, and making an emergency plan so everyone knows how to respond quickly and safely.
Preparedness also means practice, like conducting drills (e.g. ShakeOutBC) and exercises that test your home emergency plan, business continuity plans or local government and provincial emergency management plans.
British Columbia is set to do this on a large-scale through Exercise Coastal Response 2023, which will bring together partners and all levels of government to work through how we'd collectively respond to a local earthquake that causes significant damage in the Lower Mainland. This will be second major exercise in B.C. The first was Coastal Response 2016 that tested the scenario of a magnitude 9.0 Cascadia Subduction Zone earthquake off the coast of southwestern B.C.
Response
Response means the actions taken because of an imminent or occurring disaster.
Response actions prevent, limit and manage the negative impacts of disasters on people, places and things. This may mean provincial, community or individual emergency plans are activated. It may involve activities like patrols, inspections, the use of temporary protective measures, evacuations, search and rescue or providing emergency services. We've gotten good at response in BC, but through DRR, we're striving to be more efficient and better at setting people up for recovery.
One example of this is B.C.'s Evacuee Registration and Assistance (ERA) tool through the Emergency Support Services program. The tool allows eligible evacuees to self-register online using any web browser. Suppliers and local governments can use the same platform to make referrals and submit invoices. Approaches like this get people what they need faster, shorten their time in "response" and get them on the road to recovery quicker.
Recovery
Recovery means taking steps to repair communities impacted by a disaster, and supporting people along the way.
There are three stages to recovery: short-, medium- and long-term. The goal at each stage is to increase resiliency in individuals, families and communities, and minimize future impacts through improved readiness. Think of it as not just recovery, but building back better, stronger and more inclusively so we're more prepared for next time.
One example of recovery work would be supporting people who evacuate their homes during disasters like floods or wildfires. In the short-term, this would entail setting up emergency shelters. In the medium-term, this would entail providing temporary lodging for evacuees. In the long-term, recovery would mean helping evacuees find permanent housing again. Other examples of recovery work include assessing and repairing damage to roads and infrastructure, helping impacted businesses resume and recover, and providing emotional and psycho-social support to those who need it.
---
Stronger together
Emergency management is an "all of society approach"...
...based on Disaster Risk Reduction...
...that considers all four aspects of the emergency management cycle.
Just like the four phases support disaster risk reduction, so do we. DRR only works well if everyone plays their part. This is called an "all of society" approach, which means empowering citizens, governments, Indigenous Nations and people, critical infrastructure operators, non-governmental organizations, and volunteers to share the responsibility of stopping hazards from becoming disasters. It also means ensuring DRR reaches all members of society, including its most vulnerable, such as children, the elderly and the impoverished. When the complete emergency management cycle is considered, when all of us are included and contribute, we truly are stronger together.
Everyone plays a part
All levels of government play an important role by creating policies, plans and partnerships that support disaster risk reduction. They can also invest in DRR tools and strategies.
An example of a tool is the Hazard Risk and Vulnerability Analysis (HRVA) developed by the province. The tool identifies hazards that could result in a disaster and assesses the consequences should one occur. Understanding vulnerable locations, or areas at risk, helps communities draft effective emergency plans.
British Columbia is also currently in the process of repealing and replacing the province's Emergency Program Act (EPA) to directly incorporate principles of DRR in legislation. This is a crucial first step in implementing the Sendai Framework for Disaster Risk Reduction, the leading blueprint for DRR developed by the United Nations. British Columbia was the first Canadian province to sign onto the internationally recognized framework. New legislation will also reflect government's commitments under the Declaration on the Rights of Indigenous Peoples Act.
Learn more by visiting our modernized legislation information hub.
Indigenous communities can use traditional and local knowledge to support risk reduction and preparedness in their communities. This invaluable knowledge can also inform best practices on approaching disaster risk reduction across British Columbia.
Private sector and critical infrastructure
It's important that the private sector and critical infrastructure operators promote awareness of disaster risk reduction to their employees, while also having business continuity plans. Planning helps ensure service interruptions, restoration and recovery periods are as short as possible. Operators can also undertake risk-informed investment and practices to support national and community resilience to disasters.
Non-profit organizations, like the Canadian Red Cross, are critical in promoting awareness and preparedness through partnerships, research, expertise and public education. They, along with our valued volunteers, also play a vital role in response and shortening the recovery period.
Individuals must be responsible for their personal readiness. This starts with learning about disaster risks then taking steps to increase household, neighbourhood and community preparedness.
Researching the successes and benefits of DRR provides scientific evidence of how it works and can be effectively implemented. It also exposes areas for improvement and cost-effectiveness.
---
FireSmart, Intelli-feu and other associated Marks are trademarks of the Canadian Interagency Forest Fire Centre.