2010: Volume 20 - Number 1
January 1, 2010 to March 31, 2010
Table of Contents

File Type

---

Preface
Map: BC Local Health Areas
Local Health Areas (LHA) within Health Service Delivery Area (HSDA) and Health Authority (HA)
Glossary
Contributors' Note
Readers' Note

---

Vital Event Statistics
Population, Livebirth, Death, Marriage, Stillbirth, Infant Deaths

Table 1A
Table 1B
Table 1C

Vital Event Statistics by Local Health Area
Vital Event Statistics by Health Service Delivery Area
Vital Event Statistics by Health Authority

---

Selected Birth Statistics
Low Birthweight, Preterm, Teenage Mother, Elderly Gravida, Cesarean Section

Table 2A
Table 2B
Table 2C

Selected Birth Statistics by Local Health Area
Selected Birth Statistics by Health Service Delivery Area
Selected Birth Statistics by Health Authority

---

External Causes of Death
Unintentional Injuries (Motor Vehicle Accidents, Poisoning, Falls, Burns/Fire, Drowning, Other), Suicide, Homicide, Other External Causes

Table 3A
Table 3B
Table 3C

External Causes of Death by Local Health Area
External Causes of Death by Health Service Delivery Area
External Causes of Death by Health Authority

---

Neoplasm Deaths
Lung, Female Breast, Colorectal, Other G.I., Female Reproductive, Prostate, Blood/Lymph, Other Malignancy, Nonmalignant and Unspecified

Table 4A
Table 4B
Table 4C

Neoplasm Deaths by Local Health Area
Neoplasm Deaths by Health Service Delivery Area
Neoplasm Deaths by Health Authority

---

Heart Disease Deaths
Rheumatic/Valvular, Hypertension, Ischemic, Conductive & Dysrhythmic, Heart Failure, Congenital, Other

Table 5A
Table 5B
Table 5C

Heart Disease Deaths by Local Health Area
Heart Disease Deaths by Health Service Delivery Area
Heart Disease Deaths by Health Authority

---

Respiratory Disease Deaths
Emphysema, COPD, Pneumonia, Influenza, Asthma, Lung Disease from External Agents, Pulmonary Fibrosis, Other Respiratory

Table 6A
Table 6B
Table 6C

Respiratory Disease Deaths by Local Health Area
Respiratory Disease Deaths by Health Service Delivery Area
Respiratory Disease Deathsby Health Authority

---

Other Selected Death Statistics
Diabetes, Alcohol-Related, AIDS, Other Infectious Disease, Cerebral and Other Vascular, Liver Disease, Amyotrophic Lateral Sclerosis and Multiple Sclerosis, Alzheimer's Disease, Parkinson's Disease

Table 7A
Table 7B
Table 7C

Other Selected Death Statistics by Local Health Area
Other Selected Death Statistics by Health Service Delivery Area
Other Selected Death Statistics by Health Authority

---
Preface
This Quarterly Digest's standard tables of vital event statistics are for the first quarter (January to March) of 2010.
We remind the readers that Vital Statistics Agency information is continuously updated. For this reason, quarter and year-to-date summary statistics may not correspond exactly to statistics found in previous or later publications. The information in this report should be considered "provisional" and therefore subject to revision. This is particularly true for statistics involving death by sudden and unexpected causes (injuries, for example) where a coroner investigation may be required. The reader is also cautioned regarding the random fluctuations in values, especially those involving small counts.
We welcome any comments or questions about the data presented here, as well as requests for information not supplied in our regular publications. We also welcome suggestions from readers for future changes or additions to this report. Contact information is provided at the back of this report (Readers' Note), via the electronic "feedback form".
Don Rintoul
Director, Informatics
Office of the Chief Data Steward
Strategic Policy and Information Management Branch
Ministry of Health

TOP
British Columbia
Local Health Areas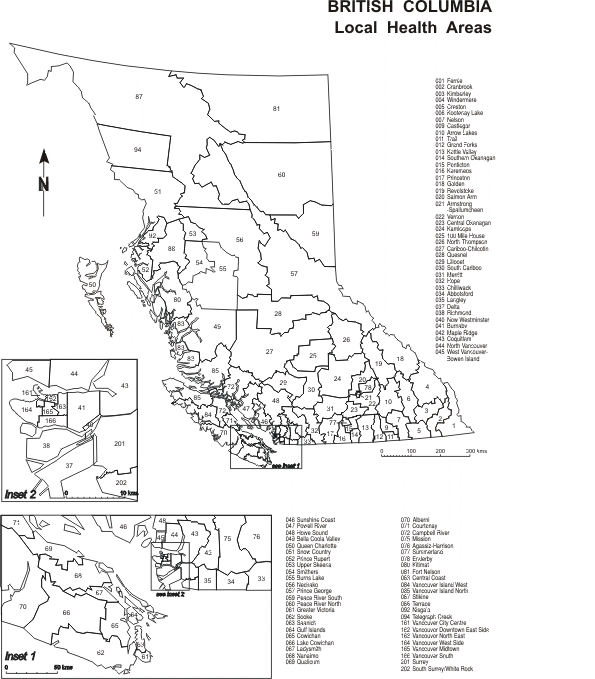 TOP
Local Health Areas within
Health Service Delivery Area & Health Authority
HA 01 Interior
HSDA
11 East Kootenay
LHA
001 Fernie
002 Cranbrook
003 Kimberley
004 Windermere
005 Creston
018 Golden
HSDA
12 Kootenay Boundary
LHA
006 Kootenay Lake
007 Nelson
009 Castlegar
010 Arrow Lakes
011 Trail
012 Grand Forks
013 Kettle Valley
HSDA
13 Okanagan
LHA
014 Southern Okanagan
015 Penticton
016 Keremeos
021 Armstrong-Spallumcheen
022 Vernon
023 Central Okanagan
077 Summerland
078 Enderby
HSDA
14 Thompson Cariboo Shuswap
LHA
019 Revelstoke
020 Salmon Arm
024 Kamloops
025 100 Mile House
026 Cariboo-Chilcotin
029 Lillooet
030 South Cariboo
031 Merritt

HA 02 Fraser
HSDA
21 Fraser East
LHA
032 Hope
033 Chilliwack
034 Abbotsford
075 Mission
076 Agassiz-Harrison

HSDA
22 Fraser North
LHA
040 New Westminster
041 Burnaby
042 Maple Ridge
043 Coquitlam
HSDA
23 Fraser South
LHA
035 Langley
037 Delta
201 Surrey
202 South Surrey/White Rock

HA 03 Vancouver Coastal
HSDA
31 Richmond
LHA
038 Richmond
HSDA
32 Vancouver
LHA
161 Vancouver - City Centre
162 Vancouver - Downtown Eastside
163 Vancouver - North East
164 Vancouver - Westside
165 Vancouver - Midtown
166 Vancouver - South
HSDA
33 North Shore Coast Garibaldi
LHA
044 North Vancouver
045 West Vancouver-Bowen Island
046 Sunshine Coast
047 Powell River
048 Howe Sound
049 Bella Coola Valley
083 Central Coast

HA 04 Vancouver Island
HSDA
41 South Vancouver Island
LHA
061 Greater Victoria
062 Sooke
063 Saanich
064 Gulf Islands

HSDA
42 Central Vancouver Island
LHA
065 Cowichan
066 Lake Cowichan
067 Ladysmith
068 Nanaimo
069 Qualicum
070 Alberni
HSDA
43 North Vancouver Island
LHA
071 Courtenay
072 Campbell River
084 Vancouver Island West
085 Vancouver Island North

HA 05 Northern
HSDA
51 Northwest
LHA
050 Queen Charlotte
051 Snow Country
052 Prince Rupert
053 Upper Skeena
054 Smithers
080 Kitimat
087 Stikine
088 Terrace
092 Nisga'a
094 Telegraph Creek
HSDA
52 Northern Interior
LHA
028 Quesnel
055 Burns Lake
056 Nechako
057 Prince George
HSDA
53 Northeast
LHA
059 Peace River South
060 Peace River North
081 Fort Nelson

TOP
Glossary
Age Standardized Mortality Rate (ASMR):
A summary of age adjusted death rates by gender which have been standardized to a specific population for the purpose of rate comparisons of different time periods or different geographical locations. ASMRs in this report are per 10,000 standard population (1991 Canada Census).
This category includes all deaths considered as being directly or indirectly related to alcohol as indicated by inclusion by the certifier of selected alcohol identifying conditions anywhere on the death record (including "lifestyle" field). It should be noted that where alcohol is an indirect cause of death (i.e. not UCOD) and the direct underlying cause of death falls within one of our selected causes (e.g. motor vehicle accidents), then this death may be counted in both columns. That is, not all of "alcohol-related" are exclusive. This category includes the ICD-10 codes: F100-F109, K700-K709, O993, P043, O354, Q860, G312, G621, G721, I426, K292, K860, X45, X65, T510-T512, T519. Note: now excludes acute pancreatitis, and cirrhosis not specifically identified as alcohol induced.
Assignment of Health Service Delivery Area (HSDA) and Health Authority (HA):
Cases are assigned to Health Service Delivery Areas and Health Authorities by the aggregation of appropriate LHAs.
Assignment of Local Health Area (LHA):
Allocation of LHA, in the case of births and deaths is based upon the usual residence (by postal code) of the mother and deceased respectively. Marriages are assigned to LHAs according to the place of the event. Community name is used in the absence of postal code.
Elderly Gravida:
Any mother who was 35 years of age or older at the time of delivery of a live born infant.
External Causes of Death:
Deaths due to environmental events, circumstances and conditions as the cause of injury, poisoning, and other adverse effects. Broad categories include unitentional injuries, suicide, medical or abnormal reactions (considered unitentional injuries), homicide, legal intervention, misadventures (counted as unitentional injuries) and injury from war operations. Standard "Quarterly" tables under this heading include deaths due to unitentional injuries, suicide, homicide, and other. Unitentional injuries are subdivided by the following categories; motor vehicle accidents (MVA) (V020-V049, V090-V099, V120-V149, V190-V196, V200-V799, V803-V805, V820-V821, V823-V839, V840-V878, V880-V888, V8900-V8909, V8920-V8929, V8990-V8999, Y850), poisoning (X40-X49), falls (W00-W19), burns/fire (X00-X19), drowning (V900-V909, V920-V929, W65-W74), other unitentional injuries (V010-V019, V050-V069, V091, V099, V100-V119, V150-V189, V198-V199, V250-V259, V350-V359, V450-V459, V550-V559, V650-V659, V750-V759, V800-V802, V806-V819, V822, V879, V889, V910-V919, V930-V949, V950-V978, V98-V99, W20-W64, W75-W99, X20-X39, X50-X59, Y40-Y849, Y859, Y86, Y880-Y883). Suicide ICD-10 codes are X60-X84, Y870; homicide (X85-Y09, Y871); "other [external]" consists of events of undetermined intent, legal interventions, and operations of war (Y10-Y369, Y890-Y899).
Note: the late effects of unitentional poisoning, falls, and burns/fire are no longer identified separately for inclusion in these categories and are now part of "other accidents"). Trains are now considered motor vehicles in ICD-10 but for consistency, have been excluded from MVA counts to still be considered as "other transport".
Heart Disease:
Tables under this heading include deaths due to:
rheumatic/valvular: (I050-I099, I340-I38)
hypertension/hypertensive: (I10-I159)
ischemic: (I200-I259) (Note: now includes cardiomyopathy specified as ischemic)
conductive & dysrythmic: (I440-I499)
heart failure: (I500-I509)
congenital: (Q200-Q249)
other: pulmonary (I260-I289), inflammatory (I300-I339, I400-I409, I514), cardiomyopathy (I420-I429)(Note: now excludes ischemic), other ill-defined or unspecified heart disease (I312-I318, I510-I513, I515-I519)(includes myocardial degeneration)
ICD-9:
The ninth revision of International Classification of Diseases, World Health Organization, Geneva, 1977. An internationally used system of approximately 12,000 four (and some three) digit numbers representing a system of categories to which morbid entities are assigned according to an established criteria. ICD provides a common basis of disease and injury classification that facilitates storage, retrieval, and tabulation of statistical data.
ICD-10:
The tenth revision of International Classification of Diseases and Related Health Problems, World Health Organization, 1992. In use beginning with year 2000, update of ICD-9 revised with alpha-numeric system and increased code detail (approximately 18,000). The BC Vital Statistics Agency and all their provincial counterparts utilize an ICD-10 that has been modified by the National Center for Health Statistics (NCHS) for use in the classification and analysis of medical mortality data in the United States (October, 1998).
Infant Deaths:
Deaths of children under one year of age.
Live birth:
The complete expulsion or extraction from its mother, irrespective of the duration of the pregnancy, of a product of conception in which, after the expulsion or extraction, there is:
breathing;
beating of the heart;
pulsation of the umbilical cord; or
unmistakable movement of voluntary muscle, whether or not the umbilical cord has been cut or the placenta attached.
Low Birth Weight:
Any live born infant weighing less than 2500 grams.
Neoplasms (ICD-10 C000-D489):
Although the vast majority of deaths in this category are due to malignant cancer, also included are benign, in-situ, and unspecified "tumours". Detailed ICD-10 breakdown used in "Neoplasm Deaths" tables are:
lung: includes trachea, bronchus, lung and pleura (C33, C340-C349, C384, C450). Note: now excludes mesothelioma of lung and trachea.
female breast: (C500-C509)
colorectal: (C180-C218)
other G.I.: includes esophagus, stomach, small intestine and duodenum, liver and intrahepatic bile ducts, gallbladder and extrahepatic ducts, pancreas, peritoneum, other and ill-defined within digestive organs (C150-C179, C220-C269)
female reproductive: includes uterus, cervix, placenta, ovary and adnexa, vagina & external genitalia (C510-C58)
prostate: C61
blood lymph: includes lymphatic and haematopoietic tissue (C810-C969, C463).
other malignancy: includes malignant neoplasms of other (e.g. lip, oral cavity, pharynx, nose, ear, larynx, heart, bone and connective tissue, urinary tract, eye, brain, endocrine glands)and ill-defined or unspecified sites (C000-C148, C300-C449, C451-C462, C467-C499, C600-C609, C620-C768, C5091*, C80*). Note: * codes used exclusively by BC Vital Statistics Agency for male breast cancer and for unknown primary site cancer.
non-malignant & unspecified: includes benign, in-situ, and neoplasms of uncertain or unknown behaviour (D000-D489).
Note: This neoplasm group now includes myeloproliferative disease, thrombocythemia, monoclonal gammopathy, and lymphoproliferative disease which were not previously considered neoplastic in ICD-9 and were counted in other ICD chapters.
Other Selected Death Statistics:
Tables under this heading include deaths due to:
diabetes (E100-E149).
alcohol related - see above.
AIDS/HIV: (B200-B24).
other infectious and parasitic disease: (A000-B199, B250-B999, U049) Note: Now includes obstetrical and neonatal tetanus.
cerebro and other vascular disease: (I600-I698, I700-I879, I950-I959, I880-I899, I970-I979, I99). Includes cerebrovascular disease, disease of arteries and veins, hypotension, and other circulatory system disease. Note: "Other circulatory system disease" now includes post procedural disorders of the circulatory system (I970-I979) which are never selected as the UCOD. However they are confirmed by editing and either recoded to the more specific disease (embolism, stroke, M.I.) or double coded if the complication is confirmed.
liver disease: (K700-K7699). Note: Now includes toxic liver disease with cholestasis.
ALS/MS: Amyotrophic lateral sclerosis and multiple sclerosis: (G122, G1221, G35). Note: In order to maintain continuity with ICD-9, unspecified motor neuron disease (G122) is included in this category as it was previously not distinguishable from ALS.
Premature/Pre-term:
Any live born infant less than 37 weeks gestation at delivery.
Respiratory Disease Death Statistics:
Tables under this heading include deaths due to the following:
emphysema: (J430-J439) Note: Now excludes when described as or resulting in obstructive disease -see note at COPD.
COPD: (J440-J449). Note: Now includes specific code within the group for COPD when accompanied with acute lower respiratory infection, or with acute exacerbation. This inclusion has no statistical impact on UCOD. Also, this category now includes asthma and emphysema described as obstructive not previously included in ICD-9.
pneumonia: (J120-J181, J188-J189) Note: ICD-10 has a new code for chlamydial pneumonia (J160). It is uncertain if this condition would have previously been coded to "pneumonia due to other specified bacteria" (ICD-9 4828) or to "other diseases due to viruses and chlamydia" (0788), or to both. This disease is very rare on death records so if not coded to 4828, the impact to comparison of historical data would still be minimal. Daily VS edits have been implemented to ensure consistent selection of pneumonia.
influenza: (J09-J118)
asthma: (J450-J459, J46) Note: Now excludes when described as obstructive - see note at COPD.
lung disease due to external agents: (J60-J709)
pulmonary fibrosis: (J841)
other respiratory diseases: (J00-J069, J182, J200-J42, J47, J80-J840, J848-J9899) Note: Now includes post procedural respiratory disorders (J950-J959) which formerly used to be injury codes. These codes are never selected as the UCOD so their impact would only effect multiple code analyses. The Vital Statistics Agency includes these in daily data edits to confirm them as post procedural and to double code for the specific respiratory condition (e.g. pneumonia). As a result, respiratory disease statistics in BC are more consistent with historical data.
Standardized Mortality Ratio (SMR):
The ratio of the number of deaths occurring to residents of a geographical area (e.g. LHA) to the expected number of deaths in that area based on provincial age specific mortality rates.
Stillbirth:
The complete expulsion or extraction from its mother after at least twenty weeks of pregnancy or after attaining a weight of at least 500 grams, of a product of conception in which, after expulsion or extraction, there is no breathing, beating of the heart, pulsation of the umbilical cord or unmistakable movement of voluntary muscle.
Teenage Mother:
Any mother who was age 19 or less at the time of delivery.
UCOD:
Underlying cause of death - based upon application of standard international coding rules for determining sequential relationships of conditions and diseases from immediate cause backwards to underlying cause.

TOP
Contributors' Note:
The editorial staff would like to invite any researchers of health-related topics who wish to contribute an article or paper summary for publication in this Quarterly Digest to contact: Informatics, Health Information Technology, Knowledge Management and Technology, Ministry of Health. Articles should focus on health status issues in British Columbia. It is preferable that submissions be in "electronic media" format (e.g. Word, Word Perfect, Excel, Power Point, Corel, Pagemaker, etc.). Article presentation will be subject to space allowances and publishing deadlines.

TOP
Readers' Note:
Re: "Letters to the Editor",
Comments, suggestions, questions, or criticisms regarding this publication?
Use the Feedback Form

TOP